Blue Lives Matter Movement Grapples With Attack On Dallas Police
11:03
Play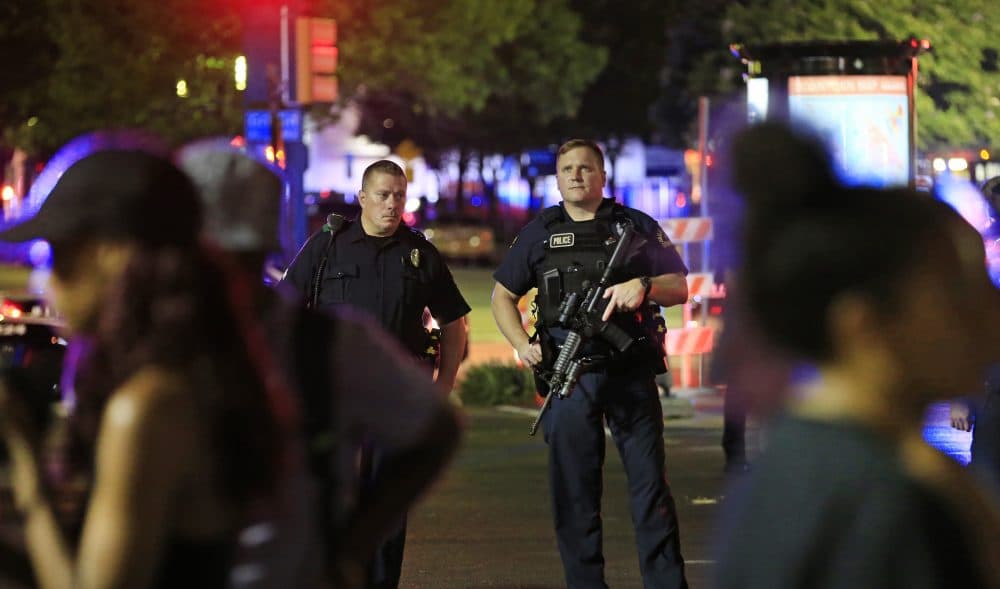 This article is more than 4 years old.
As the nation struggles to understand the targeted shootings of police officers in Dallas, the police community is mourning the loss of at least five officers.
Here & Now's Robin Young talks with Randy Sutton, the spokesman of the national organization Blue Lives Matter, about how the law-enforcement community across the country is dealing with the loss.
Interview Highlights: Randy Sutton
On his reaction to the shootings
"Today is a tragic day for the entire United States, this is a milestone in police history. This is a tragic day for law enforcement. What we saw in Dallas is unprecedented within the United States. It is in fact a terrorist attack that was solely targeting law enforcement."
On his reaction to the protests prior to the shootings
"There's plenty of people that are exercising their their rights to protest and I fully support that. However, I watched with my own eyes that chants and the people screaming the chants of Black Lives Matter while the police were dying in the street. I saw that with my own eyes, so then, of course, you have the looting that took place afterwards.
So this may have started out as a peaceful protest, but it certainly ended in tragedy, the situation, this was a coordinated attack. They used the cover of the march because, just like ISIS does, they look for a concentration of victims. They knew there would be a huge police presence there, and they coordinated this attack to go along with that police presence and committed this atrocious assault."
"I have served as a law enforcement officer for 34 years, I have stood the line. I know what goes on in the hearts and the minds of the vast majority of men and women, and it is not racist."

Randy Sutton
On the role of police hiring and training
"If there could be some positive that comes out of all this madness, if we could really sit down and have a serious discussion about what positive changes could be made in law enforcement, then maybe this carnage wouldn't be in vain. There are absolutely answers to these questions. They begin at the hiring phase, they begin with creating universal standards for hiring law enforcement officers, and they also include standards of training.
I looked into the training requirements of the police in Ohio and do you know what after you get out of the academy, and their academy is rather short, about 600 some hours, do you know how many hours they are required to train? Two. Two hours a year. This is unconscionable. Here's the real injustice here, a study of course revealed that they need more training and the state legislature shot it down. The reason? They didn't want to spend the money. Here's what happens, we don't train the officers, we give them minimal training. Then because they don't have the training they get in some tactical situation that they're not prepared for, then what do we do? We prosecute them, we fire them, we vilify them. That is the injustice."
On whether or not race plays a role in policing
"You may be black, you may white, you may be yellow, you may be Hispanic — you're blue. That's what you are. And we recognize no color line when we are working with each other. In fact, this grief that is being felt is universal no matter what color you are. I have buried friends, I have buried compatriots, I have buried heroes.
I have served as a law enforcement officer for 34 years, I have stood the line. I know what goes on in the hearts and the minds of the vast majority of men and women, and it is not racist, and it is not anything to do with color or creed or religion. It simply has to do with serving your community and wanting to do the best job that you can."
Guest
Randy Sutton, Blue Lives Matter national spokesperson and 34-year police veteran. He tweets @LtRandySutton.
This article was originally published on July 08, 2016.
This segment aired on July 8, 2016.