'Here & Now's' Special Coverage Of The Dallas Interfaith Memorial Service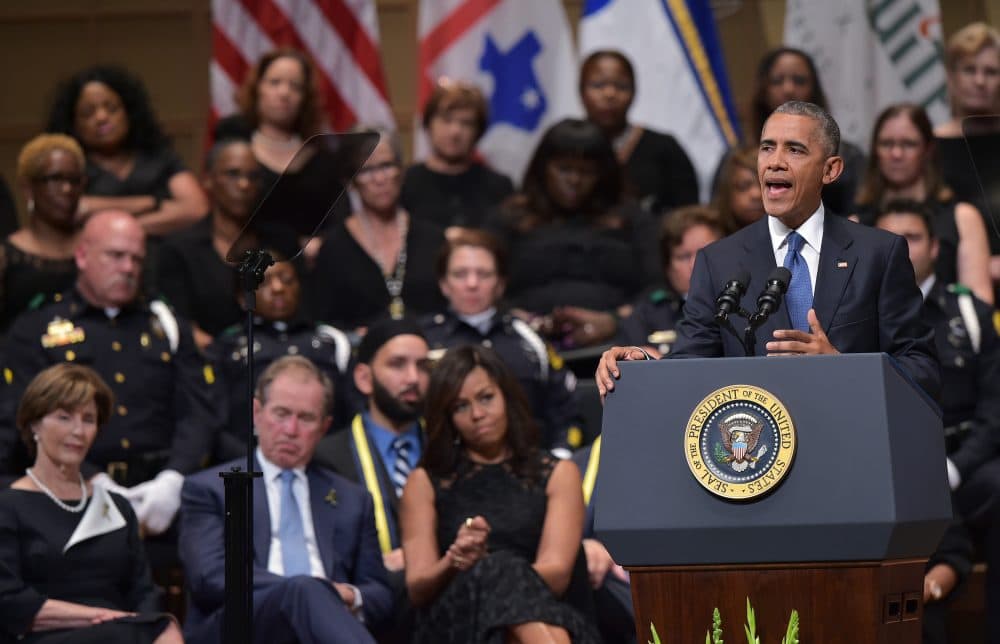 This article is more than 4 years old.
Here & Now anchored special coverage Tuesday of President Obama's trip to Dallas, where he took part in a memorial service for the five police officers slain last week.
Obama and First Lady Michelle Obama were joined by former President George W. Bush and former First Lady Laura Bush, as well as Vice President Joe Biden and Jill Biden. The president and former president were expected to meet privately with the police officers' families as well as participate in the service.
Quotes From The Interfaith Memorial Service
Dallas Mayor Mike Rawlings
Rawlings thanked the mayors and politicians who came from other cities and states to be at the memorial.
"These men and women are here with us because they know we have a common disease. This absurd violence on our streets. Those that will help us fight it are our men and women in blue. Our peacemakers in blue. They have died for that cause."
"That is why today we reserve five seats for the men we lost on Thursday night. We offer our gratitude to you, our cops. Including those who have traveled here to support your brothers and sisters in the Dallas Police Department, the Dallas Area Rapid Transit police, and the El Centro College police force."
Dallas Police Chief David Brown
Brown described how as a teenager, he was tongue-tied around girls until he started using lyrics from R&B singers, including Stevie Wonder. It was Stevie Wonder who he turned to for his memorial words.
"We all know sometimes life's hate and troubles can make you wish you were born in another time and place, but you can bet your lifetimes that and twice is double that god knew exactly where he wanted you to be placed, so make sure when you say you're not in it but not of it, you're not helping to make this earth the place sometimes called hell. Change your words into truth and then change that truth into love and maybe your children's grandchildren and their great great grandchildren will tell them I'll be lovin' you."
President Obama
During his speech, Obama lauded how the Dallas police conducted themselves during the peaceful protest, before the shooting started.
"For awhile the protest went on without incident. And despite the fact that police conduct was the subject of the protest, despite the fact that there must have been signs or slogans or chants with which they profoundly disagreed, these men and this department did their jobs like the professionals that they were. In fact the police had been part of the protest planning. Dallas police department even posted photos on their Twitter feeds of their own officers standing among the protesters. Two officers, black and white, smiled next to a man with a sign that read 'No justice, No peace.' And then around 9 o'clock, the gunfire came. Another community torn apart. More hearts broken. More questions about what caused and what might prevent another such tragedy."
Photos From The Memorial Service