National Parks Tour: Acadia, 'Where The Mountains Meet The Sea'
05:55
Play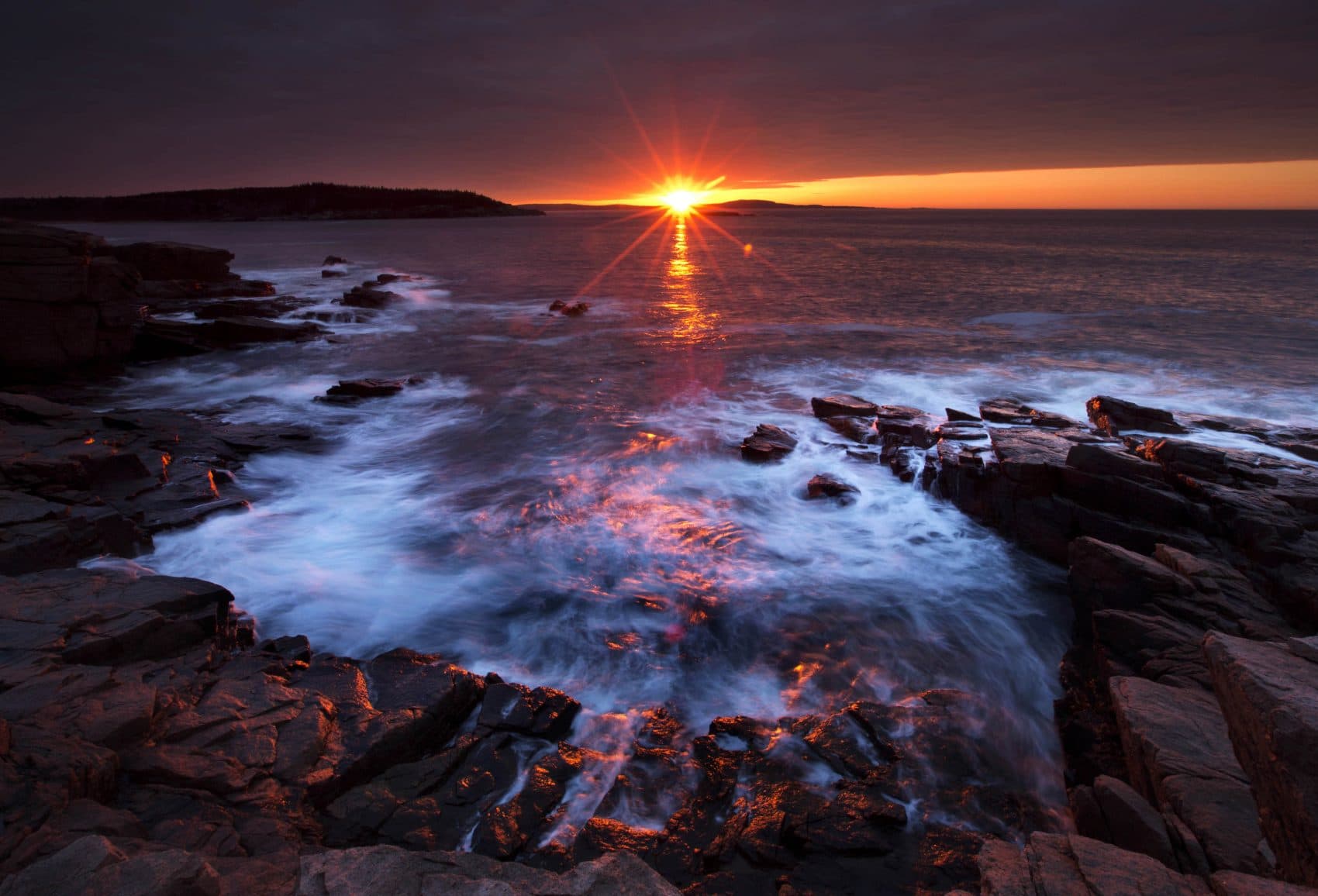 This article is more than 4 years old.
To celebrate the centennial of the National Park Service, Here & Now is taking a look at some of the country's most distinctive national parks.
Acadia National Park in Maine was the first national park east of the Mississippi, and it is also celebrating its centennial this year. Here & Now's Jeremy Hobson talks with Kevin Schneider, superintendent of Acadia National Park.
Hear more from Here & Now's national parks tour.
Interview Highlights: Kevin Schneider
On an overview of the park
"Acadia is where the mountains meet the sea, it's this beautiful landscape of mountains that reach the ocean, it preserves the rocky cliffs of Maine. Just this spectacular place. It's a great place for families to come visit — we were just named best national park for families. A great place for for hikers, for bicyclers, for people just wanting to spend some time along the coast."
On the park's history
"Acadia became a national park through private philanthropy. It was the first national park in the United States created by very generous individuals who realized this place should be preserved as a park for all Americans. They began to purchase land, it was John D. Rockefeller Jr. and George B. Dorr and Charles Eliot really working together to make this place a park for all Americans."
On the park's plant life
"Acadia is known for a diversity of plant life. What concerns us is that 20 percent of the plants that existed when when the park was created, are actually now not found in Acadia National Park. So, we're trying to understand the causation behind that — climate change is probably part of it. There are other factors in play as well, though."
On Acadia's recent surge in popularity
"Our visitation year-to-date is up 21 percent, so we've been very, very busy this summer. I think we're going to break a record for the most visitors ever in a year to Acadia. In fact, months of April, May and June were all the busiest months on record for those months in our history. Business is very good here, and that's really a good problem to have."
On the park's hidden gems
"Many people want to go up to Cadillac Mountain for sunrise, but there are other locations in the park that are equally as spectacular, such as Ocean Drive. You can go along Ocean Drive, find a location for sunrise, and almost have the place to yourself.
Many people are attracted to these iconic experiences, but by exploring a little deeper, and learning a little bit more about park — which you can just by going to one of our visitor centers and talking to a ranger — you can really have the place to yourself if that's what you're looking for."
On what he finds interesting about Acadia
"To me, what makes Acadia special is the opportunity to really get out into the park. Whether it's on a bicycle, on a carriage road, or go for a hike, to spend time with my family along the ocean — whether again that's at Sand Beach or another location. This is a great place to get out and experience nature."
Guest
Kevin Schneider, superintendent of Acadia National Park. The park tweets @AcadiaNPS.
This segment aired on July 14, 2016.