Tour De France Leader Hikes On Foot After Motorbike Crash
03:44
Play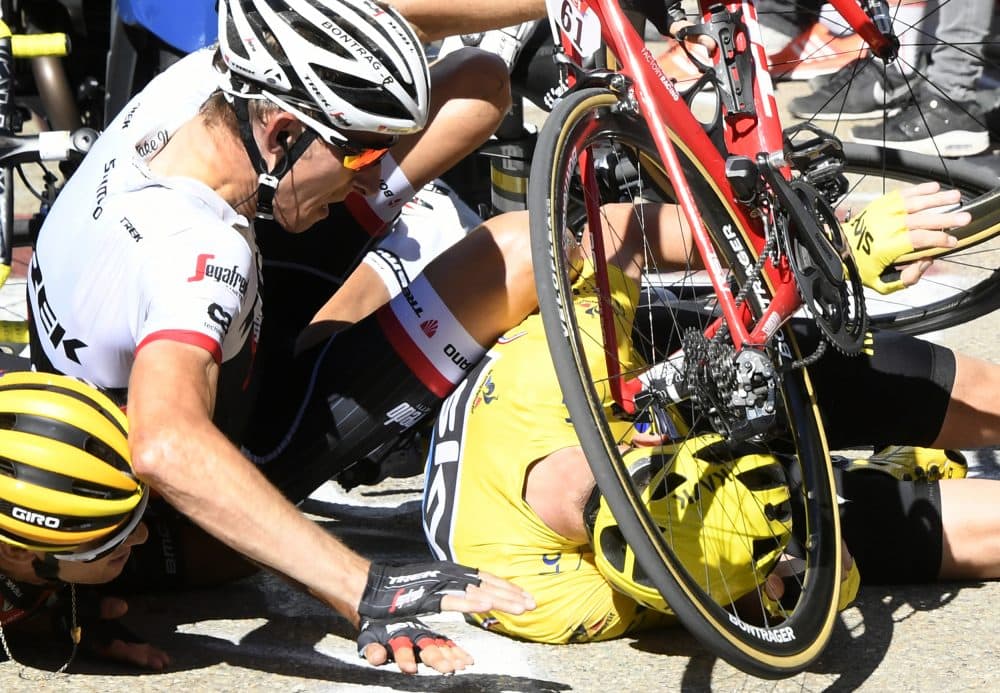 This article is more than 4 years old.
Thursday is the 12th racing day of this year's Tour de France, and today's stage was one to remember. After a motorbike crash the race leader, Chris Froome, was seen running up Mont Ventoux as his team struggled to find a replacement bicycle.
No one was injured in the small pile-up that apparently originated with fans crowding the road. The crash briefly cost Froome his position, but race organizers reinstated his lead after a review of the rules.
It's also been four years since Lance Armstrong was stripped of his seven consecutive titles for doping, but cheating persists in the sport. This year, race organizers have deployed infrared cameras to catch cyclists using tiny electric motors to boost their speed uphill.
Here & Now's Robin Young checks in on the world's best-known road cycling race with Here & Now sports analyst Mike Pesca.
Watch A Video Of The Mount Ventoux Crash
Guest
Mike Pesca, Here & Now sports analyst, host of the daily podcast The Gist. He tweets @pescami.
This article was originally published on July 14, 2016.
This segment aired on July 14, 2016.