3-Time U.S. Olympic Medalist: Fencing Experience 'Translates To Everything Else In My Life'
Resume
Fencer Sada Jacobson Baby won a bronze medal in the individual women's sabre event in 2004 in Athens, a silver medal in the same event in 2008 and a bronze team medal that year.
Today she's a mother of two, and an attorney practicing in Atlanta. But fencing is never far from her thoughts. She speaks with Here & Now's Eric Westervelt.
More from Here & Now's series on life after the Olympics.
Interview Highlights: Sada Jacobson Baby
On the different types of fencing events
"First of all, I should explain there are three different disciplines in fencing: foil, epee and saber. Saber, which is my event, is the most fast paced and explosive of the three. Touches are scored quickly with the cutting edge of the blade as opposed to the point. I think of it as comparable to a sprint in running. I think it's the most fun, but I might be biased."
On what it was like competing in Athens, her first Olympics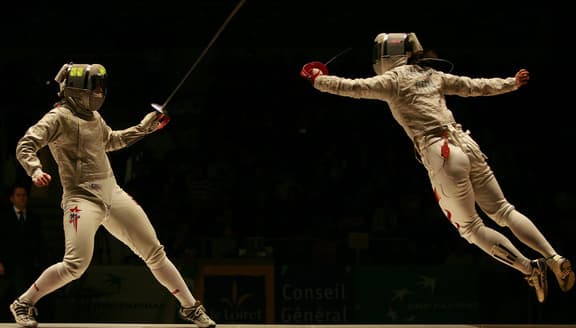 "It was surreal. And I think most people who go to the Olympics would describe it that way. It's like every competition that you've ever been to, and like no competition that you've ever been to. Everybody is so focused on making the Olympic team and competing in the Olympics, that it has a very different feel to actually competing. It was quite an experience."
On training for the Olympics while in college
"I didn't know going into this sport I would ever be competing in the Olympics. When I started, my event, women's saber, was not an Olympic event. It was only around 2002, 2003 when it was determined that women's saber would be in the Athens Games, that I decided I wanted to make a run for it. I was in college at the time. I knew that I would need to solely focus on fencing for at least a few semesters to really have a good shot at the team and doing well at the Games. That was sort of my path."
On adjusting to life after the Olympics
"It took a little while. After 2008, I knew that I was going to be leaving the sport to readjust to my new life. Fencing is such a travel heavy sport to do it at a high level. You're constantly on an airplane, living out of a suitcase, going to some tournament or another overseas, and that really becomes your life. In 2008 when I transitioned back to school and was no longer fencing, it took a little while to kind of redefine myself."
On what fencing lessons have translated to her legal career
"Everything. Everything about fencing translates to every other part of my life. I'm a litigator, so I see parallels to fencing all the time. Every case is... it's like a bout in a way. You have your strategy, an opponent, a referee. That's what I loved about the sport, and what I enjoy about law is that strategic aspect of it."
Guest
Sada Jacobson Baby, former Olympic fencer and medalist. The U.S. fencing team tweets @USAFencing.
This segment aired on August 3, 2016.