As Floodwaters Recede, Baton Rouge Schools Assess Damage
04:34
Play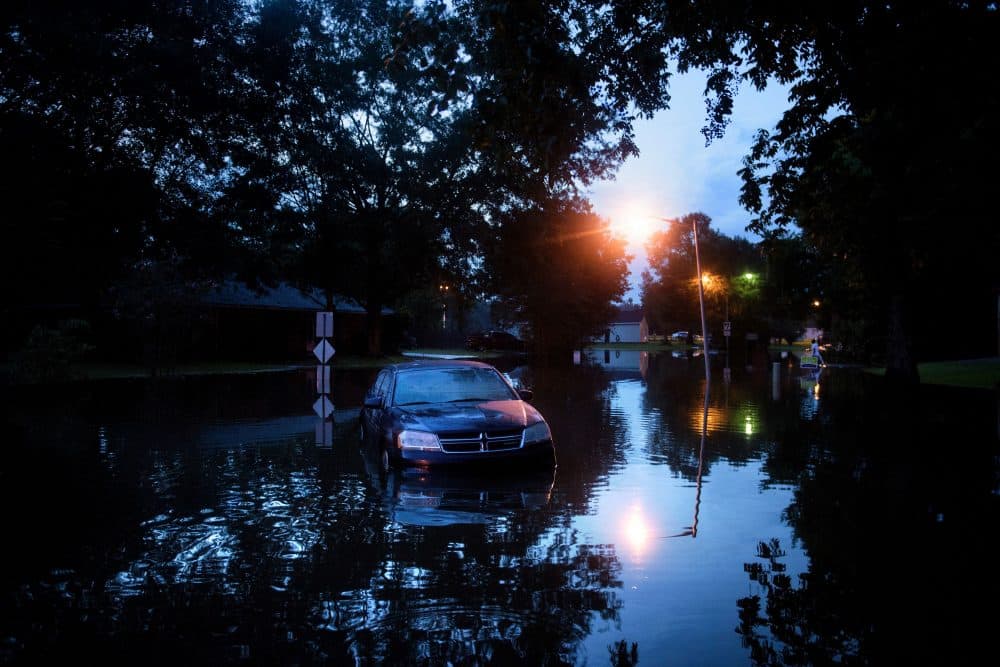 This article is more than 4 years old.
This week flooding in Louisiana killed at least 13 and damaged more than 40,000 homes. The disaster stopped life in its tracks for many across the state, including Louisiana's second-biggest school system: East Baton Rouge Parish.
Here & Now's Peter O'Dowd checks in with the superintendent of that school system, Warren Drake, who says East Baton Rouge is hoping to resume school Wednesday.
Interview Highlights: Warren Drake
On the closure of East Baton Rouge Parish schools
"Every school is still closed at this point. We have 9 schools that have been completely flooded. We have started restoration efforts in those schools. About 34 percent of our employees, 6,000 employees, have been affected in some way by either flooding or being displaced from their homes."
On the conditions in the schools
"The water is not in the buildings. The water has receded and is moving downstream but you can imagine what is left after a school has been flooded. Depending on the amount of water in a school — some of them were four, five, sit feet deep — that school is completely destroyed. Technology, furniture equipment, everything is destroyed. That will take months and months.
We're aiming at a January re-opening on those schools. There are a few schools that have from three inches to a foot of water in. That is a little bit different. We can get in there and try to restore that school and have it open in several weeks."
On food and transportation in the school system
"Yesterday we got good news and bad news. The good news is that child nutrition is in good shape — our freezers did not flood, our fleet of trucks that delivers is not flooded. So we're good on child nutrition. Of course, we depend on deliveries for our food and that may be somewhat sporadic. Also, in transportation, that's our biggest challenge right now. We have drivers, 600 drivers, that are all over our parish and we can only get in touch with 219 of them right now. That will be a challenge when we start school next Wednesday."
On the role that school principals are playing
"The psychological and emotional piece here, and the physical needs with our employees, are something that our principals are reaching out to. I got an email from a principal just a little while ago saying that they're getting their staff together. They're working in homes to help those who've been flooded. They just have to tear out everything."
On support from the government
"We had a call with the State Department of Education last night. The governor has declared this area a disaster, as well as I think the president. And so, so far we are in pretty good shape in that way. We will need probably transportation through buses and we will probably need portable buildings as we move forward."
Guest
Warren Drake, superintendent of East Baton Rouge Parish School System. The school system tweets @EBRSchools.
This segment aired on August 18, 2016.