Tips For Students — And Their Parents — Navigating The Start Of College
Play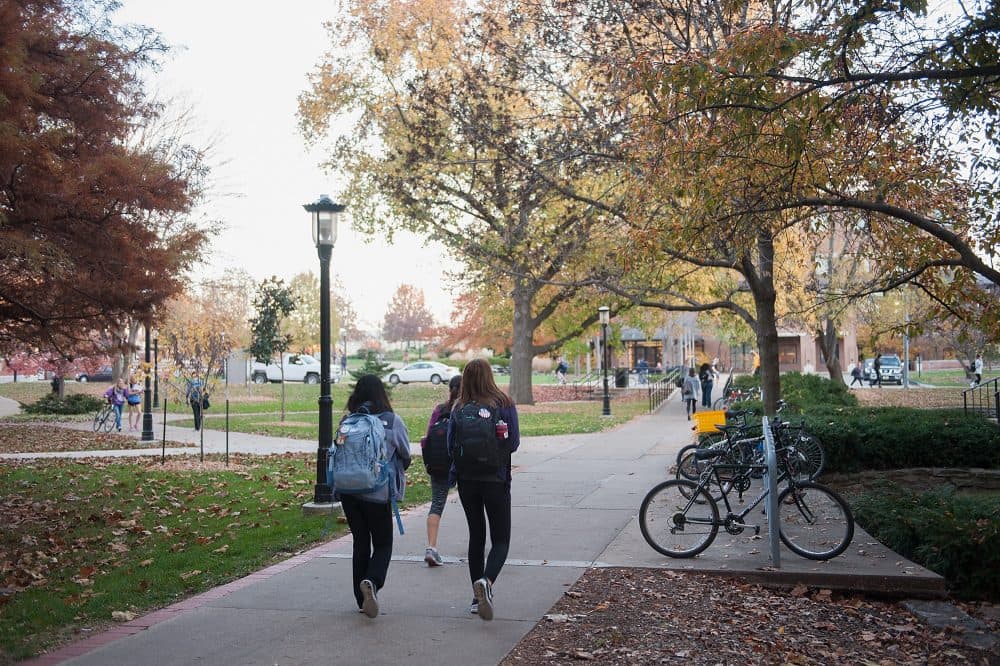 This article is more than 6 years old.
Navigating the transition from high school to college can be tricky for students and parents. Emotions can run high, and social media amplifies those feelings.
For more on how to cope, Here & Now's Jeremy Hobson speaks with Lisa Micele, director of college counseling at the University of Illinois Laboratory High School in Urbana, Illinois, his alma mater.
Lisa Micele's Letter To The Class Of 2016
Dear Class of 2016,

I'm thinking of you. I care about you.

Knowing that I wish you joy and happiness, I would love to pose a personal challenge to you...

From the bottom of my heart, I challenge you to be vulnerable now — and to change the climate of Facebook/social media — and be REAL and HONEST during this time of change & transition in your life.

What do I mean? Sadly, you are growing up in an age of awesome photos and good news being posted minute by minute. The reality is that sometimes life is hard. People have bad days. Life gets messy. I know that being a freshman in college is not always easy. Making new friends can be challenging. Being homesick and missing your best friends is real. For some of you, the transition may be smooth with few bumps (and you might just delete this note) — for some, you may be sad, questioning your college fit, or wishing that you could just delete your Facebook page altogether.

So think about this… in addition to sharing the good news and happy photos, please consider being vulnerable and honest with each other as well — allowing your good friends & family be a safe haven for you . I challenge you to "shout out" your joys, sorrows, highs & lows when you post. And, if you see a post that shares a personal struggle, I hope that if you feel the same way, you will have the courage to say "ME TOO!"

So yes -- Just post it!

Post that you failed an exam.

Post that you had your heart broken.

Post that school is hard right now and say why.

Post that you are having roommate struggles.

Post that a recent talk with your mom or dad was upsetting to you.

Post that you are feeling lonely. Post that you have visited the counseling center in college.

Post that you just had a crappy day.

And I hope that others will confirm things and say, "ME TOO!" You are not alone.

I hope you will take care of each other; listen to each other; support each other; confirm that hard times happen to everyone. Be honest and know that others may be hurting as well. Your honesty may indeed impact someone's life — more than you know.

I wish you joy. I wish you happiness… And I wish that every day you find a reason to crack a smile. I care about you and hope that you will all have the strength to reach out to each other for help, support, and confirmation.

Others do care about you. You are not alone.

Hugs,

Lisa
20 Tips For Students From Lisa Micele
Be a self-advocate. Have a voice and state what you want and what you need. Ask for things. Ask for help. Reach out to people.
Get to know your Professors, Resident Advisor and meet with your Academic/Faculty Advisor(s) regularly.
Step out of your comfort zone, and sign-up for ONE new activity! Try something different.
There is no shame in being "undeclared." College is a time to explore. Embrace it. Take time to select & confirm your major.
Consider study abroad. Take advantage of all your college has to offer.
Manage your time well.
Practice self-care. (Eat well; exercise; make time for yourself; sleep!)
Consider taking some general education classes at your community college during summer – to free up your schedule and save money.
Know the many resources on your new campus. You are paying a student fee for services. These include: wellness/mental health supports; academic resources; career services; peer assistance resources; cultural resources.
Adopt a Growth Mindset: embrace challenges; persist in the face of setbacks; know that effort leads to mastery; learn from constructive criticism; find lessons/inspiration from others (Carol Dweck, Ph.D.)
Make academics a priority — always attend class, but plan a balanced life filled with social activities as well.
Follow your moral compass.
Seek comfort from family & high school friends while making a real effort to reach out to new friends.
Be realistic. You will make mistakes. You will be confused and overwhelmed. College is an exciting time of change; meeting new people; self-discovery. Embrace the highs & lows.
Reduce your social media presence OR when you post, be REAL!
Don't spend too much time being "distracted" by technology.
Explore your new campus! Find places you like to study; restaurants you enjoy; events in the surrounding town.
Be comfortable saying "No" to bad choices and over-extending yourself.
Communicate with your family about keeping in touch/planning visits to campus or coming home. Be proactive and discuss expectations.
Enjoy the journey. Be good to yourself. You can do this!!
15 'Don't Go There' Tips For Parents From Lisa Micele
Don't make their leaving all about you.
Don't beat yourself up wondering if you prepared your child well enough for college.
Don't be passive. Initiate conversation and discuss the new expectations of your relationship.
Don't say "College is the best time of your life!" Be open with them about the highs and lows.
Don't rescue your new freshman. Coach and empower them.
Don't second-guess your child. Trust them. You will undermine their ability to make decisions.
Don't monopolize their lives. Remember KISS (Keep It Short & Sweet) — with unobtrusive texts and quick "touch base" emails reminding them of your unconditional love and support.
Don't talk too much. When you do connect through calls or video chats, ask open-ended questions and LISTEN more than you speak!
Don't feel guilty. There are "new beginnings" and adventures awaiting both students and parents in this transition. It is okay to look forward to this new chapter in your life with excitement as well.
Don't perpetuate the stigma. Talk openly about healthy social & emotional tools and mental health services on campus. Remind your student over and over that asking for help is NOT a sign of weakness.
Don't turn their bedroom into a home gym. If changes will occur at home, discuss this with your freshman first. Maintain trust with your child.
Don't encourage a "Fixed Mindset" (Carolyn Dweck, Ph.D.) by focusing on grades and outcomes. Instead, focus on embracing challenges; learning from mistakes; persistence & effort.
Don't be an open ATM for your student. Talk about finances and set a budget.
Don't make surprise visits to campus. Be respectful of your freshman & newfound independence. Plan ahead with proactive communication.
Don't forget... your child will always need you!
Parents: Remember to attend all orientation events, visit the college website for specific transition tips, and be familiar with the college support services / resources on their new campus. You can do this too!
Guest
Lisa Micele, director of college counseling at the University of Illinois Laboratory High School in Urbana, Illinois. She tweets @LisaMicele.
This segment aired on August 25, 2016.