Grandson Of First National Park Service Director Recalls His Legacy
05:50
Play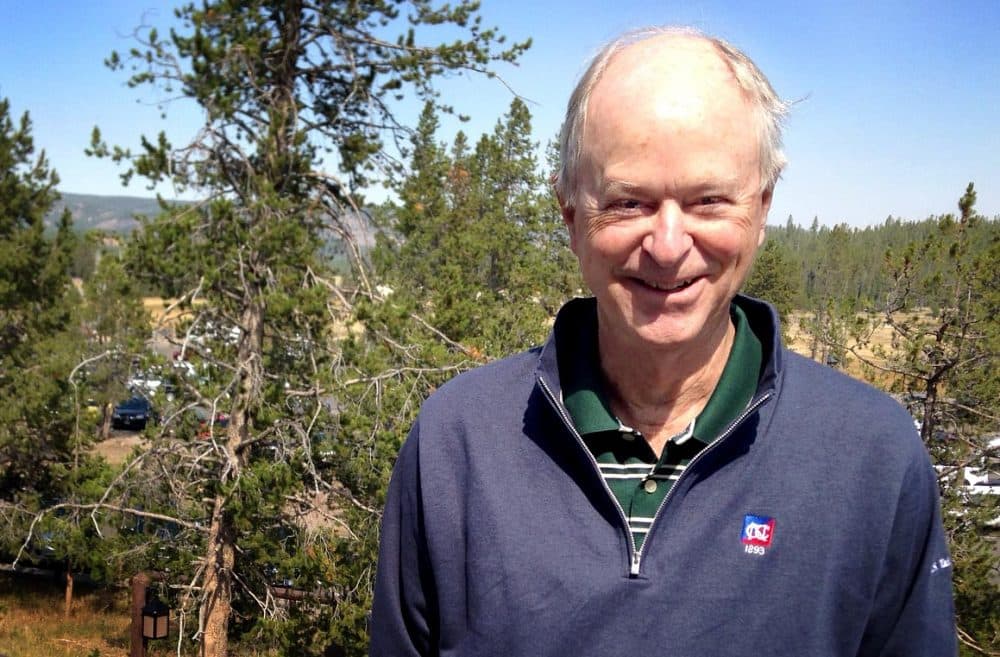 This article is more than 4 years old.
Today is the 100th anniversary of the National Park Service, and Here & Now has celebrated the anniversary with a series of reports this week from Yellowstone National Park.
Stephen Mather was a wealthy Chicago industrialist before he was called on to help form and lead the National Park Service.
Today, his legacy can still be seen in parks across the country: Mather Point at the Grand Canyon, Mt. Mather in Denali National Park and the Mather Pass in California's Kings Canyon National Park all bear his name.
Here & Now's Jeremy Hobson spoke with Mather's grandson, Stephen Mather McPherson, at Yellowstone National Park before the official park service celebration on Thursday.
Hear more from Here & Now's national parks tour.
Interview Highlights: Stephen Mather McPherson
On his grandfather's involvement in the National Park Service's formation
"Stephen Mather was an industrialist living in Chicago. Fortunately for him, he had made substantial amount of money and he was able to break away and go into public service. He called the secretary of Interior, who had gone to the University of California with him, and told him he was doing a lousy job running the national parks. The secretary said, 'Come to Washington and do it yourself.'
He took the challenge, went to Washington, became the assistant secretary of the Interior. Then in the summer of 1915, took industrialists, took writers and congressmen on his own money out to the Sierras and took them on a pack trip. Those influential men came back to their various places and helped him in the next year get the Park Service Act [the Organic Act of 1916] passed by Woodrow Wilson on August 25 of 1916, so it's coming up on 100 years."
On why his grandfather cared about the parks
"He had grown up as a young man in San Francisco and had spent a lot of time in Yosemite National Park and the Sequoias, so he had seen how badly they were run, how poorly they were administered. There was logging going on, they were running cattle, they were mining in the parks, and these parks are supposed to be unimpaired for future generations — that's in the act, actually. So he got very disturbed about that, but went on to make a fortune for himself, and then had the ability to go and perform public service. That was his dream, and thank goodness he did so, because we're all the beneficiaries."
On his own involvement with the park service
"I served as a seasonal ranger here in Yellowstone National Park in the summer of 1958 and was on patrol here. Had a wonderful time working with other rangers. Subsequently as I grew up and became an adult. In business, I served on the board on the National Park Foundation, I was chairman of the board of an organization called National Parks Conservation Association, which my grandfather founded in 1919 to bring in the minds of industrialists, academics, and scientists to help him build this new agency in the Interior Department. That has evolved into a huge citizens organization that provides support to the parks."
On his favorite national park
"This here, Yellowstone, and Grand Teton. I spent a lot of time here as a kid, and of course, being a [seasonal ranger], that was very influential in those days for me. I took a train trip across the United States in 1946 with my family. Throughout that trip, when we stopped at national parks, there were men there who had known my grandfather and it was very influential to me as a young kid. But Tetons and Yellowstone are my favorites."
On his advice for a young person who's never been to a national park
"I would tell them, 'Get your parents to get you in a car and drive around this country just like the people that we see here at Old Faithful today.' It's filled with families and kids, and they'll take a trip they'll never forget."
Guest
Stephen Mather McPherson, grandson of Stephen Mather, the first National Park Service director.
This article was originally published on August 25, 2016.
This segment aired on August 25, 2016.