Chef José Andrés On Immigration, Politics And His Dream Restaurant
10:57
Play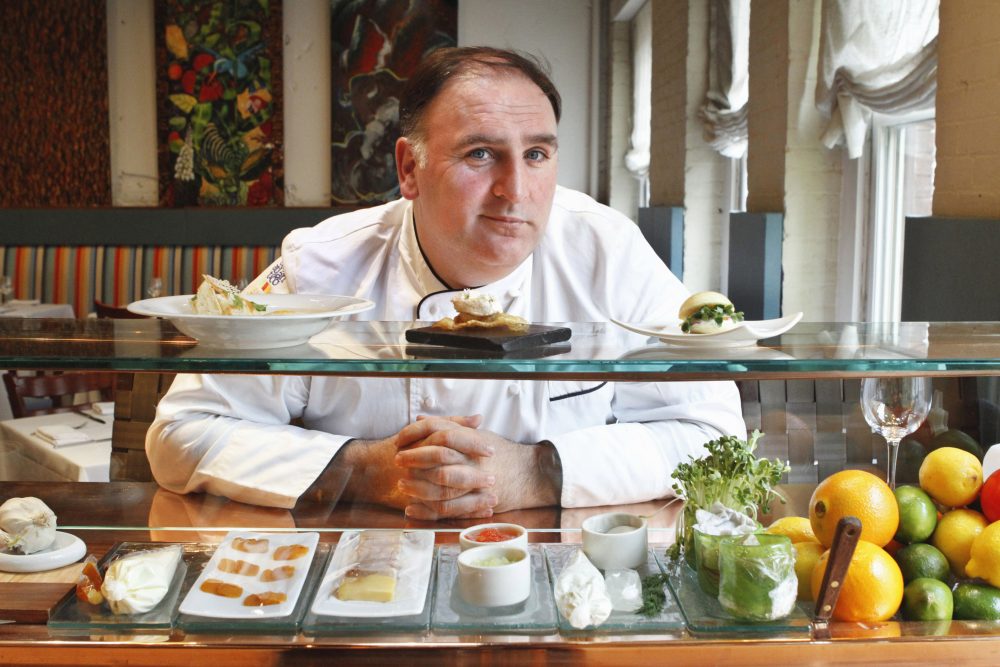 This article is more than 5 years old.
The restaurant scene in Washington is booming — it was even named Restaurant City of the Year by Bon Appetit magazine. That success is thanks, in part, to Spanish-born chef and owner José Andrés, who runs a number of restaurants in the city and across the country.
Andrés has also been in the headlines recently due to his lawsuit with Republican presidential hopeful Donald Trump over their joint project in Trump's Washington hotel.
In our latest View From The Top conversation, Here & Now's Jeremy Hobson speaks with Andrés about his culinary inspirations, why he thinks immigration is important and why sharing is a good thing.
Interview Highlights: José Andrés
On being a restaurateur and a storyteller
"They're very different restaurants because I believe more than a chef, I'm a storyteller. I tell stories through my restaurants. When I got to a restaurant, when I go to a far away country, and I know I only have a day or two or three to experience the city, I try to get as many experiences I can in the shortest period of time because I never know when I'm gonna go back. For me, I don't know when people are gonna come back to my restaurant. So the small plates — tapas, as we call them — for me it's a great way for anybody to be able to experience my stories, the different chapters of my restaurants, in one single meal."
On the power of a meal, and cooking
"To me, sharing is so powerful. I always joke, they say that the fork and knife, that they were created to protect your plate from others taking a bite. And that as society became more peaceful, we began using them really to feed ourselves and feed others. So, for me, yes, to think that you can be ordering different things that everybody can be choosing two or three things, and that instead of putting the plate next to you, you are putting it in the middle of the table and you're sharing the bounty with everybody, I think, to me, is the most unique, fascinating way to eat."
"I like the big pot. I always dream of the one pot that can feed the world."
"The paella pan is great for me because you only need one spoon, one pan, one fire, and there you can be feeding 10 people or 100, and that's very powerful."
"The part I like the most is still the cooking. When I'm off, I'm cooking. When I'm on vacation, I'm cooking. When I'm working, I'm putting my finger in any sauce or icing, anything."
Guest
José Andrés, chef, restaurant owner and head of ThinkFoodGroup. He tweets @chefjoseandres.
This article was originally published on October 04, 2016.
This segment aired on October 4, 2016.