3 Simple Chicken Recipes From Resident Chef Kathy Gunst
Resume
For many home cooks, chicken is still the go-to entree.
Here & Now resident chef Kathy Gunst brings host Jeremy Hobson a chicken dish with lemon, capers and olives, chicken salad and a recipe for double-dipped chicken parmesan.
Kathy's Chicken Recipes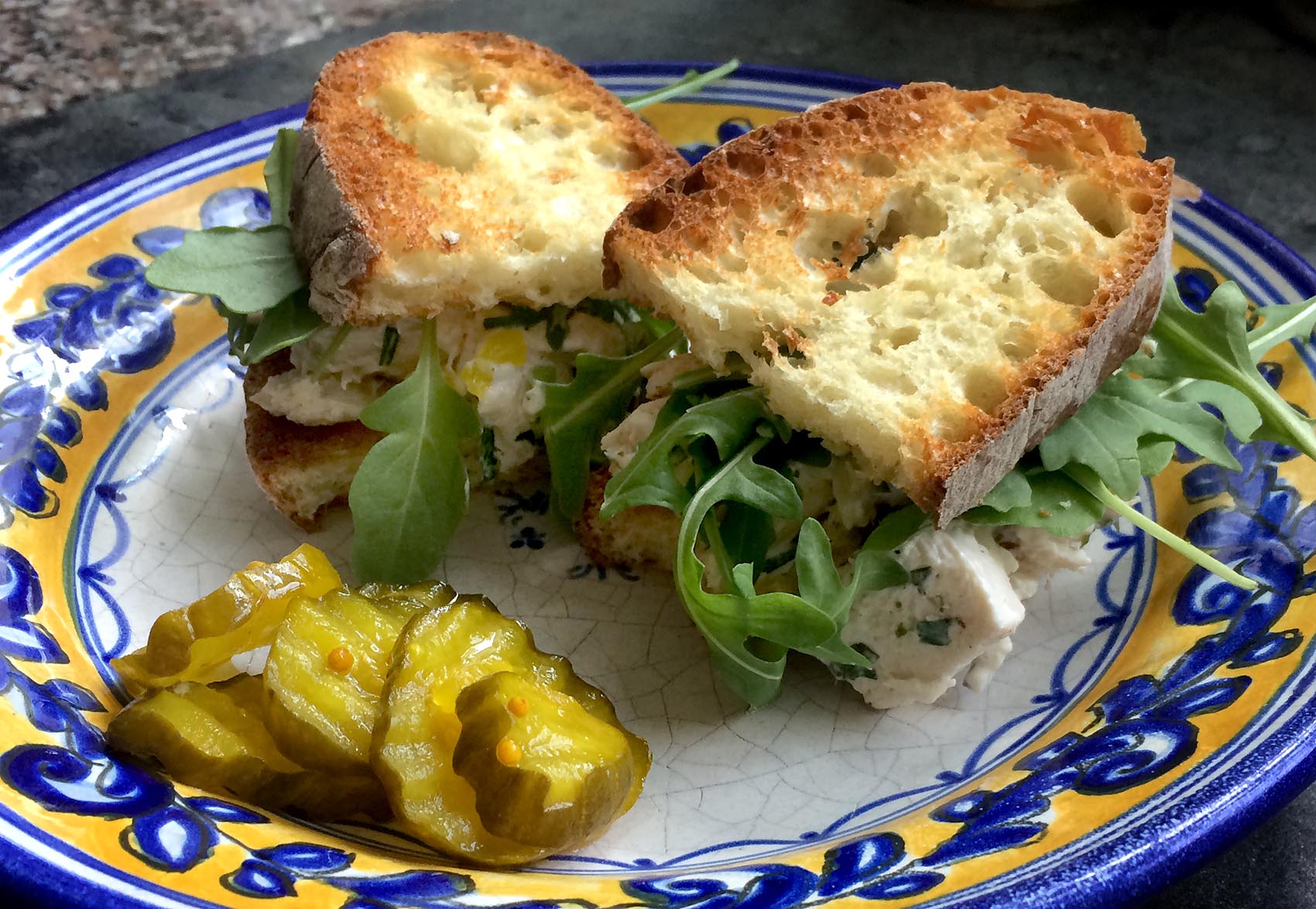 Chicken Salad Sandwich With Arugula And Pickles
This is a great lunch dish and a terrific way to use up leftovers after you've made chicken soup or roasted a chicken. Serve on lightly toasted whole-grain bread with arugula or tender greens, and serve with pickles. Serves 2.
Ingredients
2 cups cooked chicken, white and or dark meat, cubed
1/4 cup chopped fresh herbs, such as parsley, chives, basil and or dill
2 tablespoons pickles (bread and butter, dill or half sour), finely chopped
1 1/2 tablespoons fresh lemon juice
2 to 3 tablespoons mayonnaise
Salt and freshly ground black pepper
4 slices whole-grain bread
About 1/2 cup arugula or tender greens
Instructions
Place the chicken in a medium bowl. Add the herbs, pickles and lemon juice and stir. Add 2 tablespoons mayonnaise and salt and pepper to taste. If you like a moister, "wetter" chicken salad, add the remaining tablespoon of mayonnaise. Stir and taste for seasoning.
Toast the bread and layer the chicken salad and lettuce between two slices. Top with the remaining two slices, cut in half and serve.
Chicken Thighs With Lemon, Capers And Olives
This recipe is rich with Mediterranean flavors. Chicken thighs are sautéed and then topped with pitted olives, capers and paper-thin slices of lemon and a splash of white wine.
The dish is finished off in the oven, making it an ideal make-ahead dinner. Chicken thighs tend to be juicier than breasts, but you can easily do this with white or dark meat — or a combination of both. Serves 4.
Ingredients
1 1/2 pounds boneless skinless chicken thighs
About 3 tablespoons olive oil
Salt and freshly ground black pepper
1 cup flour seasoned with salt and freshly ground black pepper
About 2 tablespoons butter
1 lemon, cut into paper-thin slices with the seeds removed
1 cup pitted black and green olives, coarsely chopped
1/4 cup capers, drained
1/2 cup fresh parsley, finely chopped
3/4 cup dry white wine
Instructions
Place the chicken on a cookie sheet with sides or in bowl and drizzle with 1 tablespoon of the olive oil and salt and pepper. Let sit 10 minutes or up to 24 hours, covered and refrigerated.
Remove chicken from refrigerator. Working on a cutting board, press down on the chicken thighs, one at a time, to cut the meat in half lengthwise. You want to create two thinner filets. Repeat.
Place the seasoned flour on a plate. Dredge the chicken in the flour until coated on both sides, shake off any excess flour.
Heat a large heavy skillet over moderately high heat. Add 1 tablespoon oil and 1 tablespoon of the butter and heat until the butter begins to sizzle. Sauté the chicken pieces, working with only a few at a time to make sure they don't crowd the pan. Sauté for 2 minutes and gently flip over. Season with salt and pepper. Sauté another two minutes on the other side or until golden brown; the meat will not be cooked through. Transfer the sautéed chicken to a large gratin dish or baking dish or ovenproof skillet. Repeat with the remaining chicken adding more oil or butter if needed.
With the pan off the stove, wipe excess oil from the skillet with a paper towel.
Add the remaining tablespoon olive oil to the skillet over moderate heat. Add the lemon slices, olives, capers and parsley and cook, stirring, for one minute. Raise the heat to high and add the wine; let cook and boil off for 2 minutes. Add the remaining tablespoon of butter and once it has melted, pour the sauce over the chicken, distributing the olives, capers and lemons evenly. The dish can be made ahead of time; cover and refrigerator for several hours.
Preheat the oven to 400 degrees. Place on the middle shelf and bake the chicken for 10 minutes or until the sauce is bubbling hot and the chicken is cooked through.
Double-Dipped Chicken Parmesan
This recipe comes from my friend, Ronnie Maddalena, and it's a winner. The chicken is dipped in beaten eggs, and then breadcrumbs — not once, but twice — and is finally baked with tomato sauce and grated Parmesan cheese.
Serve with linguine and a green salad. Serves 4 to 6.
Ingredients
2 pounds boneless skinless chicken breasts or thighs
4 eggs
Salt and freshly ground black pepper
About 3 cups Panko or breadcrumbs
1/4 cup olive oil
4 cups tomato sauce, homemade or canned
1/2 cup grated Parmesan cheese, plus 1/3 cup for serving
1/3 cup finely chopped fresh parsley
Instructions
Divide each chicken breast in half. Leave the thighs whole, if using.
Place the eggs in a bowl and whisk with salt and pepper. Place the breadcrumbs on a large plate.
Dip the chicken into the egg batter and then dredge in the breadcrumbs. Repeat.
In a large, heavy skillet, heat the olive oil over moderate heat. Brown the double-dipped chicken in the hot oil for 3 to 4 minutes on each side, or until golden brown. The chicken will not be cooked through. Remove and place on paper towels.
Preheat the oven to 350 degrees. Pour 3 cups of the tomato sauce in the bottom of a large gratin dish, Pyrex dish or ovenproof baking dish. Place the browned chicken on top of the sauce and cover with the remaining cup of sauce. Sprinkle with the cheese and bake on the middle shelf for 45 minutes, or until the sauce is hot and bubbling. Serve hot, sprinkled with the parsley and serve extra grated cheese if desired.
Recipe from the book RELAX, COMPANY'S COMING! by Kathy Gunst. Copyright © 2001 by Kathy Gunst. Republished with permission of Simon & Schuster.
Guest
Kathy Gunst, resident chef for Here & Now and author of the book "Soup Swap." She is also the author of "Notes from a Maine Kitchen" and the video series "Simple Soups from Scratch." She tweets @mainecook and is on Instagram @kathygunst. There's more information about book signings, classes and lectures at her Facebook page.
This segment aired on October 20, 2016.