Standing Up For Victims Of Revenge Porn
10:53
Play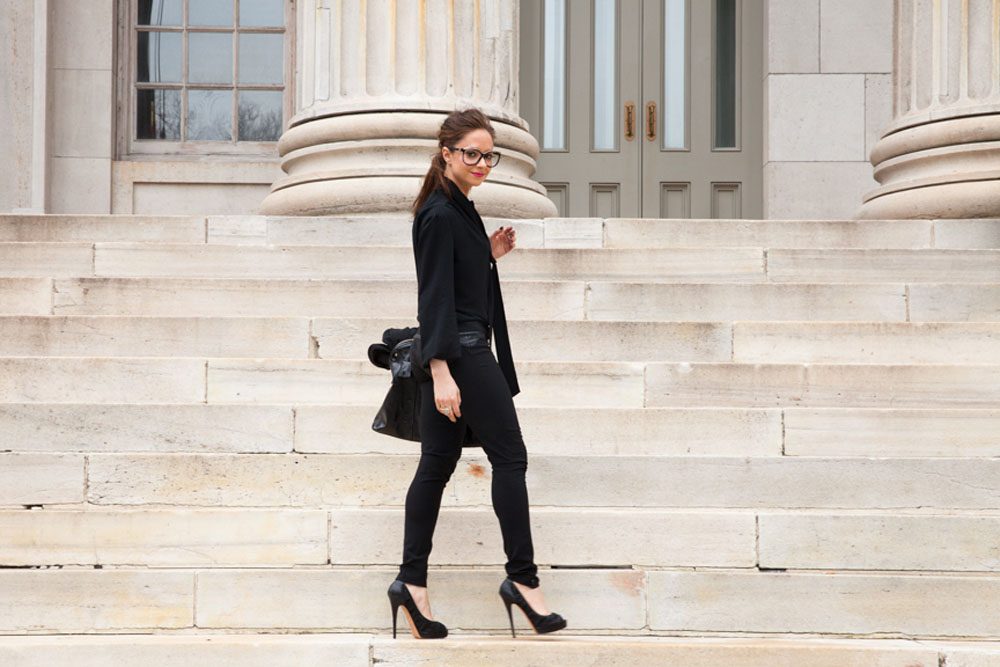 This article is more than 4 years old.
"The evolution of technology requires an evolution of laws," says Carrie Goldberg (@cagoldberglaw), a lawyer who is devoting much of her practice to defend victims of online assaults. Goldberg, whose practice is in New York, is a leader in the new field of sexual privacy.
She tells Here & Now's Robin Young about the impacts of cyber harassment on its victims, and why nonconsensual- or revenge-porn laws need to be passed and enforced.
Interview Highlights
On Carrie Goldberg's personal connection to the issue
"I was originally a target. Many of my clients' cases begin with the words 'I met him on the internet,' and my story was actually no different. And I became somebody's target after leaving a relationship, and as soon as I resolved my problem using a combination of creativity and law enforcement, I decided I was going to become the lawyer I really needed when I was going through my crisis."
"There's shame, there's rage, there's helplessness. There's an attitude that the person who shared the images is some sort of sexual deviant and should've known better and should've seen the red flags. Really, in my practice, I'm here to tell the world that we are all a moment away from meeting somebody who's malicious and who's intent on taking us down. And whether that's through the use of intimate pictures, or lies, the internet is this magnificent tool for malicious people to destroy one another's lives."
On the nature of online assaults
"I have clients who've never taken a naked picture in their life. Their face is Photoshopped onto a porn star's body. I have a 13-year-old client who was engaged in a sexual act at a party and another 13-year-old took the picture, and then he circulated it around their entire school."
"At this point, we're 33 states, plus Washington, D.C., plus Puerto Rico, have criminal laws where it's illegal, criminally, to take a picture that exposes that exposes somebody else's private parts or a sexual act and distribute it. But that still leaves us with 17 states where it's completely legal for me to take a picture of you and broadcast it all over the internet for everybody to see, for me to create a website that's in your first and last name and just dedicate to exposing pictures of you."
"That's one of the biggest frustrations that clients have, is they think that they can go to the police, and that they will be protected, but the police kind of have blinders on, they say, 'Oh, well you're telling me about revenge porn. Well, we don't have a revenge porn law.' They know enough to know that. And then they send the person on the way. Unfortunately, though, they're not asking other questions. They're not asking, 'Oh, well, did he also contact you?' Many, many times clients are receiving hundreds and hundreds of texts and emails and threats. They're not asking, 'Were you of age when that picture was taken?' 'Cause it could trigger child pornography laws. 'Did you know the picture was taken?' That could trigger unlawful surveillance laws. So often the right questions are not being asked, which would trigger criminal protection using other laws."
On the harmful consequences of revenge porn
"One of the biggest and scariest things for clients, especially the young girls, is that their Google results are trashed. So imagine, you Google your name, and the first five pages are populated by links to porn sites that have naked pictures of you. And then imagine you're trying to get a job, or a date, or an apartment. I mean, we're nothing without our online reputation. It's just, there's no differentiation between our online and our offline selves."
On addressing critics of sexual privacy
"I love that argument that, well, if people really loved their bodies then they wouldn't care about their naked pictures being everywhere. But, you know, this is really about autonomy and the choice to prioritize privacy in whatever way we want. I mean, we don't have sexual privacy, but yet we have consumer privacy, our social security numbers are protected, our medical information is protected. Why do we not prioritize sexual privacy the same way?"
This segment aired on December 13, 2016.