Battling Climate Change, FEMA Chief Blasts 'Social Welfare For Developers'
11:03
Play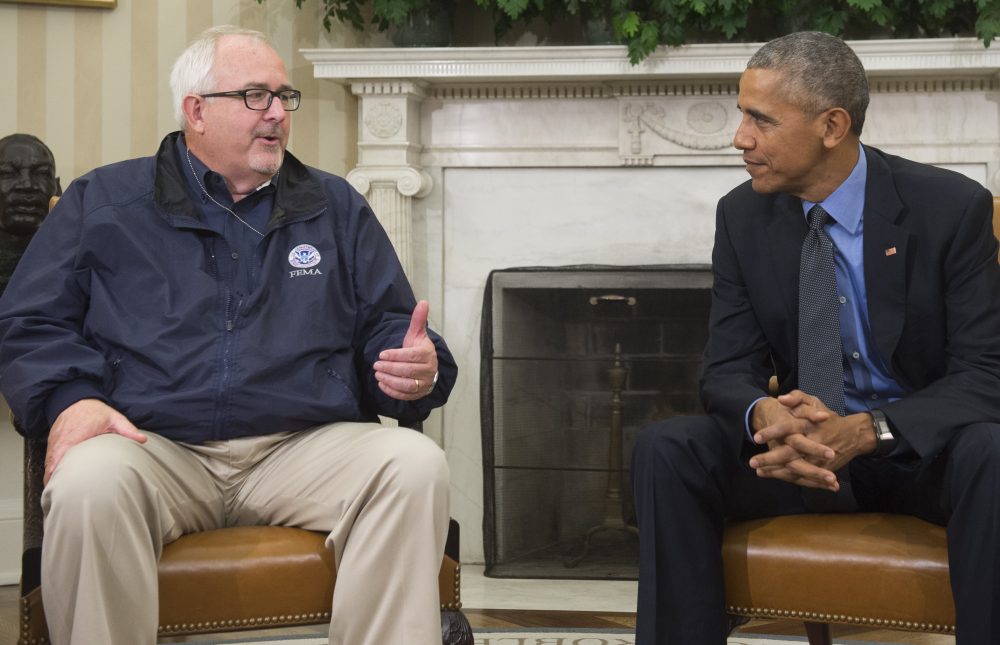 This article is more than 4 years old.
Since President Obama's inauguration in 2009, there have been 931 federal or state disaster declarations — most recently the wildfires in Tennessee. The man who has overseen the federal government's emergency response since May 2009 says while natural disasters may be inevitable, the way we fund recovery efforts is encouraging people to rebuild in vulnerable areas.
Craig Fugate (@CraigatFEMA), administrator of the Federal Emergency Management Agency (@fema), told Bloomberg View that subsidizing developers to rebuild in flood zones is "nothing but socialism and social welfare for developers."
"They've got to be called out," Fugate said.
Here & Now's Robin Young speaks with Fugate, who leaves his post as FEMA administrator on Jan. 20.
Interview Highlights
On the threshold to change behavior when it comes to disaster relief
"There's this argument that I saw in Florida where we know there are places that are more vulnerable to develop, and the only reason we can build there is because of things like the National Flood Insurance Program and disaster response, and my question was 'Why do we keep growing the risk? Why is it not getting smaller?' And the answer is we set a rate of subsidy below which people change behavior. If you're underwriting the risk as a taxpayer — and that's the thing I wanna make clear, this is you the taxpayer, you're underwriting the risk — where's your benefit from this? Or is this solely to the benefit of those that are able to develop and build in high-risk areas because you underwrite it?"
On analyzing risk and developing new recovery strategy
"This is one of the things that, when I talk about the federal role, people don't always understand that what FEMA pays for is what is considered uninsured losses. So every fire station, every school, every courthouse, every public building that we put money into, that's because they didn't have insurance. And my question is, if the private sector doesn't think it's a good risk, or it's not affordable, have you considered maybe building back differently or in a different place? But as long as we're going in and providing reimbursement up to 75 percent of those losses, there's not much of an incentive to change behavior over the long term."
"When we do go in after these disasters, we ask the question 'What should we build this back to?' And too often we end up only looking at past data and not future risk. And so what we're trying to say is we ought to build back to insurable risk so that we rebuild it one time with the taxpayers' money, but then the private sector is managing that risk for the long-term, not the taxpayer. But if we're building something new, why aren't we using the same tools of building it so it is insurable?"
"If you're underwriting the risk as a taxpayer — and that's the thing I wanna make clear, this is you the taxpayer, you're underwriting the risk — where's your benefit from this?"

Craig Fugate
On a "disaster deductible"
"Right now, when you talk about public assistance — and this is not for the families that were impacted, this is for the governments — that we have thresholds based upon a per capita per state population. So it's $1.41, so you multiply that by your 2010 census, and that is the threshold for your uninsured losses that the president would consider declaring a disaster. But when we declare that, we always go back to the first dollar. So if it was $25 million, we're gonna go back to that first dollar at 75 percent. Now that's not how most insurance works. Most insurance has deductibles to encourage you to take actions to minimize filing a claim. We think that setting a deductible at your threshold, so that your disaster of $25 million, we pick up the first dollar after that, and you own the first $25 million at full cost. And then go, if you're doing things to buy down risk, let's give you credits to buy down that risk. So building codes, land use, preparedness activities — things we know that will reduce the cost of future disasters. You buy your deductible down just like you can get credits as a driver or a homeowner for activities you take to buy down your risk.
"And, if you don't like my answer or my suggestion, understand that the IG and General Accounting Office would like to double to triple that disaster declaration so that you're gonna go from a $1.41 to over $2.80 to as much as $3 to $4 per capita. My recommendation is don't raise the threshold. Create a deductible and try to incentivize good behavior and reward that through the deductible process."
On development in high-risk areas
"I'm not saying development is bad, but it needs to be in the character of, do we fully understand the risk to our tax base and what it would cost to respond to this development in a crisis, and have we factored that into the overall picture? Or, are we picking up those costs unintentionally or uninformed while other people have made their profits and moved on?"
This segment aired on December 20, 2016.