Mexico's Favorite Painters: Frida Kahlo And Diego Rivera
09:52
Play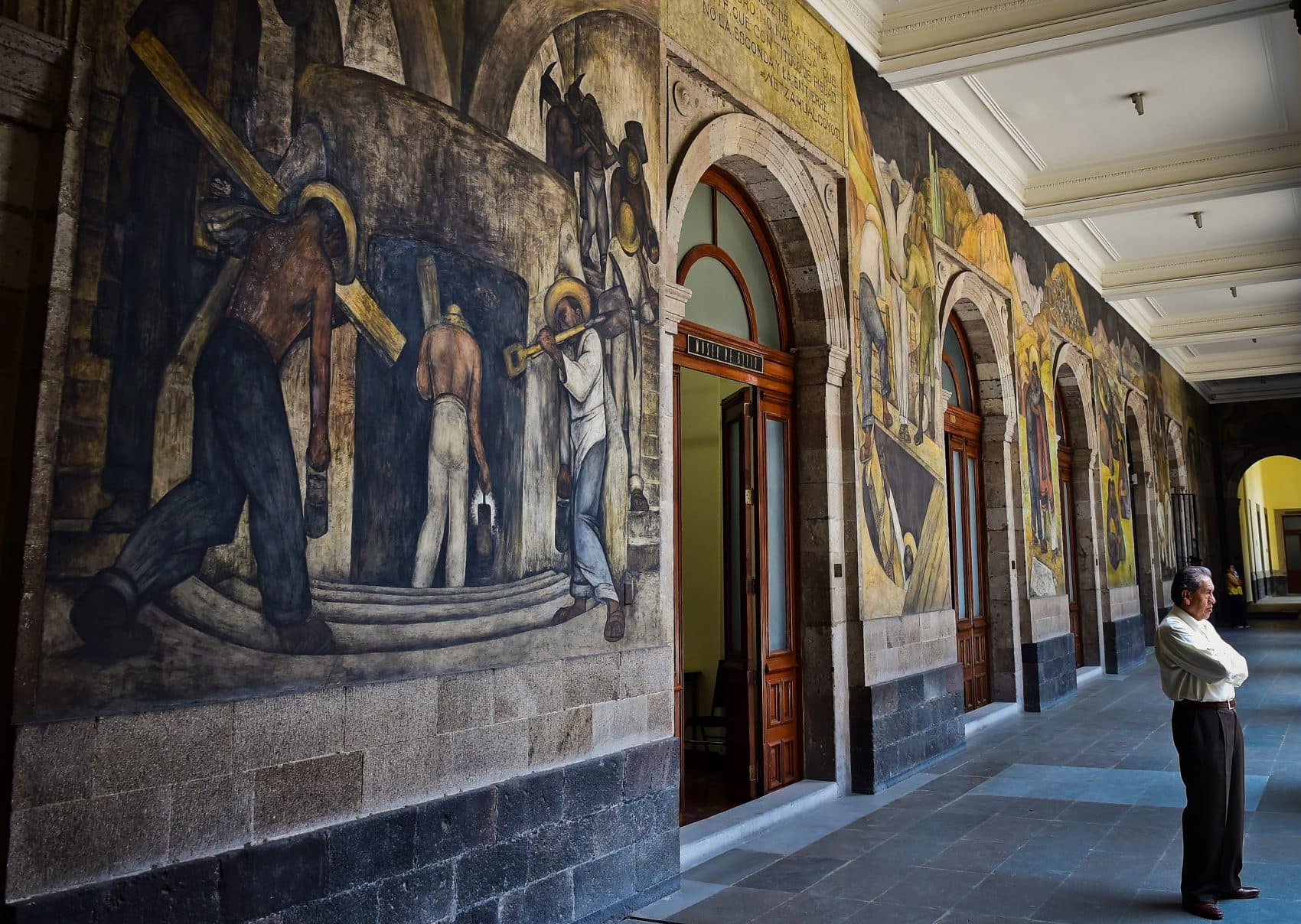 This article is more than 4 years old.
Two of the world's most iconic painters called Mexico City home.
Here & Now's Jeremy Hobson speaks with Ximena Jordan and Karla Niño de Rivera from the Anahuacalli Museum in Mexico City about the lives and legacies of Frida Kahlo and Diego Rivera.
Interview Highlights
On what makes Frida Kahlo unique
Ximena Jordan: "What makes [her] unique is that she was inspired by the popular art style, so she integrated in her works of art the colors, the perspective, or the non-perspective, and other features and symbols of popular Mexican art. And in that moment in the art history, artists didn't do that. Now, they do.
"These icons and this way of expressing human emotions in a style that was not European intellectual style, but it was Latin American popular art styled, so she integrated European techniques with popular art symbolism. That is why people in Europe and in the United States were captivated by her artworks, because they were still European-style artworks, but they were unique, because they were expressing feelings in a language that in that moment was unknown to them."
On Kahlo's politics
XJ: "Frida Kahlo, she was a revolutionist in her way of thinking. She was 3 years old when the revolution started, she was 7 years old when the main, first period of the Mexican Revolution finished. She was always very proud of Mexico being a revolutionary nation. She thought that it was the beginning of a better start for Mexico, and for the world."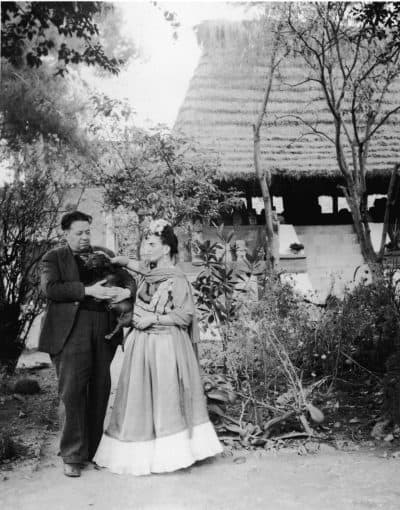 On who Diego Rivera was
Karla Niño de Rivera: "Diego was an amazing artist, he was this kind of macho archetype — brave and proud about his Mexican thing. But he was also a great human being. He started at the [Academy of San Carlos] here in Mexico, and he broke with the academy and translated this knowledge to a new way of expression. Then he went to Europe, he met there Picasso, Modigliani, all these important guys. They became friends, and they interchanged ideas. They were looking for the same things — with Picasso, both of them were embracing this ancient art to look forward to the future. He came to Mexico, to his revolutionary period, and then he created with José Vasconcelos the muralism movement, so it's one of the most important things we have in Mexico."
On how Kahlo and Rivera met
XJ: "Frida Kahlo was at the [National Preparatory School], and that high school — 'preparatoria,' we call it here — in that moment it was, four girls would be there per 100 boys. Because most girls wouldn't go to university, and Frida Kahlo wanted to be a doctor, so she studied really hard and she was accepted in this national high school."
KNR: "And here was Diego. Diego, when he came back from Europe, he was asked to paint murals in the national preparatory, so there he was, painting, and then Frida appeared."
XJ: "Frida knew Diego, because she would go — as probably and other classmates of her's — to see Diego painting. And she would stare at him and observe him while he was working for a long time. But Diego didn't know her, and then Frida Kahlo suffered [a bus crash]. That accident changed her life forever, so she was not going to be a doctor anymore, because she became disabled. And then, she decided to go into painting, because it was a job that allowed her to manage her own timetables. And when she decided to become a painter, she was painting, painting, painting, and she painted some medium-format artworks, and took these paintings to Diego Rivera."
On how important Kahlo and Rivera are to Mexico today
XJ: "Today Frida Kahlo... because I think they are different in terms of, maybe they are equally important, but in a different way. Nowadays, Frida Kahlo is a symbol, and is a model to people who have any kind of disability. Because she was able to live a normal life in spite of her disability. That is very important, we have a lot of people with disabilities in the museum, and they are very touched and eager to see the crutches and the sticks of Frida, and the wheelchair and everything.
"Also, she's very important for the LGBT community all over the world, because Frida Kahlo was bisexual, and when she was alive, bisexual women mostly concealed that condition, and they did not practice bisexuality openly. And Frida did so. She did not feel ashamed of that. On the contrary, she felt that it was her. Also for the feminist community, she's important. Frida Kahlo did not join any feminist movement, but interestingly, current feminist groups want her as a symbol, as an icon."
KNR: "I think Diego taught all the artists, not just in Mexico, that you can intervene in your nation's life. He was this activist guy, he was always trying to improve the daily life of all Mexicans. So he was known by being friends with [Leon Trotsky], he helped to bring Trotsky [to Mexico]. He was truly proud of being Mexican, and our ancient culture. And he was always trying to show what we came from. That's why he made the Anahuacalli, he collected 50,000 pieces, because he was in love with our origins. This is so important, not just for Mexicans, for everybody, I think."
XJ: "For human history."
This segment aired on April 27, 2017.