Law Enforcement Officials Take On DACA Students' Roles In Colorado Play
Play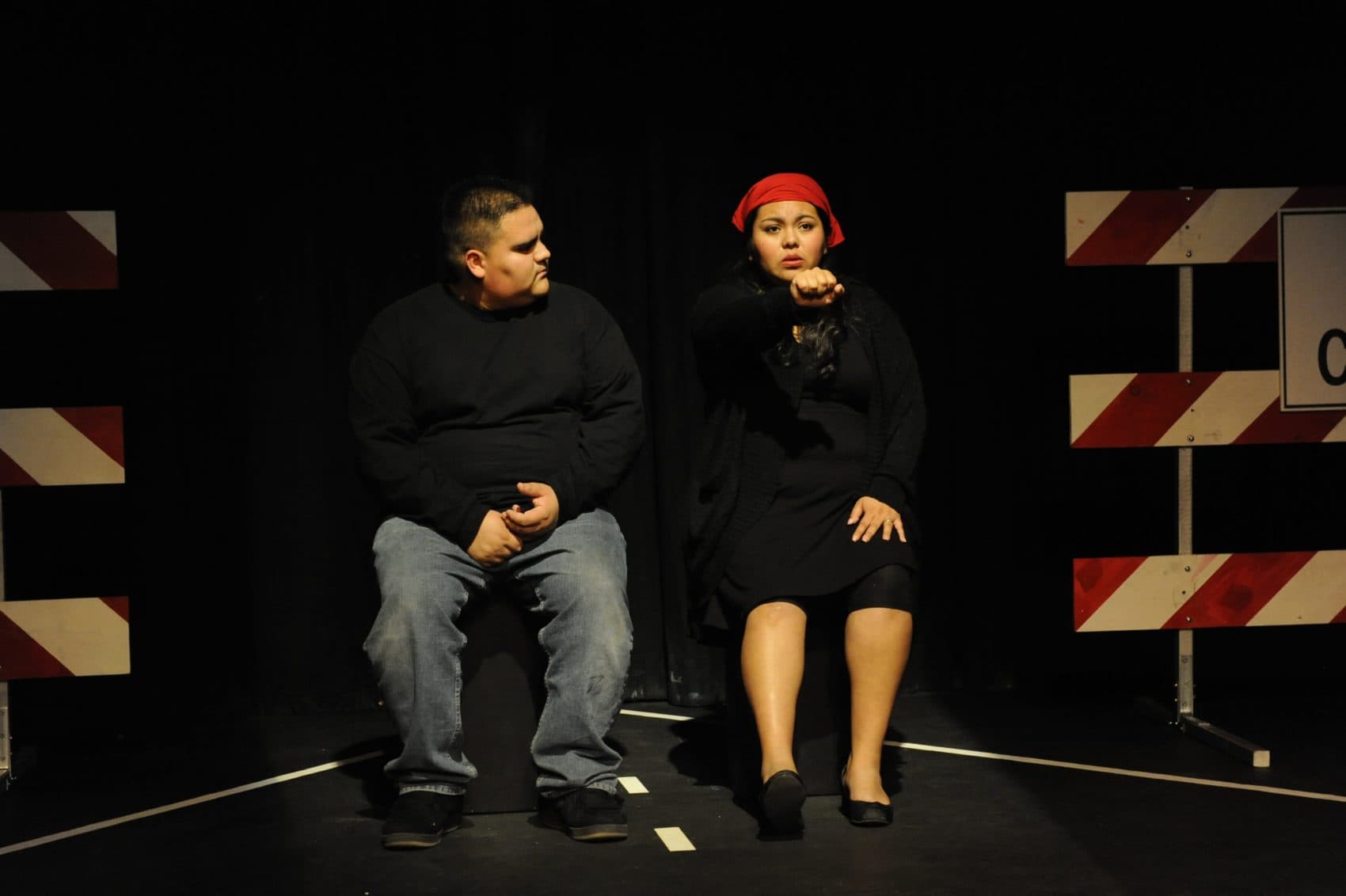 This article is more than 5 years old.
"Do You Know Who I Am?" is a one-act show featuring autobiographical monologues written and performed by youth living in the U.S. under the Deferred Action for Child Arrivals program, staged at the Motus Theater in Boulder, Colorado.
This weekend, the show will feature a unique twist when the Boulder County district attorney, the county sheriff and police chiefs from the Colorado cities of Longmont, Louisville and Lafayette take on the roles of these immigrants, for a single performance.
Boulder County District Attorney Stan Garnett (@DAGarnett) and show writer and performer Victor Galvan (@victorgalvan247) join Here & Now's Robin Young to discuss why the show is taking this unusual turn, and what it means to the original actors and law enforcement officials who will share their stories.
Interview Highlights
Galvan, on what the theater's program means to him
Victor Galvan: "I have been my telling my story since I was about, I'd say 13, but more in third person, as if I was reading someone else's monologue. Through Motus Theater, the work that I'd been doing in immigrant rights and as an activist, I really learned to tune in the more emotional part of my story, and not just as facts and statements."
Galvan, on law enforcement reading the group's monologues
VG: "It's an interesting step for us, because we had agreed as a group that we would never have anyone read our stories without our permission, and to have this opportunity to have not only the district attorney and the Bolder sheriff but chiefs of police, to read our story in such a pivotal moment, where not just immigrants but Mexican immigrants specifically are being targeted by the current administration, is powerful. To hear the words 'I am not a criminal' uttered by law enforcement through our monologues, for me, is very, very powerful."
Garnett, on how the project fits into his other work with immigrant communities
Stan Garnett: "I've been district attorney for almost nine years, and we've had, out of my office what we call the Immigrant Protection Initiative in place for six years. We have spent a lot of time working with marginalized communities in Boulder County, people who feel afraid, who don't feel confident that they can trust police or law enforcement to build their trust. Because everybody involved in law enforcement knows that if the people you're trying to protect don't trust you, don't think they can call you, can't report crimes, then the bad guys are going to take advantage of that and you're going to have a real problem. This is an outgrowth of what we've been doing for quite a while. Obviously the events of the last few months have brought it really to the fore. We're proud to do it and I know that law enforcement in Boulder County is very committed to protecting everyone who lives here, no matter who they are."
"A lot of the problems around immigration in our country are based on lack of understanding — lack of understanding the law, lack of understanding the experience, lack of understanding what options are."

Stan Garnett
Garnett, on reading a monologue written by Ana Casas
SG: "Ana Casas has lived most of her life in Boulder, and it's a very powerful monologue about the experience that she had when her little brother was deported to Mexico. It's powerful for me to read it just to myself, I think it's going to be powerful to perform it. What's been great about this 'Do You Know Who I Am' performance — and I've seen it performed several times and I've read a lot about it — is that it helps non-immigrants in Boulder County understand what the experience has been of the undocumented community and what it's like to live that way in our community."
"I actually do have a hard time [reading the piece]. As a father of two boys myself, the whole idea of this boy being deported from his family is very emotional."
On how the performance helps offer perspective on immigration
SG: "We've spent a lot of time, we've done probably close to 200 events in Boulder County and elsewhere in Colorado. A lot of the problems around immigration in our country are based on lack of understanding — lack of understanding the law, lack of understanding the experience, lack of understanding what options are. What I say to lots of folks, and I spend a lot of time in the community talking about these issues, is when you understand the intersection of federal law and state law, the difference between committing a crime and being undocumented — and there's a large difference — and you understand the enormous contribution that the undocumented community makes, you will approach these issues with a much more thoughtful and I think compassionate approach. It's been my experience that when people really understand... one of the problems we have nationally now is that people don't really talk, they kind of yell at each other. And immigration's a very complex issue and people really need to understand what the legal issues are, the social issues, and when they do, they approach it with a much more compassionate and thoughtful approach."
"To hear the words 'I am not a criminal' uttered by law enforcement through our monologues, for me, is very, very powerful."

Victor Galvan
Galvan, on his response to hearing Garnett read a piece
VG: "It's interesting to see Stan really chew on the words that she's written and spoken emotionally, because I think this is what we're trying to accomplish is to really show that, no matter who you are, regardless of your background, you're gonna to seek out the humanity in people's words and in their story. Really it's the pit of the reason why I got into this performance, is because I want to make sure that people hear that aspect of my story that makes us human, it makes us equal."
Garnett, on sympathy and the rule of law when it comes to immigration
SG: "Sympathy is definitely a part of understanding these stories, but my message as a lawyer of 35 years and a person who's a leader in law enforcement in Colorado, is it's all about the rule of law. It's all about making sure America is a country that it's always promised to be, and that we need it to be. The rule of law means that everyone is entitled to the protection of the law no matter who they are. Issues like immigration are complex. They're very analogous to federal tax issues. Somebody doesn't pay their taxes, they need to sort that out with the federal government. But if they're a victim of a crime in my county, they're entitled to the full protection of the law. The same is true with immigration. Any human being who lives in Colorado has a constitutional right to the protection of Colorado law. Sympathy helps, but what it's really about is the American tradition of the rule of law and of people being treated equally."
This segment aired on April 28, 2017.