What To Do If One Of Your Accounts Has Been Hacked
06:32
Play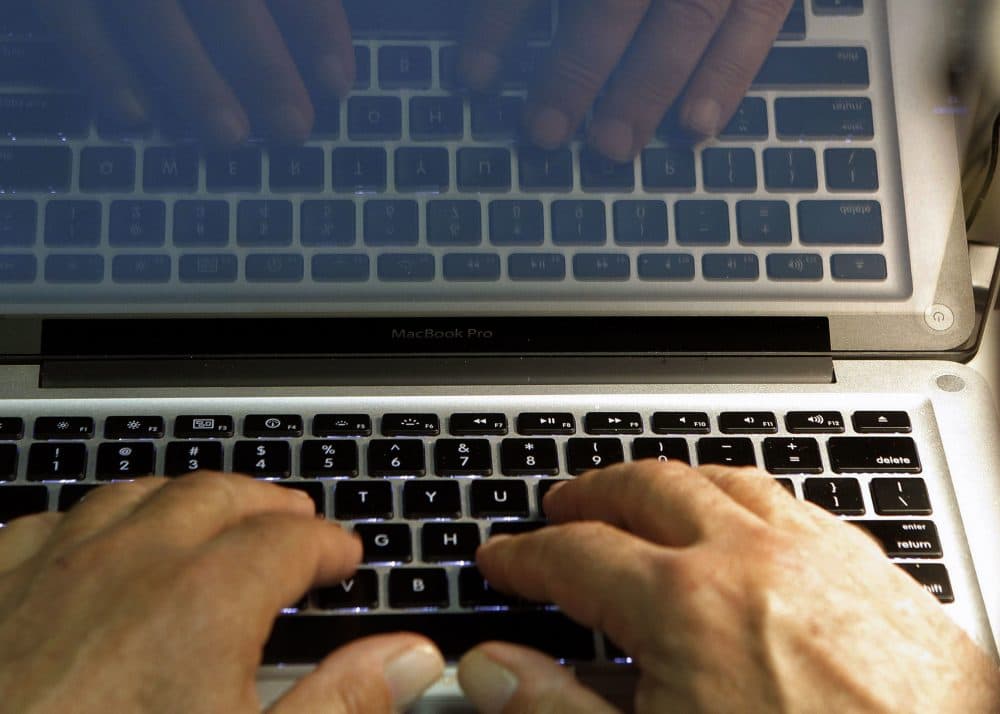 This article is more than 4 years old.
Hacking is on the rise across the globe. Cybercriminals compromised 1.1 billion accounts in 2016, according to a new report.
What do you do if you're hacked? Here & Now's Jeremy Hobson speaks with Suku Nair, a professor of computer science and engineering at Southern Methodist University.
Interview Highlights
On user responsibility when it comes to hacks
"I wouldn't call it 'responsibility,' but unfortunately, most of the time the hacks happen because of carelessness from the user."
"First of all, they should be using good passwords. And then, even if they use good passwords, they should be changing their password on a regular basis, and they should not share their password with other people. They should not paste the good password on your screen — these are all three things you can definitely do."
On the risks of using public Wi-Fi
"It is a risk, in that you have to be really careful. Quite often, when you go to this public Wi-Fi, you might not even know whether you are connecting to a legit base station. There are people who will come there and set up their own base stations, and give even a stronger signal to your device, so that you may think that is the right one, and you will connect it, and then when you connect there, you may be logging into your email, or you may be logging into your bank, all those places, and quite often they can steal your credentials."
On the lack of customer service from free services like Gmail
"That is the premise that we are going to tread when we have these free services. There used to be a time when you paid big money for your phone connection or email server — if there is any kind of service down time, you can immediately contact them and alert them and they will send a truck and fix it. But now, things are kind of centralized and free, and because of that, the service is also kind of coming down.
"But having said that, they always give information out in terms of how to keep [the account] safe, and nowadays, if you are hacked into, quite likely there are many people who are experiencing a similar thing, and you can always go to another computer, another place, and then search for, 'OK, this happened to me, what do I do?' So much information out there. That's how we're counterbalancing that issue of lack of customer service."
On the one thing people should do to protect their accounts
"Well, like I said, definitely use strong passwords and keep changing them, and if you detect any kind of compromise on your email, you have to change the password immediately. But then again, there is a caveat. If you find the email is compromised, you should try to change the password from a different computer, don't do it from the same computer, because you don't know exactly how your email has been compromised. If there is a virus in your system, then if you are changing the password on your computer, then they can get that new password also. So you should go to a different computer and try to change it. And then, you should change the password for all other online accounts you have."
On how annoying it is to change account passwords
"It is annoying, yeah, it is annoying, and that's exactly what the attackers, they're counting on. Even when information is out there, 'OK this is happening, you have to change [your password],' people just don't change it. And it is so surprising to me that, even when the danger is there... in security, it's almost like health care — even when we know that certain practices are going to make you more vulnerable, you always think it will happen only to a neighbor, not to you."
"It's a human behavior, and because of that, we will always have security issues. I tell my students, cybersecurity's almost like getting into neurosurgery: You will never get the satisfaction of completely curing somebody. At the same time, you have a lot of job security. It is going to be there all the time."
This article was originally published on May 02, 2017.
This segment aired on May 2, 2017.