Songwriter Jimmy Webb On Glen Campbell: 'He Really Taught Me A Lesson In Bravery'
Resume
Jimmy Webb (@realjimmywebb) is one of the world's greatest songwriters. His list of hits, including "Up Up and Away," Wichita Lineman" and "MacArthur Park," has been recorded by Glen Campbell, Frank Sinatra, Linda Ronstadt and countless other artists.
He writes about his rise to fame in a new memoir called "The Cake and the Rain," and he joins Here & Now's Robin Young to talk about it ahead of a special tribute concert Wednesday night at Carnegie Hall.
Robin's Note: Here's my favorite Jimmy Webb song, "The Moon's a Harsh Mistress," sung by Webb.
Scroll down to read an excerpt from "The Cake and the Rain"
Interview Highlights
On his upbringing and the beginning of his life in music
"It starts out almost as a pastoral. I was truly a laborer, a farm laborer, and when my father got behind the pulpit and began preaching, I brought my work ethic to the First Baptist Church. And by the time I was 12 years old, I was the church pianist. That was my mother's... she thought that was the apex of show business. I think as you read along, you realize that, 'Hey, this is getting to be something that this guy is not able to handle.' "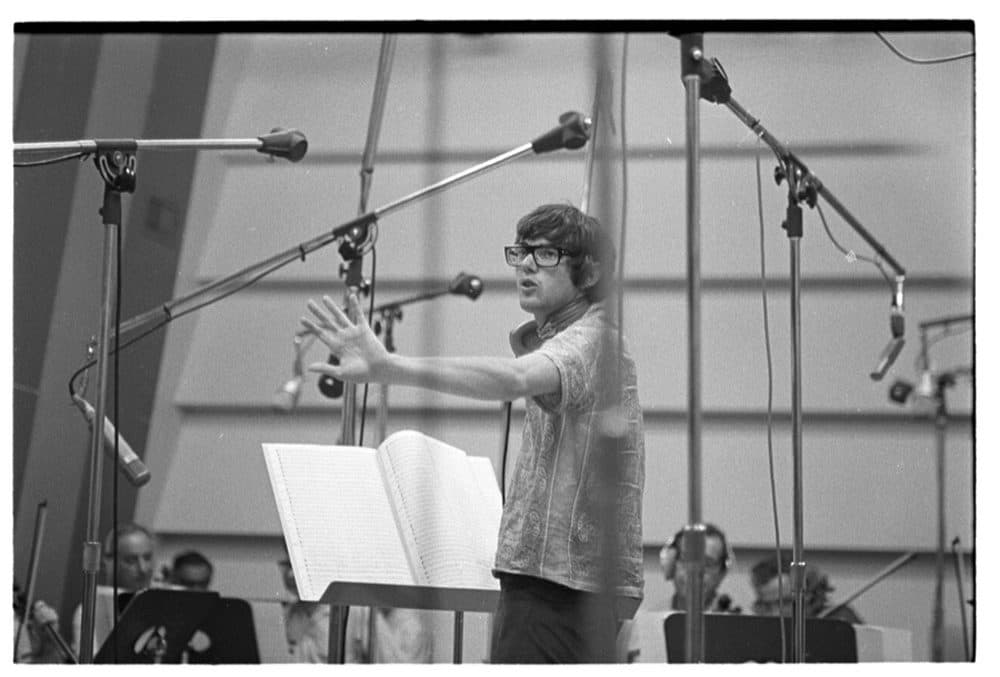 On his drug use, and navigating the music industry
"I mention in the book that I read somewhere something about me and drugs, and thought to myself, 'Now we're getting somewhere.' And I know that's, it's a very bad joke, but I actually was trying very hard to be in that club. It was a very exclusive club. Linda Ronstadt would tell me, years later she would say, 'Who did we think we were setting ourselves up in a kind of hierarchy and keeping some people out?' John Denver and Donny Osmond, they weren't in. So you really had to establish, one had to establish one's credentials as a lefty, as a liberal, which I was anyway. But Gil Scott-Heron, when he wrote that poem about 'The Revolution Will Not Be Televised,' he sort of went out of his way to say that the song of the revolution would not be written by Jimmy Webb. And it was those kinds of slights, if you will, that I felt were uncalled for, because they were judging me because Glen Campbell cut my tunes."
"I very nearly didn't [survive]. There was part of me that was trying to stay alive. There was like another part of me that said, 'Well, if The Beatles are doing it, and if they want you to do it, then you should be doing it. I wanna be in this.' But I think that I managed to chart some territory for myself as an artist."
On hearing Frank Sinatra sing one of his songs
"I can remember hearing Frank Sinatra, Mr. Sinatra, sing one of my songs on the radio. And I'm driving in my Mercedes 405 SEL. And just for a minute, it hit me. I'm a part of this moment, and I don't know how this happened. And it would be almost like a moment of absolute terror, confusion. When you look of some of the contemporary artists and the way they've left us in very tragic ways, and you go, 'How could that happen? So much promise.' And it's because they are overtaken by events."
"I can remember hearing Frank Sinatra, Mr. Sinatra, sing one of my songs on the radio ... And just for a minute, it hit me. I'm a part of this moment, and I don't know how this happened."

Jimmy Webb
On his relationship with Glen Campbell
"When I was 14 years old, I got down on my knees beside the bed, because I'd heard a Glen Campbell record called 'Turn Around, Look at Me.' And I believe it was perhaps four and a half or five years later, that I was driving down the Santa Ana Freeway and heard Glen Campbell singing 'By The Time I Get To Phoenix.' It was a magical meshing of talents. I had been writing Glen Campbell songs in my mind. I was ready for Glen Campbell.
"Well the first thing he ever said to me was, 'When you gonna get a haircut?' And yet, I found out very quickly, that there was hardly anyone who could stand on the same level as he could stand as a guitarist. And could stand behind me, watch my hands moving on the piano and just play along on the guitar, which is like a virtual impossibility.
"And partially, because of the tension, I think, between us, out of that came, I think, some of the, maybe some of the nicest records of that period."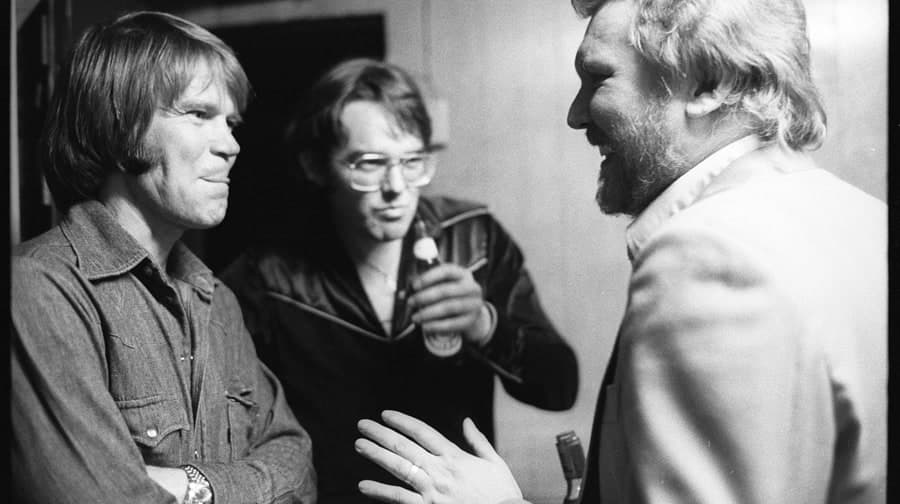 On the tribute concert
"The main reason, I'm doing the concert because he really taught me a lesson in bravery. He taught me a lesson in what it really means to be a man, when he contracted [Alzheimer's disease] and the way he dealt with it. And I've grown up a lot since I met Glen."
Book Excerpt: 'The Cake And The Rain'
By Jimmy Webb
1969
"So let me get this straight," I said into the telephone. "You have a new Corvette for me?"
"That's right, Mr. Webb. We owe you three brand-new Corvettes for the work you did with Mr. Campbell."
"So this would be my second Corvette and . . ."
"And, we would owe you one more. You could get the four- hundred-fifty cubic-inch option next year. That's a lot of car."
"Wow, that's far out!"
I had done some work with Glen Campbell on a commercial earlier in the year. We had already collaborated on a top-twenty record, "By the Time I Get to Phoenix," but had met only once, when we shook hands at the Grammys. When I had walked into Armin Steiner's Sound Recorders in Hollywood, Glen looked up from tuning his guitar and I extended my hand.
"Hi, Glen! I'm Jimmy!" I blurted as I approached television's familiar coiffed and blue-jeaned figure. He scanned my skin-and- bones frame, my leather jacket, and my hair hanging down to my shoulders.
"When ya gonna get a haircut?" he asked.
Writing hit songs was so damn easy I fantasized I could write one whenever I wanted or needed to. My songs dominated easy-listening pop radio. My manager was Sandy Gallin, who also handled Cher and the Osmond Brothers. I was one of the first guys since Burt Bacharach and Hal David to be famous for writing songs. I wasn't a Beatle. I wasn't a bandleader or an arranger. And I was definitely not a performer. I used to joke around with other song- writers that they had to be very careful and not sing a demo too well. Great singers loved to have a terrible demo that needed their particular brand of refinement.
I lived in a vintage "Valleywood" mansion that movie star Phil Harris had built for his screen darling, Alice Faye, in the 1930s. It housed two grand pianos and a handmade billiard table with my name inscribed on it. On my front porch, I stood at the top of a hill that crowned six acres of pools, gardens, and waterfalls rambling down to the bottom of a wooded hill to a quaintly wrought stable and corral. Huge, century-old white oak trees intertwined their canopies on the hillside, inspiring a pet name for the estate: Campo de Encino (Fort of the White Oaks).
In my living room I erected a temple to the idols of my profession. Artist Jeffrey Speeth, who was known to ride with the Hells Angels, had delicately torched two stained glass panels, each twenty feet wide by eight and a half feet high. On the right panel were Joni Mitchell, Art Garfunkel, Paul Simon, and Bob Dylan. To the left was George Harrison, John Lennon, and Elvis Presley, each traced with thousands of intricately shaped stained glass ellipses. Elvis stood tall—a colossus in antique purple and red glass. Joni, a golden angel, rendered in sunny yellow and clear. In the same room was a pipe organ that stretched floor to ceiling, much bigger than the one Captain Nemo played in 20,000 Leagues Under the Sea. Much bigger. In addition to my two grand pianos, there was a two-manual German harpsichord. My whole house was wired as a recording studio.
The glowing room was a glimpse of rock 'n' roll heaven . . . would I ever get there? Perhaps not. And perhaps that's the reason I went for the fast cars instead of fast money. I was twenty-three years old. Life beyond the age of thirty was unimaginable.
By writing songs for Glen Campbell, Mr. Sinatra, Liza Minnelli, and others, I had opened myself up to a left cross from snobby journalists and other elitists. Some said I was "middle of the road," "represented the establishment," and all that left-wing folkie exclusivity that doesn't buy a stick of gum in the world of music today.
The truth is I was a heavy pot smoker, a sexual adventurer, and a hopelessly liberal Democrat who hated the war in Vietnam. I had some redeeming qualities: Aside from the occasional beer, I didn't drink or smoke tobacco. I was lauded as "The Cole Porter of the Sixties" or—even worse—as "Pop Music's Mozart!" in a critical press more than slightly intimidated by the proliferation of loud rock bands. Journalists and mature people all over the country were encouraged by the fact that I was a young man who saw things their way. I wrote 'em the way they used to write 'em. Meanwhile, just like every other kid, my favorite bands were The Beatles and the Stones.
That summer, I threw my suitcase into the trunk of my brand- new, sleek, sharklike silver Corvette 427 and drove out through San Bernardino and the Inland Empire to Route 390 going north. I opened her up at close to one hundred miles an hour, heading for Las Vegas, where I was appearing with "the hardest-working little girl in show business," Connie Stevens. After a sudden divorce from crooner Eddie Fisher, she was remounting her career with a show at Wilbur Clark's Desert Inn, which had just recently been purchased by Howard Hughes. He bought the hotel and casino after arguing with a manager over extending his reservation. He now occupied the blacked-out top two of the tower's nine floors.
On the drive, I was steaming over an item I had read in the New Musical Express on my last trip to London: "Jim Webb is back in town, with his orchestra or whatever," the paper sneered. Who was I? Percy Faith? And who was "Jim Webb" anyway? The same Lon- don publication groused that whoever had "changed" my name to "Jimmy" was an asshole. My name is Jimmy Webb on my birth certificate. Upon moving to Hollywood and being informed that "Jimmy" was not an especially cool name and would have to be changed, I had fired that particular manager.
Perhaps someone who was more concerned about dropping their left for a bunch of Donny Osmond and John Denver haters might have thought twice about baiting the bear with an appearance at a casino, but I met Connie and she charmed me without any particular effort. I knew her mostly from 1963's Palm Springs Weekend, in which she played the good girl. It was no act. With my guitarist Fred Tackett—a true hippie—I worked up a few songs for Connie and me to perform.
I idled through the gate of the Desert Inn, one of Vegas's original five casinos. In five-foot-tall letters, the marquee said connie stevens. Underneath, it said jimmy webb. Connie had insisted on me having equal billing.
There was a message from Connie at the front desk to meet her in the Crystal Room to rehearse our duet of a song called "Didn't We?"
The Crystal Room was a modest venue; our capacity was 450 for dinner and the stage itself. Frank Sinatra, Tony Bennett, Noël Coward, Bobby Darin, and thousands of others had performed on that stage. I was one large nerve as I hesitantly touched the keys on the grand piano with Connie sitting beside me on the bench, relaxed and graceful, the pretty girl known in the business as "Doll- face." We parted with a pact to meet again later at the pool so I could meet her and Eddie Fisher's two little girls: Joely, two years, and Tricia, one.
The next day Freddy and his very pregnant lady Patricia checked in after their drive from L.A., and the three of us went out to the hotel's trademark figure-eight-shaped pool. Freddy and I detuned a couple of gut-string acoustic guitars to an open D, or what we called a "Joni Mitchell tuning." The hardened gambler crowd sat under umbrellas, drinking and smoking their cigars, waiting for it to get dark, as the two long-haired kids beat the crap out of guitars and harmonized to the heavens, "And he cries and he cries, there's an ocean in his eyes . . ."
All the while, Patricia, pretty and burstingly pregnant in a flowing white dress, danced improvisational free-form on the grass.
When Connie came down with her girls, she took us in stride. We pitched camp beside the large pool: water bottles, beers, babies, guitars, long hair, cassette players, and all. Connie took both of her children into the water to teach them to swim. Every eye at the pool was on Connie. Folks asked for her autograph or a photo; there were no private pools at the Desert Inn. The stars were expected to entertain.
That night I took Connie out for a ride in my Corvette. We went out to the highway, Nevada's autobahn, and I let it fly. We laughed like hell as the warm summer wind caught in our hair and the mile markers rushed past. I got to know her a little at the hotel bar after; I had a beer and she had a glass of water. It had been quite a rough time for her during the divorce and she paled a little talking about it. She said she was doing a very physical show with a lot of dancing so she had to get to bed early. We said our good-nights. A hall- mark of a lady, she had two little girls and a broken marriage and she was hitting the boards and hoofing to get her life on track. "The hardest-working little girl in show business" wasn't just a release from some press agent.
On opening night, Freddy and I went out and joined Ray Noble and His Orchestra. We performed for twenty minutes with Connie, then she invited me back on stage as part of her finale. We sang
"Didn't We?" to exceptional howls of approval from the packed audience. After our third curtain call, I said to Connie in amazement, "What are these people making such a fuss about?"
"People love a fresh face!" She laughed.
We were poolside virtually every day after that and performing at night, though I still got around some. I met Paul Anka at his condo one afternoon and we talked about songwriting and Vegas. He looked at me with the knowing smirk of a seasoned pro survey- ing a helpless greenhorn.
"Hey, listen," he said. "After your second show tonight come over and meet me and some of the guys at the Sands Health Club."
I raised an eyebrow. A health club that stayed open until one in the morning?
After my show, I went over to the venerable Sands in my silver shark and parked in the back as I had been instructed. Nothing. Pitch black. Suddenly a crack of light as a door opened directly on the parking lot.
"Pssst. Hey Jim!" It was Anka, silhouetted in the doorway.
I locked up my ride and went into the light. I was inside the Men's Health Club at the Sands. All the heavies were in there—the Righteous Brothers, Vic Damone, Redd Foxx. Some were leaving, some arriving, some were in towels, some even had ladies. This was the ex-officio men's club for entertainers in Vegas, and it really didn't get rolling until two or three in the morning.
After a steam and some time in a Jacuzzi, I found out that the ladies too were an optional accessory. You could have it any way you wanted it in Vegas. I might even have gotten around to a lady or two except for the fact that I started to smoke a joint in the hot tub. There was a full-blown panic when the first cloud of smoke went up. The Everly Brothers almost trampled the Righteous Brothers getting out of the place. The hookers were close behind.
There was drug use in Vegas in those days, but nobody flashed it around, and nobody talked about it for one simple reason: It could cost you your job.
Our booking finished after a few weeks with the usual mixture of sadness, premature nostalgia, and relief. When it was over I took my whole crew, including Connie, on a private jet to Oklahoma City for the Stars and Stripes Show, a local extravaganza. I met Tom Stafford, who had played "Up, Up and Away" on his way around the moon in Apollo 10. I played "MacArthur Park" with the Oklahoma City Symphony and twenty thousand people cheered their approval. By the time we got back to Los Angeles, Caesars Palace had offered me an eight-week engagement—forty thousand dollars, three times a year. Management wanted me to play an instrumental version of "MacArthur Park" on a white piano once a night "like Liberace." They didn't want any singing; singing would pay less.
I turned the deal down. I wanted to be part of the world that my peers inhabited. The world I'd experienced at the Monterey Pop Festival, playing with Johnny Rivers and the Wrecking Crew. Real rock 'n' roll and higher-consciousness types did not play Vegas in 1969. I faced a significant divergence in life's river.
Excerpted from THE CAKE AND THE RAIN by Jimmy Webb. Copyright © 2017 by the author and reprinted with permission of St. Martin's Press, LLC.
This article was originally published on May 02, 2017.
This segment aired on May 2, 2017.