Reclusive Music Heir Donates Vintage Guitar And Mandolin Collection To Nashville University
Play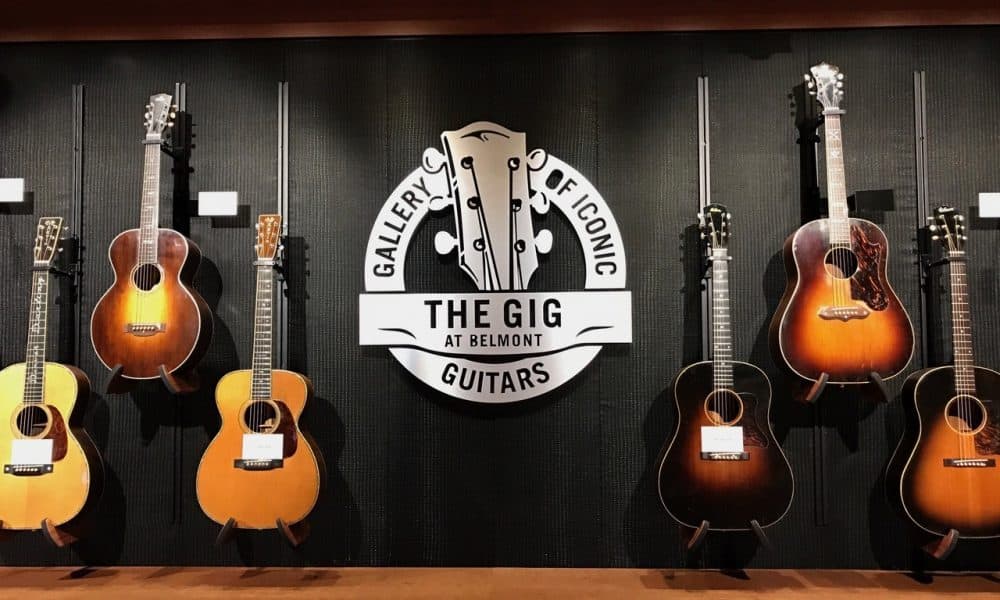 This article is more than 5 years old.
Steven Kern Shaw died unceremoniously in hospice care in August 2015 at age 72. No one wrote an obituary.
Yet what this guitar and mandolin collector amassed in his life is astounding: signed Gibson F-5 mandolins — reportedly the finest mandolins ever made — Martin guitars and more.
The entire 500-piece collection, worth $9.5 million, was gifted to Belmont University in Nashville. The school has opened the Gallery of Iconic Guitars to share them with students and the public.
Shaw was the son of clarinet player and band leader Artie Shaw and Betty Kern, the fourth of his eight wives, the one just after film star Lana Turner and before actress Ava Gardner. His parents divorced when he was 2 years old, and his father abandoned him.
That same year, his grandfather on his mother's side passed away. Grandfather Kern, better known as Jerome Kern, was the composer of the beloved songs "Ol' Man River," "The Way You Look Tonight" and "Smoke Gets in Your Eyes." He left Shaw with a trust.
As an adult, Steven Kern Shaw became a frequent shopper at Gruhn Guitars in Nashville. Store owner George Gruhn says Shaw never developed the musical brilliance of his father and grandfather, but was nevertheless drawn to the finest quality vintage guitars and mandolins.
"He was a collector and a hoarder," Gruhn says. "He was not a great player, but he had a considerable amount of knowledge about the instruments. He was going for the cream of the crop. His basic income throughout life was, frankly, royalties from Jerome Kern, which supported his collecting habits."
"These instruments are almost alive, and they have soul and personality. When you pick one up, the great instruments don't feel inanimate, they actually feel alive."

George Gruhn
The instruments — the most valuable is worth $350,000 — had been stored in Shaw's house, without a security alarm and without climate control, effectively taking 500 of the finest vintage guitars and mandolins out of circulation.
"His house, when we finally got into it, looked a lot like some of those TV shows about hoarders, the compulsive hoarders," Gruhn says. "He wouldn't let anyone in his house. He was afraid that people would find out what he had and break in."
Gruhn helped his dying friend make plans for his remarkable collection.
"Late in his life he had no will, and I persuaded him that he really needed to have a will," Gruhn says. "The idea that it could be enjoyed by others and seen and heard was something that was pleasing to him, although he didn't want that done until after he was dead."
"These are important pieces of our cultural history, they are great instruments, they are fine study examples to show the evolution of some of the iconic instruments in American history, and these are the models that truly are the archetypes for virtually all of the instruments that followed," Gruhn says.
"These instruments are almost alive, and they have soul and personality. When you pick one up, the great instruments don't feel inanimate, they actually feel alive. And they're sort of ultimate pieces of art. You can look at them and visually, some of these instruments are quite beautiful pieces of art."

Some of the instruments have sapphires, engraved pearl inlays and ivory pegs. The 1927 Gibson F-5 mandolin is rarer than a Stradivarius violin, Gruhn says.
"It's not a servant, it's a partner," he says. "It makes suggestions you might not have thought of otherwise. Bill Monroe, when he got an F-5 mandolin, his entire playing style changed. After he got an F-5 he started to do that chopped rhythm that could drive the rhythm of a five-piece band."
When Gruhn spoke to Belmont University President Bob Fisher about the collection, Fisher had to think twice about offering a home for it.
"My first response was, 500 guitars, what in the world do you do with them? Where do we put them?" Fisher says.
But Fisher quickly realized the university was a perfect fit.
"We've got some people at Belmont that can play guitars," he says, describing a guitar culture on campus that includes not just guitar majors, but even students in nursing and business studies.
Shaw's will was signed a mere two weeks before his death, bequeathing the $9.5 million collection to Belmont University.
Taking over a space that was formerly a computer lab in the library, the new Gallery of Iconic Guitars is a showcase, as well as a place to play.
"It's a treasure," says Doug Howard, dean of Belmont's Curb College of Entertainment and Music Business. "Our students don't really know yet the treasure that we have in store for them. The students that come here often are really trained, really competitive, but they want to take it to that next level. It's hard in life to think about a situation where you'd have an opportunity to check out and play some of the really finest instruments that have ever been made, and to have that access really a few steps away from your dorm room."
The Gallery of Iconic Guitars, or The GIG, is tucked behind the circulation desk inside Bunch Library at Belmont. Admission is free to students, and $5 to the general public. One hundred instruments are currently on display, with a select few available for playing in the soundproof gallery. University officials are currently devising a secure method for loaning out the 400 additional instruments.
University President Fisher says he's already received a personal education in what these vintage instruments add to the art of making music.
"I was always wondering, what's the difference between my old Silvertone guitar and a Martin anyway," he says. "Well, now I know! It's big."
This segment aired on May 17, 2017.