Everything You Need To Know About Buying, Storing And Eating Cherries
Play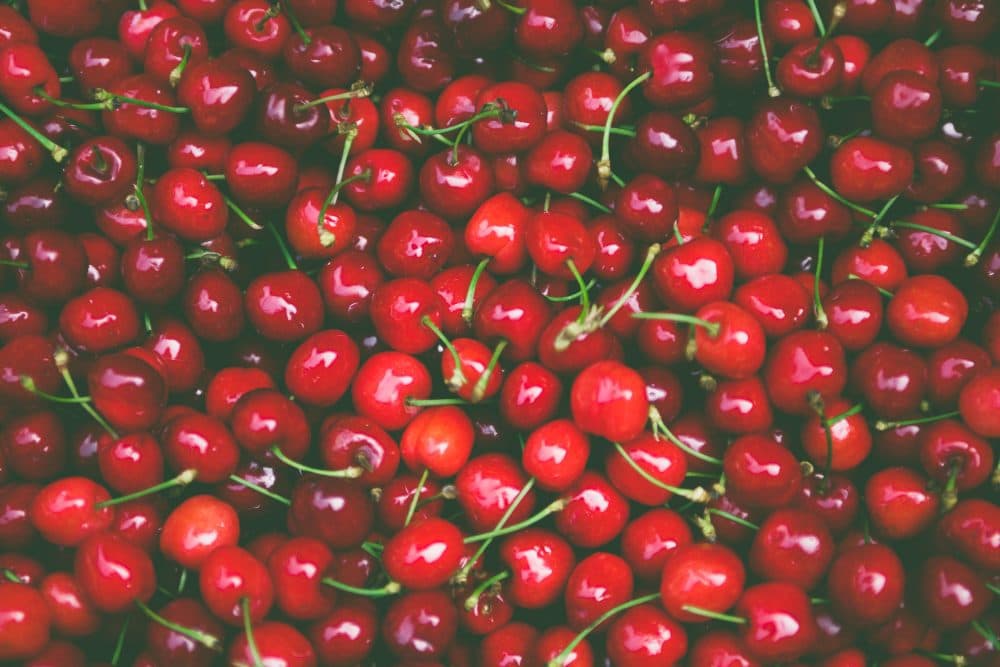 This article is more than 5 years old.
Cherry season has begun, and Here & Now resident chef Kathy Gunst has been experimenting with the fruit's sweet and savory sides.
Kathy brings Here & Now's Jeremy Hobson a roasted balsamic cherry salad, a cherry lassi and a cherry clafouti, and shares a guide to different cherry varieties.
---
There are dozens of varieties of cherries grown around the United States. Here are a few favorites.
7 Sweet Cherry Varieties
Bing: The most popular sweet cherry, found in most grocery stores. Bings are large, round, firm, dark red, sweet and can be very juicy when ripe. Bing cherries are said to have been developed in Oregon by a pioneer grower just over 100 years ago, who named the variety after a Chinese workman.
Lambert: The second most popular variety after the Bing is the Lambert, a small, heart-shaped red cherry similar in taste and texture to the Bing.
Balaton: This late-season variety is deep burgundy, a sweet-tart cherry that combines the tangy taste of sour cherries with the richness of sweet cherries. Very firm, very dark, juicy flesh, originally from Hungary. Good for pie.
Rainier: These cherries appear mid-season and have a short season. They have pink-tinged yellow skins and a very sweet, yellow-colored flesh with a milder flavor than Bings. They tend to be very expensive but are delicious.
Sour cherries: Also called pie cherries, these are primarily used in pies and baked goods. The most popular variety is the Montmorency, also nicknamed the "cherry pie cherry." Sour cherries are medium size, smaller than sweet cherries and are a bright scarlet red on the outside with pale yellow flesh. Sour cherries have a short season, and most are frozen. If you see them in farmer's markets — particularly in Michigan and upstate New York — buy them and make a pie, or pit and freeze if you're not ready to use.
Morello: This tart cherry is sometimes eaten fresh when fully ripe, but is usually used in cooking. It has very dark red flesh and dark juice.
Royal Ann, Queen Ann or Napoleon: Another light-skinned sweet variety, the Royal Ann is often canned or made into maraschino cherries.
Tips For Buying, Storing And Pitting Cherries
Buying Cherries: What To Look For
It's best to buy cherries with the stems still attached — it keeps them fresher longer. The stem should be green.
Cherries should have a deep, dark shade of red. This indicates ripeness.
Cherries should look shiny and feel firm, not wrinkled or bruised.
Sour cherries are softer in texture than sweet cherries and are more fragile. Handle with care.
How To Store Cherries
Cherries need to be refrigerated and are best washed just before eating.
Cherries should keep for at least a week in the refrigerator.
Cherries can also be very successfully frozen. Rinse them, dry thoroughly and freeze in airtight plastic bags or containers. You can pit them before or after freezing.
Like berries, cherries are best frozen on a cookie sheet for several hours and then placed in a plastic bag so they don't clump up.
How To Pit A Cherry
Call me primitive, but I like to pit cherries with my very clean hands. I use my fingernails to cut the cherry in half and scoop out the pit. That's it. Simple and no special equipment needed.
However, there is such a gadget called a cherry pitter, if you like. And some use a paperclip to pit cherries: Bend the clip open, push it into the stem end of the cherry, move it around in rotation and pop out the pit.
---
Cherry Lassi
This is my take on an Indian lassi (yogurt drink). It involves blending three ingredients plus a few ice cubes and is a refreshing, beautifully cherry-hued yogurt drink.
It takes about five minutes to make and is ideal for breakfast, snack or dessert. Serves 1 to 2.
Ingredients
1 cup pitted cherries (Bings, Rainiers or other sweet varieties)
1/4 cup Greek-style yogurt
1/2 tablespoon maple syrup
4 ice cubes
Instructions
Place the cherries in a blender and blend.
Add yogurt, maple syrup and ice cubes and whirl until blended.
---

Roasted Balsamic Cherry Salad With Arugula And Parmesan Shavings
Ingredients
1 cup cherries, pitted and cut in half (Bings, Rainiers or other sweet varieties)
1 1/2 tablespoons olive oil
Salt and freshly ground black pepper
1 1/2 tablespoons balsamic vinegar
1 cup arugula or bitter greens
1/3 cup shaved Parmesan cheese*
*Use a wide vegetable peeler and shave thin pieces off a hunk of Parmesan cheese
Instructions
Preheat the oven to 425 degrees.
Place the cherries on a cookie sheet or rimmed baking sheet and toss with the oil, salt and pepper. Roast for six minutes. Remove and toss the vinegar on and roast another four minutes. Remove and let cool to room temperature.
Mound the arugula in the center of a salad place. Surround with the roasted cherries. Pour any juices from the pan onto the greens and top with the Parmesan shavings. Sprinkle with salt and pepper. Serves 2 to 3.
---

Cherry And Ginger Clafoutis
This is a simple, rustic, French custard-like dessert. Crystallized ginger and a touch of grated lemon zest pair really well with summer cherries.
Clafoutis can be served room temperature, and many people feel it is even better the next day! It can be made with Bings, Rainiers or the sweet cherry variety of your choice. Serves 6.
Ingredients
Butter for greasing the pan
2 1/2 cups pitted cherries
1 tablespoon thinly sliced crystallized ginger, or 1 1/2 teaspoons grated ginger
3 eggs
1/2 teaspoon vanilla
1/2 teaspoon grated lemon zest
1/2 cup flour
1/4 cup white sugar
1/4 cup brown sugar, plus 2 tablespoons
1 1/4 cups 2 percent milk
Confectioners' sugar, if desired
Instructions
Preheat the oven to 375 degrees.
Rub the butter on the bottom of a 2-quart baking dish or gratin dish. Place the cherries along the bottom of the dish and toss with the ginger.
In a large bowl, vigorously whisk the eggs, vanilla, lemon zest, flour, white sugar, 1/4 cup brown sugar and milk until you have a smooth batter. Pour the batter over the cherries, sprinkle with the remaining 2 tablespoons of brown sugar, and bake on the middle shelf for about 40 to 45 minutes, or until a toothpick inserted in the center comes out clean.
Serve at room temperature, or let sit covered overnight and serve the next day. Sift confectioners' sugar over the top before serving, if desired.
This article was originally published on June 20, 2017.
This segment aired on June 20, 2017.