3 Ways To Add Vegetables To Your Summer Grilling Repertoire
Play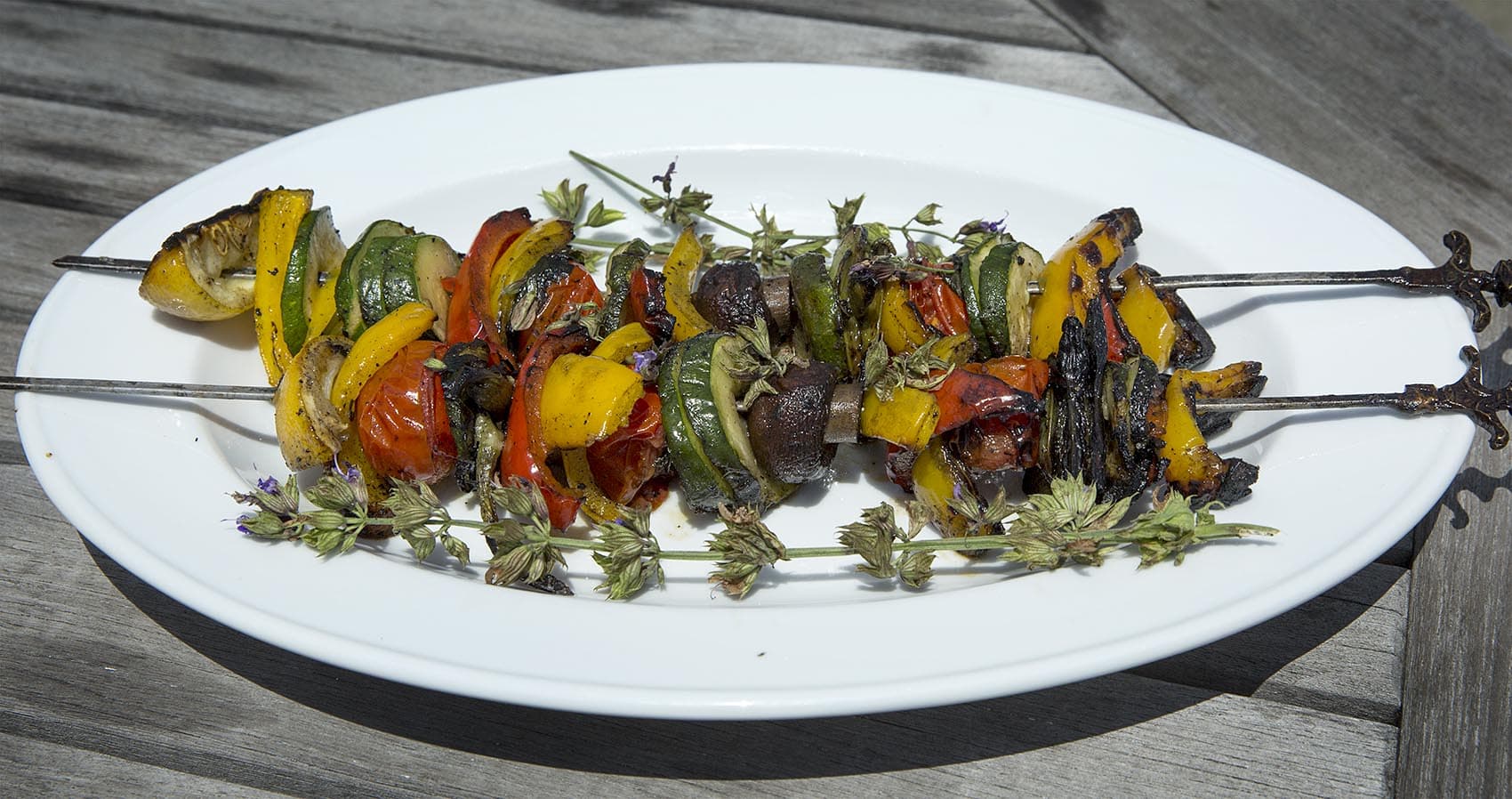 This article is more than 5 years old.
Here & Now resident chef Kathy Gunst has been thinking of new ways to serve grilled veggies for the upcoming Fourth of July holiday. She brings Here & Now's Robin Young and Jeremy Hobson grilled avocado with tamari and pickled ginger, grilled asparagus with grilled lemon and tomato and a grilled kabob with chimichurri sauce.
---
Grilled Avocado With Tamari, Pickled Ginger And Lime With Sesame Seeds
Have you ever thought about grilling an avocado? I wasn't sure how the buttery, creamy flesh would work with the heat of a grill, but it's kind of brilliant. The inspiration for this simple version came from the restaurant Izanami, at Ten Thousand Waves spa in Santa Fe, New Mexico.
Get all your ingredients ready and the dish takes about five minutes to put together. It's a great summer alternative to guacamole. Serve as a first course, or as part of dinner to accompany seafood or chicken. Serves 2 to 4.

Ingredients
2 avocados, ripe but not super soft (still holding their shape)
2 teaspoons olive oil
2 teaspoons tamari or soy sauce
1/3 cup pickled ginger, drained*
1 lime, cut in half
1/4 cup white sesame seeds
*Look for pickled ginger or gari in the Asian food aisle at your market.
Instructions
Place a clean grilling rack on your grill and heat until hot, about 375 to 400 degrees.
Cut the avocados in half and remove the pit. Use a small, sharp knife to cut a criss-cross into the flesh of the avocado. Brush 1 teaspoon of the olive oil onto the flesh and into the cavity of each avocado.
Place the avocados on the grill rack, flesh side down, for one to two minutes, turning the avocado about 25 degrees every few seconds so it gets good grill marks. The idea is not to fully cook the avocado, but let it get hot and soft on the top layer, yet still be creamy and "raw" beneath; be careful not to overcook it. Remove and place on a serving plate with a teaspoon of the tamari in the cavity of each avocado. Surround with a small pile of the ginger. Dip the lime wedges into the sesame seeds to coat. Drizzle the lime and sesame seeds on top and eat with the ginger.

Grilled Asparagus With Grilled Lemon, Grilled Tomatoes And Feta Cheese
Asparagus are grilled over hot heat until slightly charred and almost tender. You don't want them to be limp, overcooked or overly soft.
You can use a large tomato, two small ones or about eight cherry tomatoes in this dish. Look for good quality, creamy sheep milk feta. Serves 4.
Ingredients
1 pound asparagus, ends trimmed
3 1/2 tablespoons olive oil
Salt and freshly ground black pepper
1 large tomato, cut into quarters, 2 small tomatoes or 8 cherry tomatoes left whole
1 lemon, cut into quarters, plus 1 tablespoon lemon juice
3 ounces feta, cut into small cubes
Instructions
Place a clean grill rack over the hot heat. Light the grill until hot, about 375 to 400 degrees. Toss the asparagus with 1 tablespoon of the oil, salt and pepper. Place the asparagus in a single layer on the grill rack, cover the grill and cook, about three minutes. Toss the asparagus, cover and cook another two minutes. Place the tomatoes and lemon on the grill and grill another two minutes.
The asparagus should be slightly charred and al dente, not overly soft. Depending on the thickness and freshness they should take between six to nine minutes. The tomatoes should be softened with a few grill marks and the lemons should be softened with grill marks; they should both be ready after two to three minutes.
Place the asparagus on serving plate. Arrange the tomatoes and lemons around the asparagus. Scatter the feta on top. Sprinkle with the remaining olive oil, the lemon juice, salt and pepper. Serve at room temperature.

Grilled Vegetable Kebabs With Chimichurri Sauce
The beauty of this kebab recipe is you can use virtually any type of summer vegetable. Think of layering colors and textures when putting together the kebabs — a tomato next to a basil leaf next to a slice of green zucchini, etc.
The kebabs can be put together several hours before grilling and grilled at the last minute. The sauce — a brilliant green combination of parsley, coriander, basil and capers — can be made a day or two ahead of time, covered and refrigerated. Bring to room temperature before serving. Serves 2 to 4.
Ingredients
1 summer squash, cut into 1/2-inch pieces
1 zucchini, cut into 1/2-inch pieces
12 basil leaves
12 cherry tomatoes, yellow and red
1 large red, yellow or green pepper
1 lemon, cut into 8 wedges
Other possibilities: mushrooms cut in half or quarters, cauliflower or broccoli florets steamed for five minutes and then grilled, tofu cut into small cubes, etc. You could also add whole shrimp or scallops.
Instructions
If using wooden skewers, soak in cold water for about 20 minutes. Drain.
Alternate ingredients on two to four skewers (depending on the length of the skewer) thinking about colors and textures (see headnote). Place a lemon wedge at the end of each skewer to keep everything in place.
Place a clean grill rack on your grill. Heat the grill to 375 to 400 degrees. Place the kebabs on the grill rack and grill about five to 10 minutes per side, or until the squash slices are just tender and the pepper is soft.
Remove from the grill and serve over rice, orzo, couscous or on its own with the sauce. Serve warm.
Chimichurri Sauce
This vibrant green sauce is traditionally served with grilled meats, but it goes beautifully with any grilled vegetable.
Ingredients
1 cup Italian leaf parsley
1/2 cup cilantro
1/4 cup basil
1 clove garlic
1/4 cup red or white wine vinegar
1 small chile pepper, seeds removed and chopped, or hot pepper sauce
1/3 cup capers, drained
About 3/4 cup olive oil
Salt and freshly ground black pepper
Instructions
Place the parsley, cilantro, and basil and garlic in the food processor and blend for about 15 seconds, pulsing until chopped.
Add the vinegar, chile or hot pepper sauce and capers and pulse the mixture a few times. Add 1/2 cup of the olive oil, salt and pepper and pulse until chunky. Taste for seasoning.
If the mixture is too thick, add the remaining oil. Place in a jar and refrigerate for up to three or four days. Makes about 1 1/2 cups.
This article was originally published on June 28, 2017.
This segment aired on June 28, 2017.