6 Basil Recipes To Help You Bring Out The Best Of Summer
Resume
For Here & Now resident chef Kathy Gunst, basil represents everything good about summer. She brings Here & Now's Robin Young examples of different kinds of basil, as well as recipes for a summer tomato and basil soup and stuffed basil leaves, and her takes on caprese salad and pesto.
---
Summer Tomato And Basil Soup
Use the very freshest, ripest, plumpest, bursting-with-flavor tomatoes you can find — preferably ones from your, your neighbor's or a local farmer's garden.
Fresh basil and basil oil adds an herb-filled summer flavor to this soup. Serve it chilled or hot, with or without the basil cream. A swirl or a few drops of basil oil is delicious on top of the soup (see recipe below). The soup can be made a day ahead of time, or frozen for several months. Serves 8 to 10; makes 10 cups.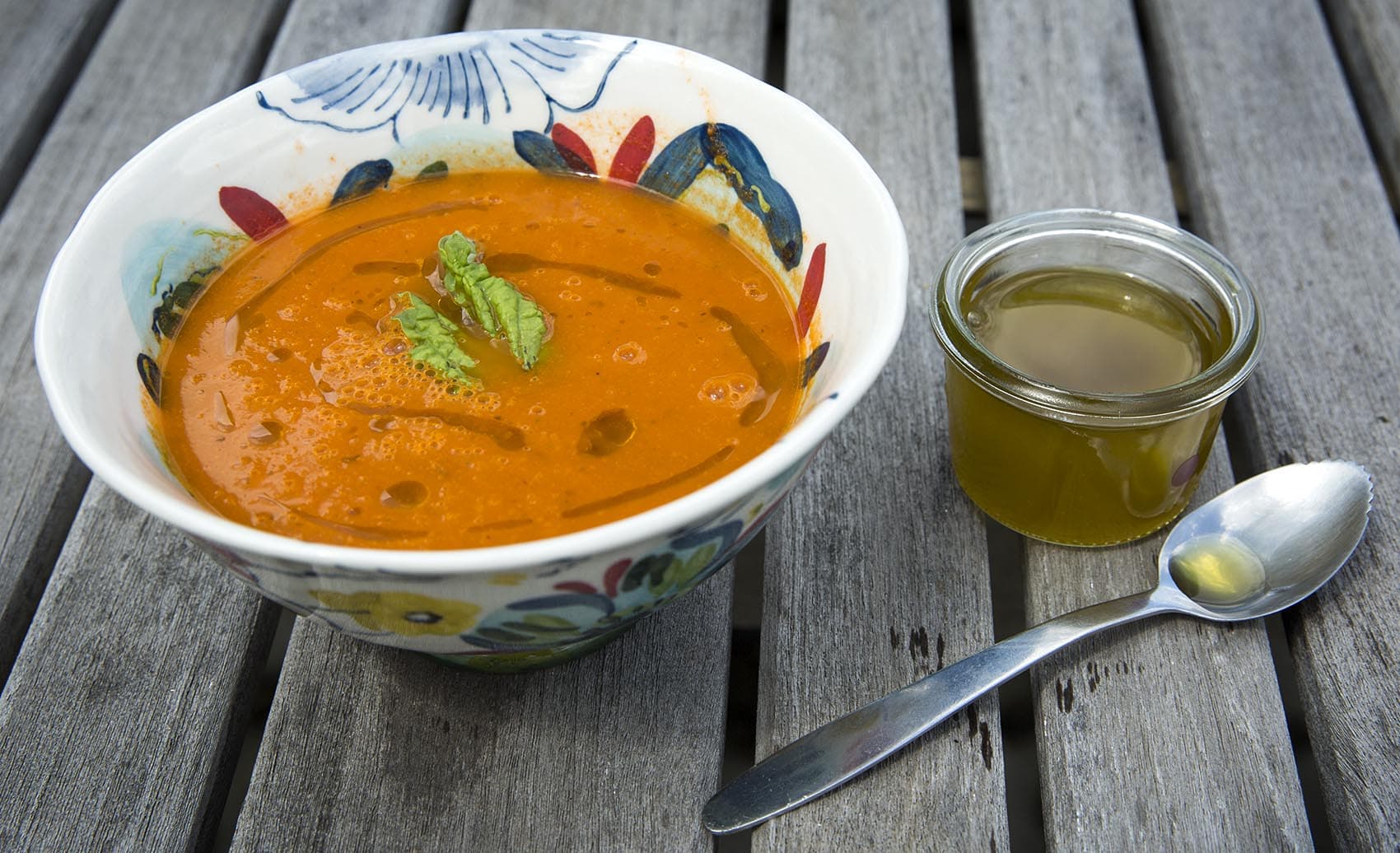 Ingredients
4 pounds tomatoes (about 6 medium), cored
2 tablespoons olive oil
1 pound yellow or Vidalia onions (about 3 medium), sliced
Salt and freshly ground black pepper
1/3 cup packed, coarsely chopped fresh basil leaves, plus extra whole leaves for garnish
4 cups chicken or vegetable broth
A few fresh basil leaves, for garnish
Instructions
Make the soup: Bring a large pot of water to a boil. Fill a large bowl with ice water. Gently drop the tomatoes into the boiling water and cook for about 20 seconds. Remove with a slotted spoon and immediately place in the bowl of ice water. Using your fingers or a small, sharp knife, peel the tomatoes. Coarsely chop the tomatoes and set aside.
In a large pot, heat the oil over low heat. Add the onions, salt and pepper to taste and cook, stirring occasionally, for 10 minutes. Add the tomatoes and cook for two to three minutes, stirring well. Add half of the chopped basil and raise the heat to high. Add the broth and bring to a boil. Reduce the heat, cover and let simmer for 30 minutes. Remove from the heat and set aside for five minutes.
Add the remaining chopped basil to the soup and, working in batches, puree the soup in a food processor or blender. Taste for seasoning.
If serving hot, return the soup to the pot and bring to a simmer over low heat. Alternatively, the soup can be refrigerated and served chilled. Swirl about a tablespoon of the basil cream into the soup, or the basil oil, and garnish with the basil leaves.
Basil Cream
This basil-infused cream adds an extra dimension to the soup. It's an optional topping for any soup, and can be made several hours ahead of time.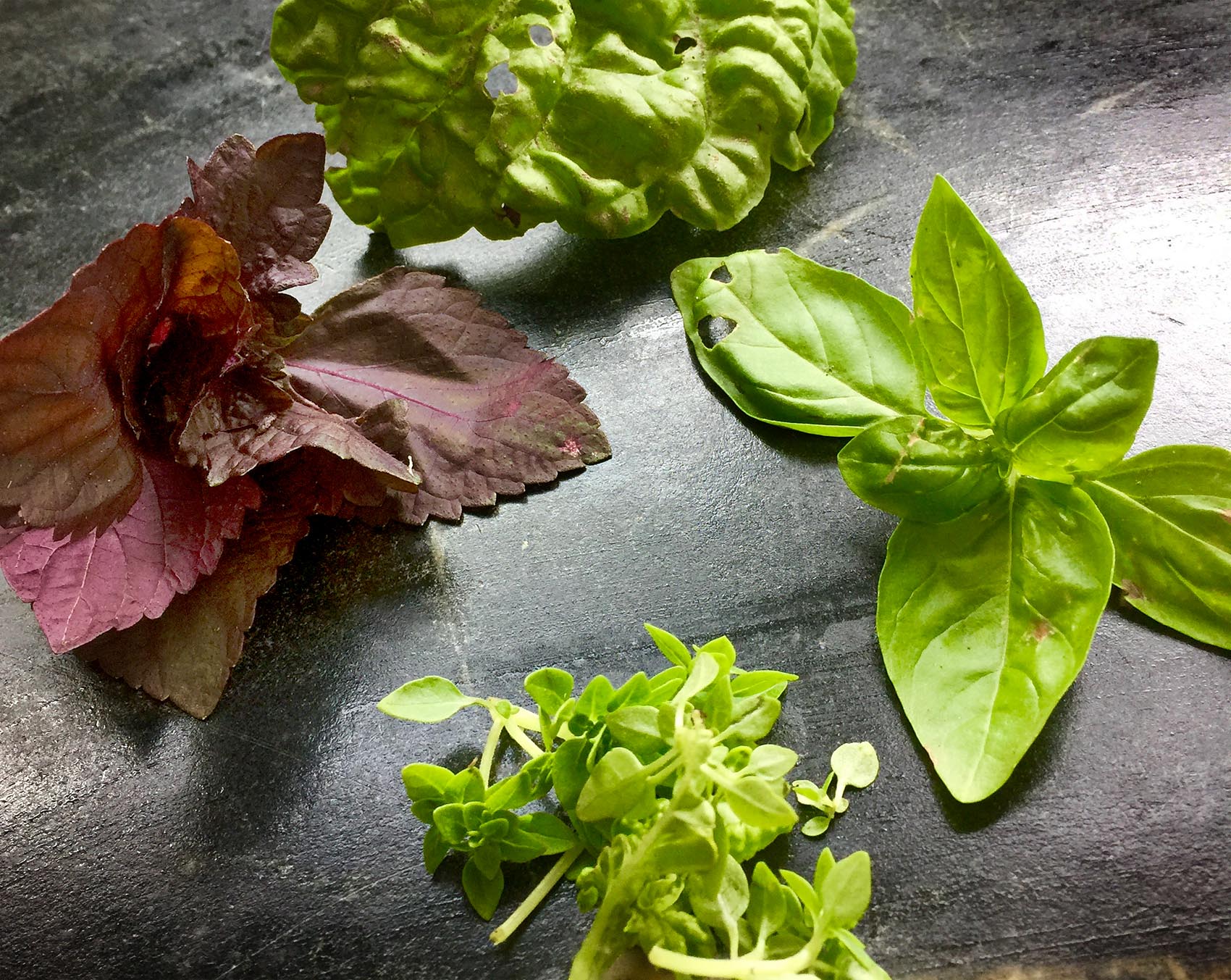 Ingredients
1 cup packed fresh basil leaves
1/2 cup heavy cream
Salt and freshly ground black pepper
Instructions
Place the basil, cream, salt, and pepper in a food processor or blender and whirl until almost fully pureed.
Cover and refrigerate until ready to use. Bring the cream to room temperature before serving.
Roasted Cherry Tomato And Basil Caprese Salad
This is my take on a classic caprese salad — mozzarella, tomatoes and basil. Here the tomatoes are slowly roasted with basil leaves to sweeten them up and bring out the rich tomato flavor.
Small mozzarella balls are marinated in basil oil, and the salad is served with fresh basil leaves. Serves 4.
Tomatoes Ingredients
1 pound cherry tomatoes
2 tablespoons olive oil
1/4 cup shredded fresh basil leaves
Salt and freshly ground black pepper
Mozzarella Ingredients
8 mozzarella balls (also called Ciliegine, or cherry-size mozzarella balls), or 1 pound fresh mozzarella cut into 1/4-inch slices
2 tablespoons shredded fresh basil leaves
1 1/2 tablespoons basil oil (see recipe)
Salt and freshly ground black pepper
8 whole basil leaves
Instructions
For the tomatoes: preheat the oven to 225 degrees. Place the tomatoes, oil, basil, salt and pepper in a small ovenproof pan and roast on the middle shelf for one hour. Remove and keep at room temperature.
Place the mozzarella balls in a bowl with the basil, basil oil and 2 tablespoons shredded basil. Marinate for at least one hour, and up to 24 hours.
To assemble the salad: Place the tomatoes in the center of the plate. Surround with the mozzarella and add the fresh basil leaves interspersed around the dish or around the tomatoes.
Sun-Kissed Basil Oil
You can buy basil oil in fancy food stores for a hefty sum — or make your own. I call this "sun-kissed" basil oil because you use no heat other than the heat of a sunny window sill to infuse the basil leaves with the oil.
Basil oil can be used on virtually any salad, or on top of pasta dishes. Makes 1 cup.
Ingredients
1 cup olive oil
1/2 packed cup basil leaves, washed and thoroughly dried
Instructions
Place the oil in a Mason jar or clear glass jar. Add the basil leaves making sure they are covered by the oil. Seal tightly.
Place jar in a sunny window sill or in the sun for at least four hours and up to 24 hours. Strain and use.
Basil Leaves Stuffed With Herbed Goat Cheese, Tomatoes And Hazelnuts
A basil leaf acts as the edible container for these appetizers. Each leaf is filled with an herb-whipped goat cheese mixture and topped with chopped tomatoes and toasted nuts.
Serve with a cold bottle of rosé or sparkling wine. Makes 20 basil leaves; serves 8 to 10.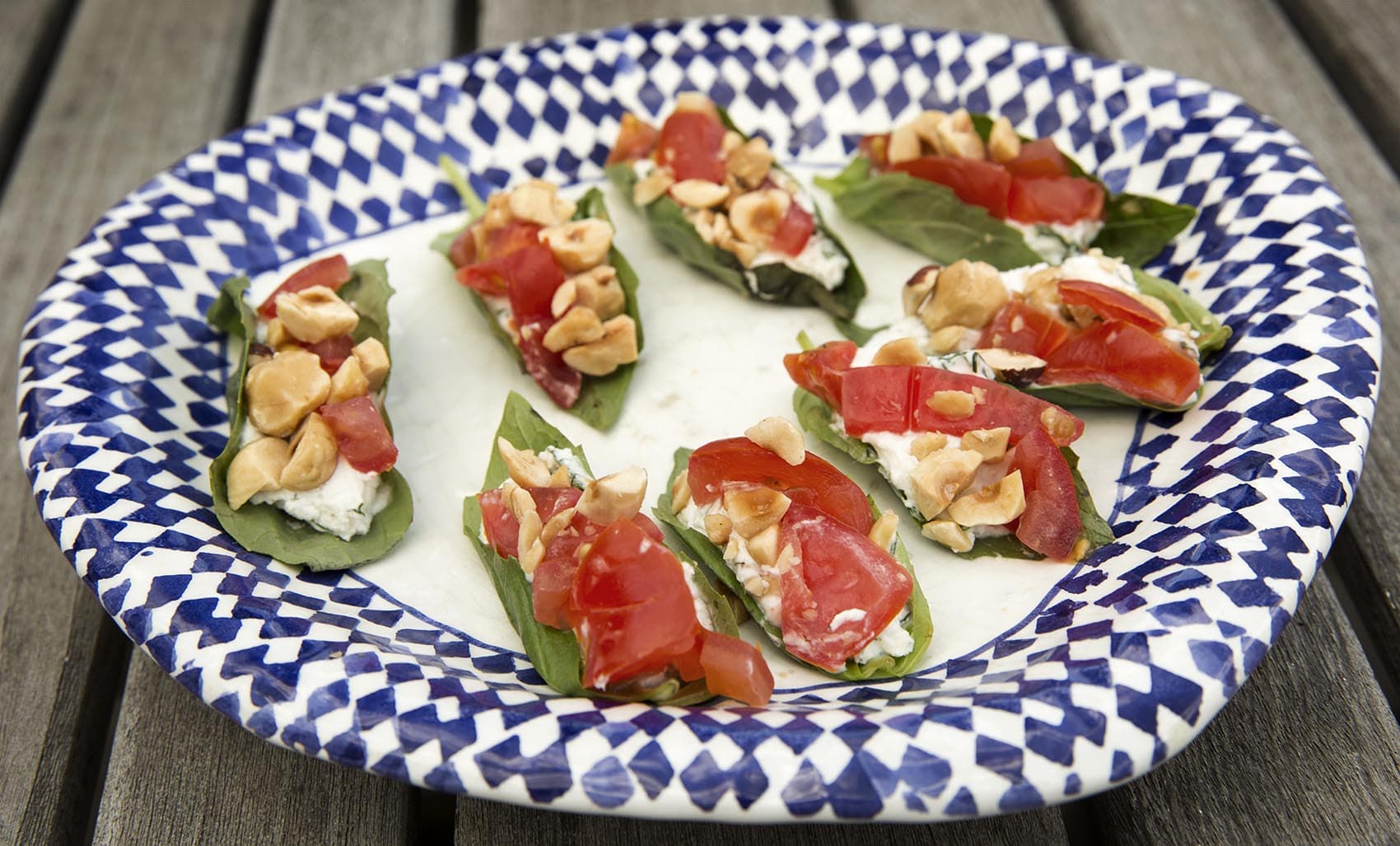 Ingredients
1/2 cup hazelnuts, pine nuts, almonds or walnuts
4 ounces soft goat cheese, at room temperature
2 tablespoons heavy cream
1 tablespoon minced chives
1 tablespoon minced fresh dill
1 tablespoon chopped fresh basil
Salt and freshly ground pepper
20 large, unblemished basil leaves, about 3 inches long
1 medium tomato, finely chopped
Extra-virgin olive oil or basil oil (see recipe), for drizzling
Instructions
In a small, dry skillet, toast the nuts over low heat, shaking the pan occasionally, until golden and fragrant, about three minutes; let cool. Coarsely chop the nuts and set aside.
In a small bowl, mix the goat cheese with the heavy cream, chives, dill, chopped basil and season with salt and pepper.
Spread 1 teaspoon of the cheese mixture on each basil leaf.
Sprinkle with the nuts, pressing them into the cheese.
Scatter the chopped tomato on top. Pinch each leaf together near the center to form slightly rounded bowls. Drizzle lightly with the basil or olive oil, and serve.
Pesto
This summer sauce is ideal for pasta, brushing on grilled seafood or meats. Pesto can be a dip or spread on crusty bread.
Classic pesto is made with green basil, pine nuts, grated cheese and olive oil. But there are dozens of variations: Try it with thyme and pistachio, or cilantro and almonds or chive and walnut. Mix it up and create your own combinations.
Ingredients
2 packed cups fresh basil (you can use any variety or or combination basil)
1 large or 2 small cloves garlic
1/4 cup pine nuts, walnuts, almonds, pistachios or your favorite nut*
1/2 cup good quality olive oil, plus 1 tablespoon
1/3 cup grated Parmesan cheese
Salt and freshly ground black pepper
*If you want a nuttier flavor, toast the nuts in a dry skillet for four minutes.
Instructions
Place the basil in the container of a food processor. Pulse a few times to chop the basil. Add the garlic and pulse 10 times.
Add the pine nuts and, with the motor running slowly, add the oil through the opening in the top of the processor and blend until smooth. Remove and stir in the cheese; season with salt and pepper.
Pesto should be stored in a glass jar (plastic isn't the best) and should be covered with a very thin layer, about 1 tablespoon, of oil on top. Keep in the refrigerator. It will also keep frozen for several months.
This segment aired on July 11, 2017.