In Connecticut, Bail Fund Helps Free Immigrants From Detention
05:42
Play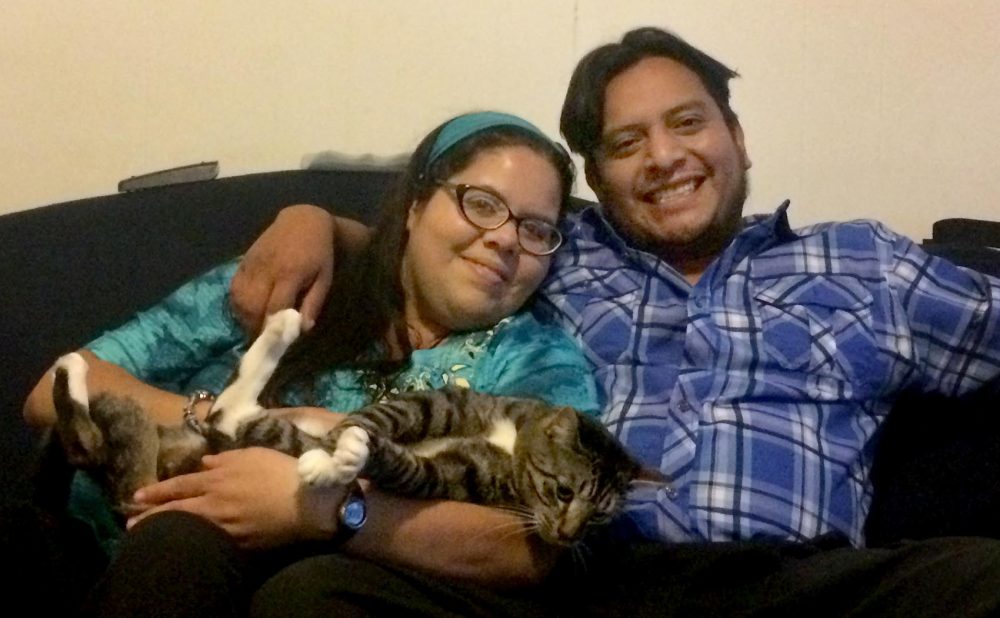 This article is more than 4 years old.
Devianis Gonzalez and Juan Carlos Velez Aparicio have been together for four years. They share an apartment in New Britain, Connecticut, with their cat, KuiKui.
"This cat, when he was not here, was always crying and crying and crying," Gonzalez says. The cat missed Velez Aparicio because earlier this spring, he was detained for about a month by U.S. Immigration and Customs Enforcement, or ICE, in upstate New York.
Velez Aparicio is an immigrant from Mexico living in the U.S. illegally. He was working as a roofer in Buffalo, but got sick and tried to get back home to Connecticut.
A half hour into the trip, immigration authorities boarded the Greyhound bus and checked IDs.
"And only me no have papers, so the immigration guy take me off the bus, but I don't say nothing. I say, 'OK, no problem,'" Velez Aparicio says in halting English.
He did not have a criminal record, but the officers took him into custody. The Trump administration has discarded earlier policies that prioritized immigration enforcement for people with criminal histories. Now, anyone in the United States illegally can be apprehended and deported.
"He was [caught] on May 14, Mother's Day, and, well, I was cooking the favorite food for him and everything, and then at 11 o'clock, he called me. [The caller ID said] 'U.S. Government,'" Gonzalez says. "I was [frozen]. When I say, 'Hello?' He told me, 'Devi, I was [caught], they catch me, they catch me.'"
To bail Velez Aparicio out of detention, Gonzalez had to come up with $10,000. She didn't have that kind of money.
That's where the Immigrant Bail Fund came in. It's a nonprofit in New Haven, Connecticut, that in February began posting bond for people in the country illegally and detained by ICE.
So far, the fledgling bail fund has raised $60,000 and paid the partial or whole bond amounts for six people, including Velez Aparicio.
Activists in New Haven have wanted to create a structured, permanent bond fund to use ever since an ICE raid in 2007 detained 31 people.
According to data at Syracuse University, immigrants released on bond are more likely to find an attorney and win their cases. Of those immigrants granted bond, two out of three were not deported.
Ana Maria Rivera-Forastieri serves on the Immigrant Bail Fund's steering committee. She says the fund is not just a check-writing social service.
"So, yeah, we cut the check and then we're like, 'OK, come to this meeting," she says.
They want people helped by the fund to fight their deportation cases, and others to speak to their neighbors and churches, show up to rallies and contribute cash to the fund.
"It's not gonna make the fund sustainable if it is just a service that we provide. It will eventually die," Rivera-Forastieri says. "But if we create a movement around it, then I think we'll be able to sustain the work and sustain the fund."
"There appears to be this perception that immigration detention is some sort of punitive action but it is not now and never has been," says Andrew Arthur, who served as an immigration judge in Pennsylvania for eight years. "If an individual is not bonded out, their case actually proceeds much more quickly because those cases are given priority."
Arthur, who is also a fellow at the right-wing Center for Immigration Studies, says bond is important because federal statistics say about four out of 10 people skip their immigration court dates. That is, according to him, "extremely high."
So far, all of the cases the bail fund has taken up are pending, including the one for Velez Aparicio.
He now has a low-bono attorney, and he and Gonzalez have started sharing their experience with others.
Velez Aparicio runs his hand through his hair. It's thick and wavy, cropped at his cheekbones.
"Before I have my hair long but I no eating [in detention] for three days because too much," he says, trailing off and asking Gonzalez for help translating.
"Scared," she says. "He had fears inside. He don't want to eat for three days."
Gonzalez reflects on what's happened, and what's to come.
"So it's hard, it's hard, you know. I know I had to get $10,000 if I want my husband back," she says. "And I can say 'my husband' because, this is good news! News! News! But, we're going to marry this Friday."
And marry they did, a week ago today. So now, Velez Aparicio's attorney plans to request a waiver excusing the time he spent in the United States without authorization. She'll also file for what's called an "adjustment of status" after his marriage to Gonzalez. She's from Puerto Rico and is a United States citizen.
"He always told me, 'I don't want you because I need the papers. I'm with you because I love you,'" Gonzalez says.
Velez Aparicio agreed. "I don't need papers for love. I don't need a paper for love."
But they have one — a marriage certificate. And for now at least that's something, as they wait for his green card.
Phoebe Petrovic is a reporter and producer for Here & Now. She tweets @phoebepetrovic.
This article was originally published on July 21, 2017.
This segment aired on July 21, 2017.