Ethan Hawke Brings Love Of Nova Scotia To 'Maudie' Role
09:30
Play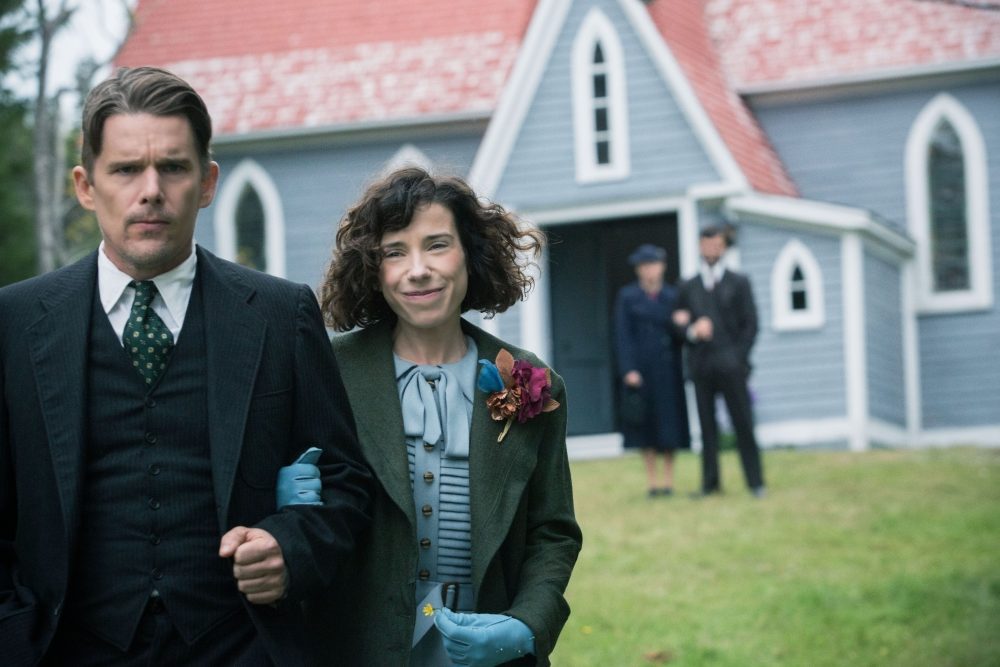 This article is more than 2 years old.
The new film "Maudie" stars Sally Hawkins as Nova Scotia folk artist Maud Lewis and Ethan Hawke as her fisherman husband Everett.
Hawke joins Here & Now's Robin Young to talk about the role and about Nova Scotia, a place where he has found solace over the years.
Interview Highlights
On working with director Aisling Walsh and co-star Sally Hawkins
"I felt really blessed. We were out in the middle of nowhere, away from anybody we knew and any friends, and Aisling Walsh, our director, built this little house. And we had just these characters, and Sally's imagination is so powerful and so mystical and so fun to be involved in that it has its own gravitational pull. It's really exciting to be a part of, and Aisling and Sally approached me to be in this movie with them. I think they'd heard that I had a place out in Nova Scotia, so they thought that I might have an interest in these people, and they were right... A lot of our job was about figuring out how little we could say... We were really trying to emulate a Maud Lewis painting."
On how the film explores Maud and Everett's relationship
"What was so fun about getting to do the scene work with Sally — you know, the movie spans over a couple of decades — is we got to explore how power dynamics in a long-term couple are constantly shifting. In one situation, one person is empowered and another person is submissive, and how that can keep spinning around, and how it can actually... I don't know, I find real people's relationships are so much messier and stranger and weirder than we are used to seeing, and Maud and Everett, they lived together for 30 years in this tiny 12-by-12 house, and I think when I said that I was trying to act a painting, there's something about [Maud's] paintings, and the ones that I love the best, sometimes she'd just paint two oxen or two deer, just two animals — a masculine and feminine — just staring right at the lens, or looking away from the lens... And somehow in these pictures she has all of humanity, all of life, this masculine-feminine energy mixed together."
On what attracted him to Nova Scotia
"It's ungentrified. It's wild, and it's raw and it's unpretentious. And I started going out there, I was probably in my early 30s. I had my first, kind of, depression, and I wanted to escape, and I'd been out there, and I found there's something really healing. The horizon is always there, the place is wild. You can almost feel the Earth turning. And all of a sudden, the melodramas of the life of an actor get placed in a perspective that is very helpful for me. And I've fallen in love with some people out there, and so when I read the script, for me my life as an actor is always about pushing your boundaries, but pushing them in ways that you know that you can succeed. And despite all his flaws, I had real genuine love for Everett, and I really wanted to do that portrait."
On what he'd like to pursue next
"You know, I kind of feel like a cat. I don't think like that. I just, I'm trying to stay alive. You know, I did my first movie when I was 13, and I love doing this. I probably would like to... You know I can imagine the second half of my life having more directing involved in it. I've loved that, the theater and movies that I've directed. So I don't know, I don't know how to answer that question."
This article was originally published on July 25, 2017.
This segment aired on July 25, 2017.