Imperial Beach Mayor On City's Climate Change Lawsuit Against Fossil Fuel Companies
Play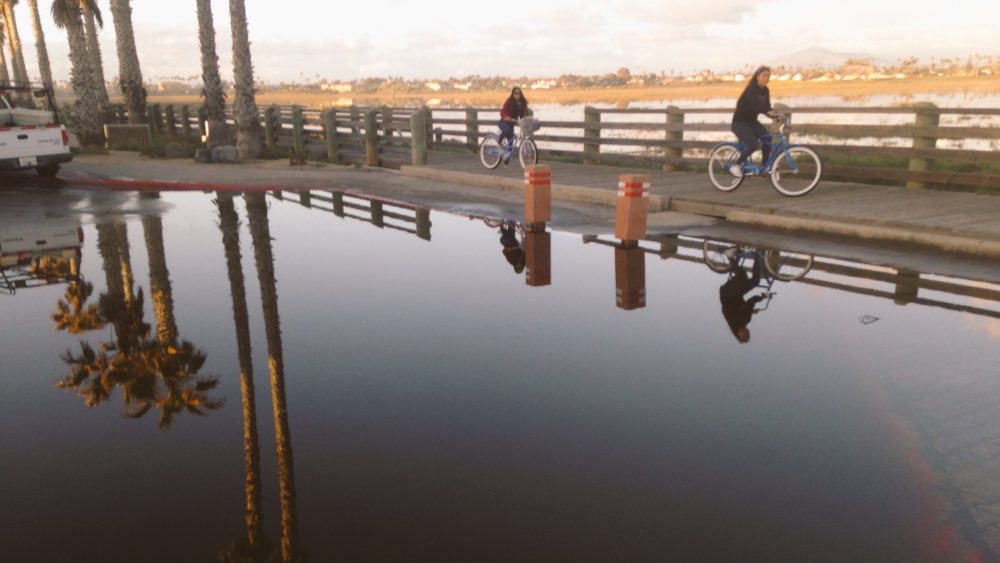 This article is more than 5 years old.
The coastal city of Imperial Beach, California, joined two California coastal counties — Marin and San Mateo — last week in announcing they are suing more than three dozen big oil, gas and coal companies to help pay for the damage caused by climate change.
Here & Now's Robin Young speaks with Imperial Beach Mayor Serge Dedina (@Serge4IBMayor) about how sea level rise has already impacted his community.
Interview Highlights
On sea level rise in Imperial Beach over the years
"I've been obsessively documenting what's been happening on our coast, since I'm a surfer, since I was a kid in 1977, I've been in my city that long. And so I'm 53 now, so I have a lot of data, memory data, backed up basically to really look at what's been happening on our coast, and the last few years — especially with El Niño — we've seen the worst coastal flooding that we've ever seen in our history, especially on our bay front. But we have on the south end of what's called Seacoast Drive, our beachfront drive, is basically filled with water most of the winter, and that's what the Union of Concerned Scientists have just called in a recent report 'chronic inundation,' so what you're seeing in Virginia and in Florida, you're also seeing in places like Imperial Beach. So it really sort of woke us up to the reality of what's gonna be coming at us, with a report that we commissioned, to look at the impacts of sea level rise on our city."
On why he's confident the lawsuit will succeed
"We have a couple of things going for us. First, we're working with some of the world's top scientists, who've looked at the impact of carbon — what's called cumulative carbon — so they've actually measured the carbon put into the atmosphere by these companies, so they know that the carbon emissions from these corporations have accounted for a large percentage of the carbon in the environment over the last few decades.
"No. 2, we have the smoking-gun documents issued by companies like ExxonMobil, who ironically donated some of their documents the University of Texas library. I got my my Ph.D. at the University of Texas, so [I'm] a little happy about that connection. But basically these companies and their documents acknowledge the impact of sea level rise and climate change, what would happen from their own activities, and talked about the need to change. Then they switched course and carried out their 'merchants of doubt' campaign, which has resulted now in our current administration basically pulling out of the [Paris climate agreement] and just basically doubting that climate change and sea level rise is something that's happening."
On the difficulty of the legal case
"We're a tough town, and we'll take our chances in court, because the reality is we have no chance with rising seas. We have to spend tens and tens of millions of dollars. About 30 percent of our city will be impacted by coastal flooding. In the future, we'll lose 90 percent of our Seacoast Drive. Two elementary schools would be impacted, and just the cost of moving a sewer line inland will cost us $10 million soon. So we're not too worried about a court case. We're really more worried about the real world of sea level rise that we have to face, and these corporate polluters caused."
This article was originally published on July 26, 2017.
This segment aired on July 26, 2017.