4 Ways To Get Creative With Summer Corn From Resident Chef Kathy Gunst
Resume
Fresh local corn is in season at farmers markets all over the country, and Here & Now resident chef Kathy Gunst has been taking advantage. She brings Here & Now's Robin Young and Meghna Chakrabarti cornbread made with fresh corn, scallops with tomato, corn and basil as well as a corn salad.
---
Sautéed Corn Salad With Tomatoes, Cucumber And Feta With Basil Vinaigrette
This salad combines all the best flavors of summer — ripe tomatoes, crunchy cucumbers, sweet juicy corn and creamy feta cheese with fresh basil. Best of all, the salad takes about 15 minutes to put together.
Serve with crusty bread or warm biscuits. Serves 2 to 4.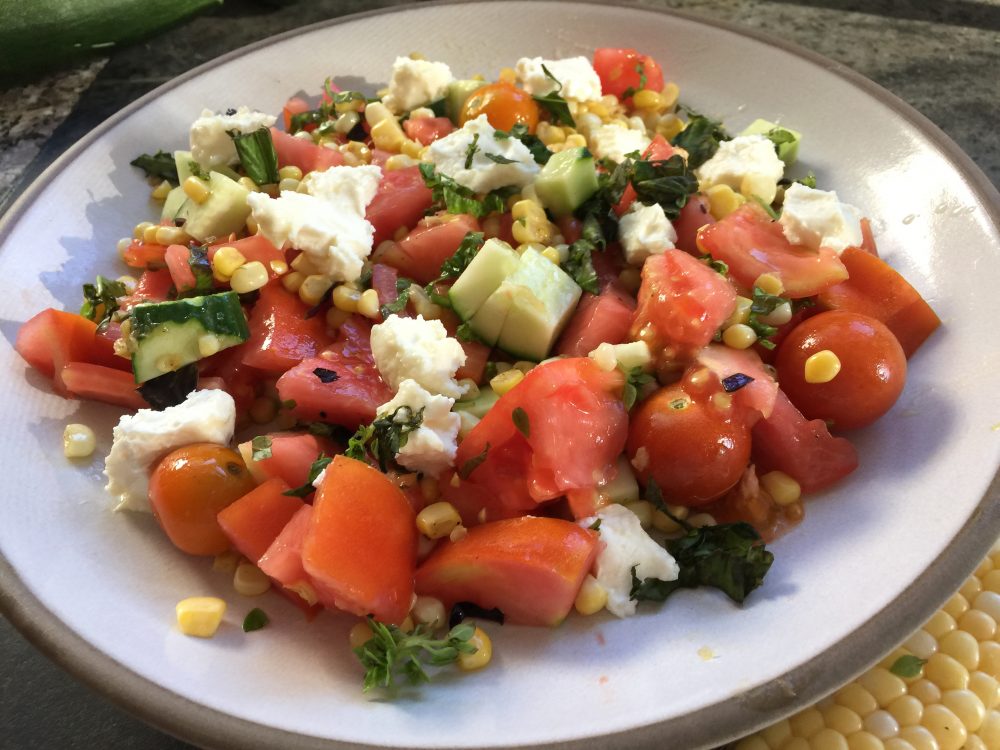 Basil Vinaigrette Ingredients
2 1/2 tablespoons olive oil
1 tablespoon white or red wine vinegar
1 1/2 tablespoons fresh basil, very thinly sliced
Salt and freshly ground pepper, to taste
Salad Ingredients
1 1/2 tablespoons olive oil
1 clove garlic, chopped
2 ears corn, shucked and cut off cob, about 1 1/2 cups
1 large ripe tomato, cubed
1 medium cucumber, peeled and cubed
2 1/2 tablespoons fresh basil, very thinly sliced
1/2 cup feta cheese or goat cheese, cut into cubes or small pieces
Instructions
Make the dressing: In a small bowl, stir together all the ingredients. Season to taste.
Make the salad: In a medium skillet, heat the oil over moderate heat. Add the garlic and cook for one minute. Add the corn and cook for three minutes, stirring. Season with salt and pepper.
Meanwhile, on a serving plate or salad bowl, gently mix the tomato, cucumber and half the basil. Add the warm corn and gently toss. Scatter cheese and the remaining basil on top. Season with salt and pepper and add the dressing on top or serve on the side.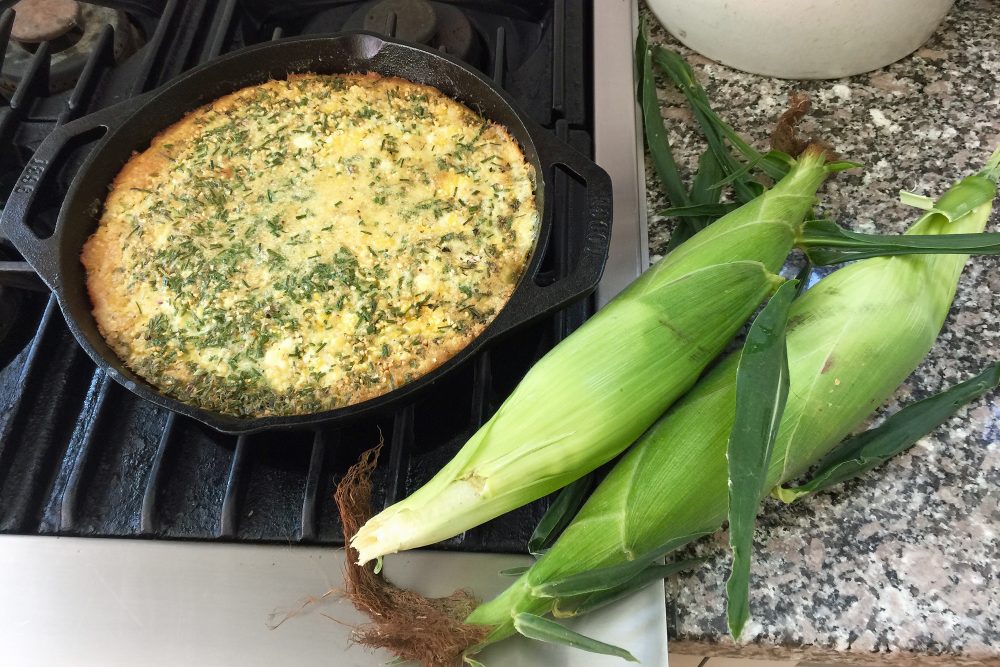 Buttermilk Cornbread With Fresh Corn, Herbs And Goat Cheese
This is an old favorite: cornbread baked directly in a skillet with brown butter, lots of herbs, fresh corn, goat cheese and creamy buttermilk. After you bake the bread for 15 minutes you add an additional cup of milk on top to create a luscious, custardy layer. Serves 8.
Ingredients
3 1/2 tablespoons butter
1/4 cup minced fresh chives
2 tablespoons finely chopped fresh thyme
1 1/2 cups cornmeal
1/4 cup sugar*
1/2 cup flour
1 teaspoon salt
Freshly ground black pepper
1/2 teaspoon baking soda
1 cup buttermilk
2 eggs
2 cups whole milk
1 1/2 cups fresh shucked corn, from 2 large cobs
2 ounces goat cheese, crumbled
*This is essentially a savory cornbread but you can increase the sugar if you like.
Instructions
Preheat the oven to 350 degrees.
In a 10-inch heavy ovenproof skillet (preferably cast iron) melt the butter until almost sizzling. Add half the chives and thyme and cook until it just starts to turn golden brown; remove from heat.
In a large bowl, whisk together the cornmeal, sugar, flour, salt, a generous grinding of pepper and baking soda. Add the buttermilk and eggs and whisk to combine. Whisk in only one cup of the whole milk (reserve the remaining one cup). Whisk in the corn, remaining herbs and goat cheese.
Bake on the middle shelf for 15 minutes. Pour the remaining one cup of milk on top and bake another 25 to 35 minutes, or until the cornbread is golden brown and firm. When you gently shake the skillet the cornbread shouldn't wobble, but it doesn't need to be bone dry when tested with a toothpick in the center.
Serve warm or at room temperature.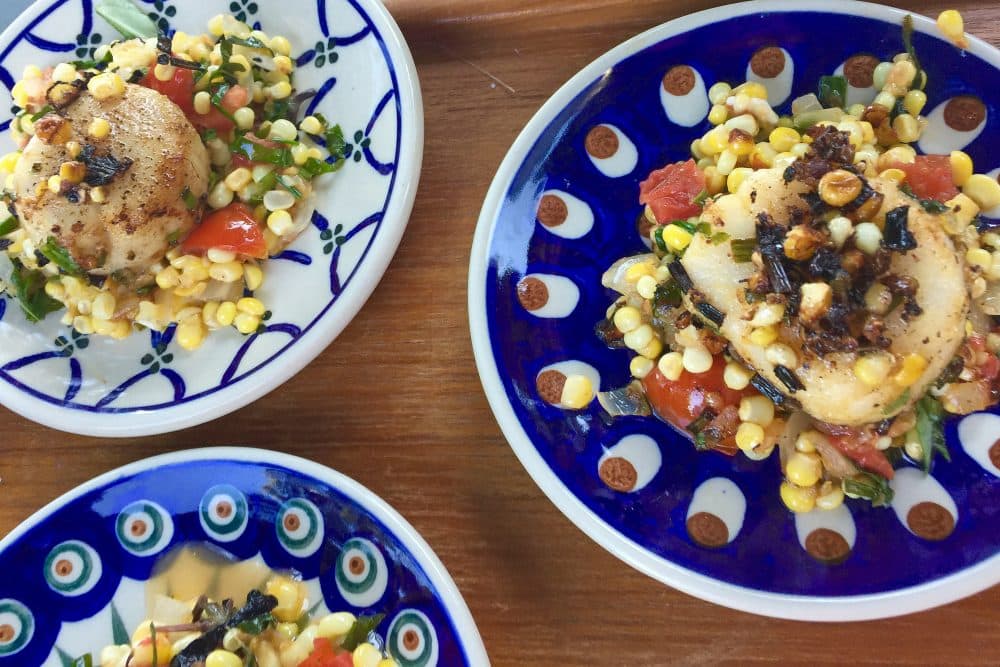 Sautéed Scallops With Corn, Basil And Tomato
Fresh sea scallops are meaty, nutty and almost buttery. These are sautéed until golden brown and served on top of a bed of sautéed corn, fresh basil and tomato.
This makes a great first or main course. You could also substitute shrimp for the scallops. Serves 4.
Corn-Tomato Mixture Ingredients
1 1/2 tablespoons olive oil
1 clove chopped garlic
1 leek or small onion, finely chopped
4 ears fresh corn, shucked with corn cut off the cob, about 2 cups
2 medium ripe tomatoes, finely chopped
1/4 cup thinly sliced basil or opal basil or a combination
Salt and freshly ground black pepper
Scallops Ingredients
1/2 cup flour
Salt and freshly ground black pepper
1 tablespoon olive oil
1 tablespoon butter
1 pound sea scallops
Instructions
Make the corn-tomato mixture: In a large skillet, heat the oil over moderate heat. Add the garlic and cook one minute. Add the leek and cook another three minutes.
Add the corn and cook for one minute, and then add the tomato, basil, salt and pepper and remove from the heat. Taste for seasoning. Keep warm over low heat while you cook the scallops.
Cook the scallops: Place the flour, salt and pepper on a large plate. Gently dredge the scallops in the seasoned flour.
Melt the oil and butter in a large skillet over high heat. When almost sizzling, add the scallops and cook two to three minutes per side, until golden brown and just cooked through.
To serve, heat the corn mixture up until hot. Place on a large plate and top with the scallops.
Cacio e Pepe Corn
From "Corn," by Jessica Battilana [Short Stacks Edition]
"You aren't going to find this on any menu in Rome," Battilana writes. "However, I'm a huge fan of the simple pasta dish that inspired this recipe, and I guessed that the combination of cheese and coarsely ground black pepper would make a pretty awesome dressing for a boiled ear of corn. I was right." Serves 4.
Ingredients
1/4 cup grated Pecorina Romano cheese
1/4 cup grated Parmesan cheese
1 1/2 teaspoons coarsely ground black pepper
4 ears corn, shucked
2 tablespoons unsalted butter
Instructions
In a small bowl stir together the Pecorino, Parmesan and black pepper, then spread the mixture in a thin layer on a rimmed baking sheet.
Bring a large pot of water to boil over high heat. Add the corn and boil for five to six minutes. Drain the corn, rub the ears all over with the butter, then roll each ear in the cheese mixture, pressing lightly so it adheres. Serve immediately.
This segment aired on August 17, 2017.