Meal Plan, Or Cook On Your Own? Tips For Making The Most Of A College Kitchen
Resume
It's that time of year: College students are heading back to campus, or may already be settling in.
For some, that means their first experience attempting to cook for themselves, either in the dorm or in an off-campus apartment. That can also present a dilemma when it comes to equipment, time and what to cook. Here & Now resident chef Kathy Gunst joins Here & Now's Robin Young with tips for aspiring college chefs and other kitchen newbies.
Recipes to try include ramen upgrades from her daughter, San Francisco food editor Emma Rudolph, a step-by-step omelet, gourmet popcorn and suggestions for tomato sauce.
---
There are many things to consider when deciding if your student should be on a meal plan or cooking on their own. Here's some advice:
College Cooking Tips To Keep In Mind
Cooking takes time and organization. A student needs to set a food budget, and set time aside to shop, put the food away and figure out a meal plan of their own. Does your student have the time and organizational skills (on top of a full course load) to pull this together? Is having to cook a meal at the end of the day going to be stressful, or relaxing?
Cooking can be a great social activity. If your student understands how bonding cooking with friends can be, this is something to consider — even if it's just on weekends or special occasions.
What kind of kitchen does the dorm room or apartment offer? Just a microwave and minifridge means a very limited type of "cooking." A full kitchen, no matter how old or worn, offers all kinds of other possibilities.
Does you student have a basic repertoire of recipes? Think of favorites — simple basics that he or she can rely on time and time again. The internet obviously offers millions of recipes, but it's nice to send a student off with a printout of some family favorites.
Be realistic about cooking. Keep it simple, keep within a budget and try to find the freshest ingredients you can afford.
12 Pieces Of Basic Kitchen Equipment
When it comes to basic equipment, you don't want to invest in much. Most college students change their housing every year and that's a lot of stuff to schlep around. Keep it simple and basic. Here are a few recommendations:
Microwave: This seems to be standard in many dorms (at the end of the hall for a shared "cooking" experience). You can cook almost anything in a microwave. The obvious recipe is popcorn (see recipe below), along with reheating frozen foods. This is not exactly cooking, and just a microwave isn't quite enough equipment to take a kid off a meal plan — unless you want your student living on frozen and microwave food. And, as bad as the food still is in some dining halls, this is worse.
Blender: This is a key piece of equipment, and it's pretty inexpensive and easy to have in any dorm room. Why a blender? Think smoothies, quick pureed soups and more.
Minifridge: These are great for drinks, food, etc. It's the minimum a student will need to keep healthy foods around.
Crock-Pot: These retro pots are great for slow cooking a basic soup, stew, chicken or vegetables. You throw some food into the pot, put it on low, go to school all day and come home to dinner.
Toaster oven: These are considered a fire hazard and forbidden in many dorm rooms. If they are allowed, they are a great, inexpensive way to roast foods without having a full oven.
Electric kettle: If your college allows them, electric kettles are great for heating up water quickly (get one with an automatic shut-off) for coffee, tea, soups and ramens.
George Foreman Grill or panini press: If your student doesn't have a stovetop, this can be a quick-and-inexpensive solution for cooking chicken, grilled cheese, quesadillas, grilled sandwiches, grilled vegetables and more.
One or two good knives and a cutting board
Pots and pans: One large pot for pasta, one medium pot and one small pot for heating up sauces, boiling eggs, etc.
Large skillet for cooking vegetables, poultry or meat, a medium one for sautéing vegetables and a small one for omelets, scrambles and heating up tacos or tortillas.
Plastic bowls for mixing and serving
Plates, fork, spoons and knives for four: Encourage your student to cook for others. Dinner parties in college can be fun!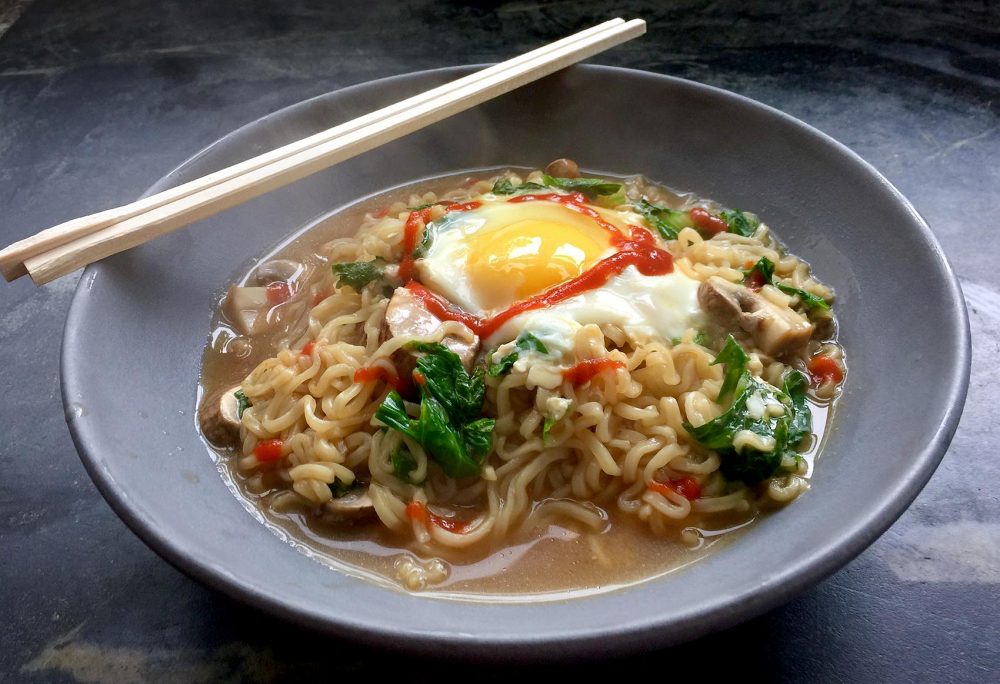 Emma Rudolph's Easy Upgraded Ramen
This recipe comes from food writer and editor Emma Rudolph. It's an incredibly delicious way to take a plain old package of supermarket ramen and make it taste like a really good homemade meal. Serves 1.
Ingredients
1 package ramen
1 teaspoon soy sauce
1 teaspoon chile sauce, such as Sriracha (optional), plus more for serving
Handful fresh spinach (about 1 cup)
1/4 cup thinly sliced mushrooms, such as baby bella, button or shiitake
1 egg
Instructions
In a medium pot, bring 2 cups water to a boil. Add the ramen and cook, stirring occasionally, about three minutes. Add half of the ramen seasoning packet, if desired. Add the soy sauce and Sriracha, if using. Add the spinach and mushrooms and let cook until the mushrooms darken in color, about two minutes longer.
Reduce the ramen to a simmer. Crack the egg into a small bowl. Gently slide the egg into the simmering ramen. Cook until the egg whites have solidified, about two minutes. Transfer the ramen to a bowl, drizzle with Sriracha, if using, and enjoy.
Emma Rudolph's Dorm-Style Peanut Noodles
Another great way to use and upgrade supermarket-packaged ramen. Serves 2.
Ingredients
2 packages ramen (seasoning packet discarded or reserved for another use)
4 tablespoons smooth peanut butter
3 tablespoons warm water, plus more as needed
2 tablespoons soy sauce
2 teaspoons rice wine vinegar
1 teaspoon chile sauce, such as Sriracha
1 teaspoon honey
1 teaspoon sesame oil
1/2 teaspoon fresh grated ginger
1 bell pepper, sliced into strips
1/2 cup thinly sliced cucumber
4 ounces firm tofu, drained and diced
2 tablespoons roughly chopped fresh cilantro leaves
Instructions
In a medium pot, bring 2 cups water to a boil. Add the ramen and cook, stirring occasionally, until the ramen is cooked through, about three minutes. Drain and set aside.
In a medium bowl, combine the peanut butter, warm water, soy sauce, rice wine vinegar, Sriracha, honey, sesame oil and ginger. Using a spoon, stir to combine. The sauce should drip off a spoon when held at a height; add more water 1 tablespoon at a time to reach a smooth, drippy consistency.
Mix the ramen into the bowl of sauce and stir to distribute the sauce over all of the noodles. Fold in the bell pepper, cucumber, tofu and cilantro and serve.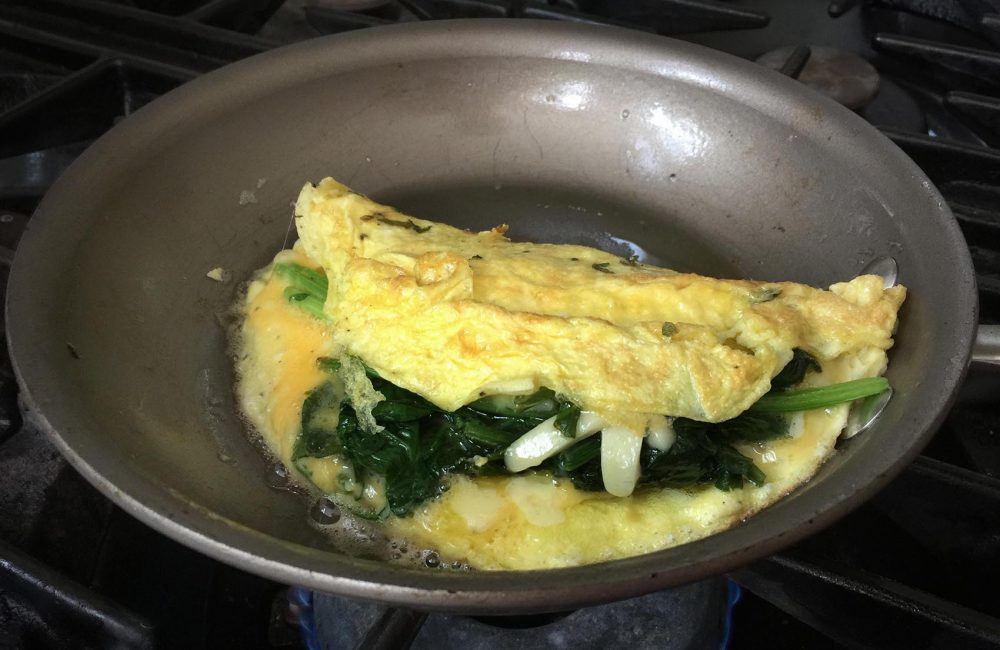 Omelette 101: Spinach And Cheese Omelette
This is a master recipe that you can master. The fillings can be anything you like: sautéed spinach, thinly sliced zucchini, mushrooms, peppers, tomatoes, etc. Use your favorite grated cheese — and your imagination.
The recipe can be doubled or tripled, but it's nice to make each person an individual omelette. Invite some friends over for breakfast or brunch, and serve with buttered toast and jams.
Ingredients
1 1/2 tablespoons vegetable oil
1 cup spinach
Salt and pepper
2 eggs
1/4 cup grated or shredded cheese (cheddar or whatever you like)
Instructions
In a small skillet heat 1 tablespoon of the oil over medium heat. Add the spinach or whatever vegetable you like, salt and pepper and cook, stirring, for four minutes until wilted or cooked. Remove to a plate.
Crack the eggs in a small bowl and use a fork to beat them. Add salt and pepper.
In the same skillet you cooked the spinach heat the remaining 1/2 tablespoon oil over medium-low heat. Add the eggs and cook one minute. Add the cooked spinach and the cheese to half of the egg mixture leaving half of it empty. Cook two minutes. Use a soft spatula or fork to lift the eggs up under the side with no filling and let any raw egg drizzle down underneath. Continue cooking until there is no raw egg pooling on top of the omelette.
Using a soft spatula or fork, lift the side of the omelette with no filling over the side with the filling and cook one minute. Using the spatula, flip the omelet over and cook another minute or so until all the egg is cooked and the cheese is melted. Serves 1.
Quick-And-Easy Red Sauce
From Stephanie Diehl, author of the blog One Family Meal
"This simple red sauce makes enough to coat one pound of pasta," Diehl writes. "You can add many different variations: 1/2 cup pitted olives, chopped parsley and fresh herbs, capers, anchovies and more."
Prep time: 5 minutes
Cook time: 10 minutes
Ingredients
1 28-ounce can whole peeled or crushed organic tomatoes
1/2 teaspoon sugar
1/2 teaspoon salt
1/2 teaspoon dried oregano
Pinch red pepper flakes
Instructions
If using whole peeled tomatoes: remove the tomatoes to a medium bowl, draining and discarding the residual tomato juice. Puree the tomatoes with a blender until smooth.
Combine with the remaining ingredients (add the crushed tomatoes now, if using instead) in a high-sided 10- to 12-inch pan. Bring to a simmer over medium heat, reduce to low and continue to simmer for 15 minutes, or until the sauce thickens slightly and the flavors meld.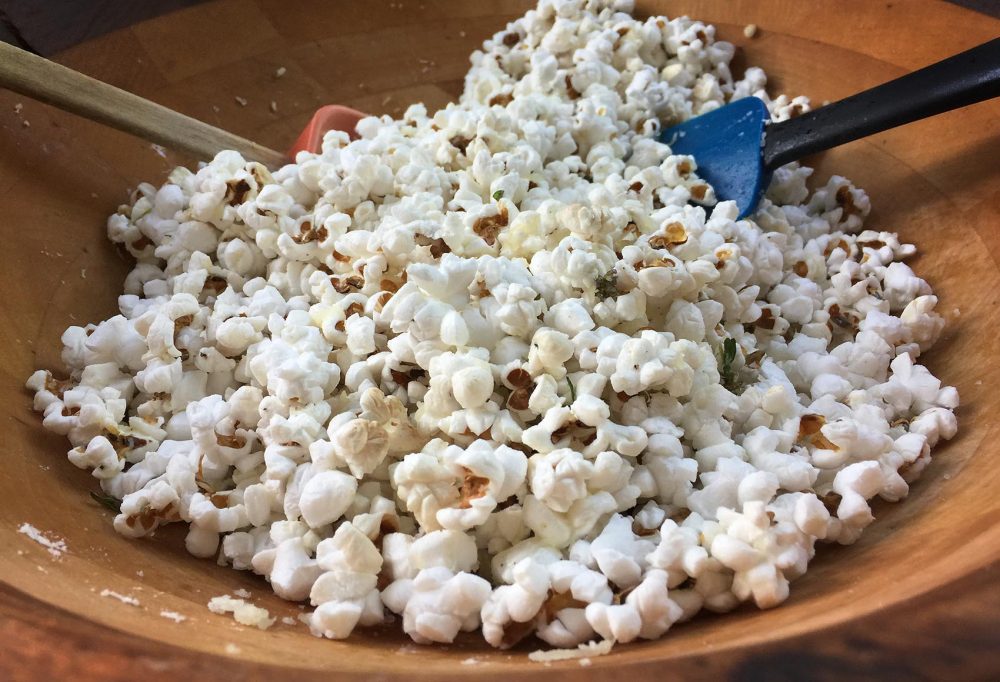 Popcorn: Three Variations On A Theme
You can make microwave popcorn, or pop it the old-fashioned way on a pot on the stove. This recipe makes about 6 cups of popcorn, and serves 6 to 8.
1 1/2 tablespoons canola oil
1/2 cup white or yellow popcorn
Sea salt, or garlic salt
Freshly ground black pepper
Flavor toppings (see below)
Instructions
In a large pot heat the oil over low heat for about 3 to 4 minutes. Add popcorn kernels in a single layer on the bottom of the pot, stir well, and cover. Let cook until the corn starts popping. Once the corn is popping shake the pan back and forth so that the kernels are evenly distributed. Cook until the kernels stop popping.
Meanwhile prepare one of the flavorings listed below.
Remove the popcorn from the pot and place in a large bowl. Toss in the flavorings while the popcorn is still hot, and put the lid from the pot over the bowl; toss the popcorn well to incorporate the flavoring throughout all the popcorn. Add salt and pepper to taste. Serve immediately.
Flavor Variations
Add any of the following to the hot, just-cooked popcorn:
Cheese, thyme and pepper: 1/4 to 1/3 cup grated Parmesan (or your favorite hard cheese), 1 1/2 teaspoon dried crumbled thyme (or 1 tablespoon fresh, chopped), sea salt and freshly ground black pepper to taste.
Spicy turmeric butter and cheddar: Melt 4 tablespoons butter with 1/4 teaspoon cayenne, 1/4 teaspoon mild chile powder or splash of hot sauce and 1 teaspoon ground turmeric. Cook, stirring, until the butter turns a gorgeous yellow and has a spicy flavor. Pour over the hot popcorn and toss thoroughly with 1/2 packed cup finely grated sharp cheddar cheese.
Maple syrup and cinnamon: Toss with 3 tablespoons maple syrup and 1/2 teaspoon ground cinnamon.
This segment aired on August 30, 2017.