How One Florida Biologist And His More Than 150 Animals Fared During Irma
03:45
Play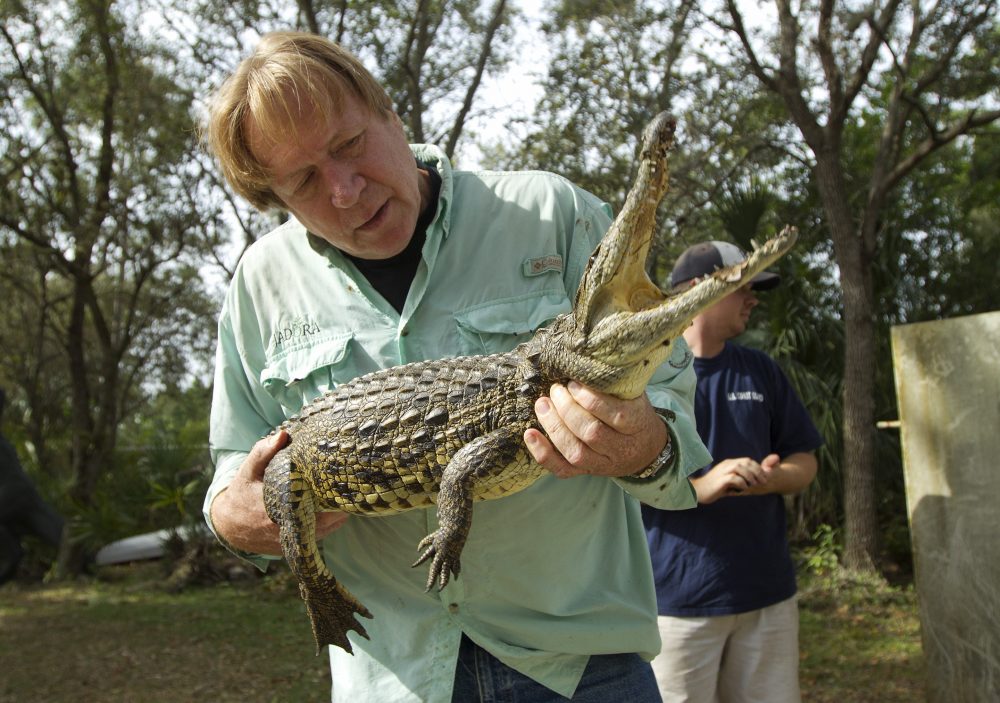 This article is more than 3 years old.
Joe Wasilewski is in Homestead, Florida. He was there in 1992, survived Hurricane Andrew and decided to stay this time around and face Irma.
Wasilewski is a herpetologist with more than 150 animals that he takes to lectures and rents out to TV shows — alligators, snakes, lizards and more. He joins Here & Now's Robin Young to talk about how he and the animals are doing.
Interview Highlights
On how he and his animals are doing
"Everybody fared well. My property didn't fare well, but the people and the wildlife, all my animals did. I have a fairly large compound with a few acres, and trees are down all over it. It's gonna take me weeks to move this amount of downed vegetation."
On what sorts of animals he has
"I'm a herpetologist, which studies reptiles and amphibians, and I have everything from alligators and crocodiles to iguanas, and even a Galápagos tortoise who did well during the storm."
"My property didn't fare well, but the people and the wildlife, all my animals did."

Joe Wasilewski
On safety concerns surrounding these animals and storms like Irma
"Thanks to Andrew, the game commission has adopted new rules for keeping these animals. And in order to do so, you have to submit a hurricane plan. An officer comes out and inspects your property as to your evacuation or ability to ride out a storm along with your animals, to keep yourself and them safe."
"[I locked the animals in crates] and locked up the venomous snakes and the big pythons all were double bagged and locked. Even though it's a requirement, it makes common sense and I would do it anyway."
On exotic pet ownership in Florida
"I've got a guy right down the block from me that has wolves, and I know a half a dozen people that have tigers and things like that. There's a lot of it down here. And in fact, I do distinctly remember after Hurricane Andrew tracking a lion in the Everglades."
On why his animals are so important
"They're more than wildlife. To me, they're my living. I've worked with them and I've cared for them since I can remember my earliest memory. So there's something that is way too close to my heart."
This article was originally published on September 11, 2017.
This segment aired on September 11, 2017.