Kansas City's Airport: A Dud Or A Gem, Depending On Who You Ask
Resume
When it was built, Kansas City International Airport was the picture of convenience.
There are few airports like it in the country. KCI's three terminals are shaped like horseshoes, which were meant to allow flyers to seamlessly walk through the front doors to their gate.
But the terminals were built more than 40 years ago, and many believe the decades have not been kind.
The airport committee is asking voters to decide on a ballot referendum this November that would approve a major airport upgrade. The plan is to tear down the old horseshoes and replace them with a single, billion-dollar terminal.
"This airport has done a very good job for 45 years, but it is past its useful life," says Jolie Justus, a city council member and head of the airport committee. "We have significant infrastructure issues that need to be addressed, but the bottom line is that the configuration is not meeting modern air travel."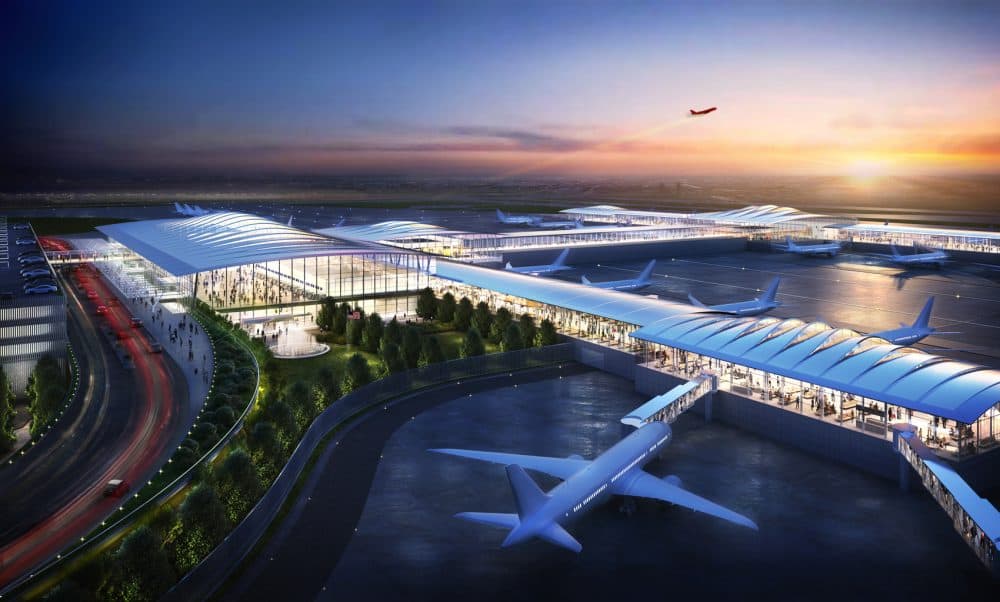 Justus says while the horseshoes were designed to make it easier for travelers to get to their gates, the configuration doesn't allow for traditional security checkpoints.
"The space in the waiting area, next to the gates, is only 36 feet wide, and so when you have the planes coming and going it's incredibly crowded and it creates very, I think, congested, uncomfortable departure," she says.
Perhaps the strangest thing about KCI is the thick glass wall that rises about three-quarters of the way up the ceiling and separates the check-in area from the secured gates. Justus says almost immediately after the airport opened in 1972, a hijacking prompted the U.S. government to pass new security measures for air travel.
"This airport became out of date from security measures because it was decided immediately by the FAA that we needed to separate our ticketing and our boarding areas," she says. "And so, we had to then build a wall between the ticketing and boarding areas, which really has created a lot of our problems."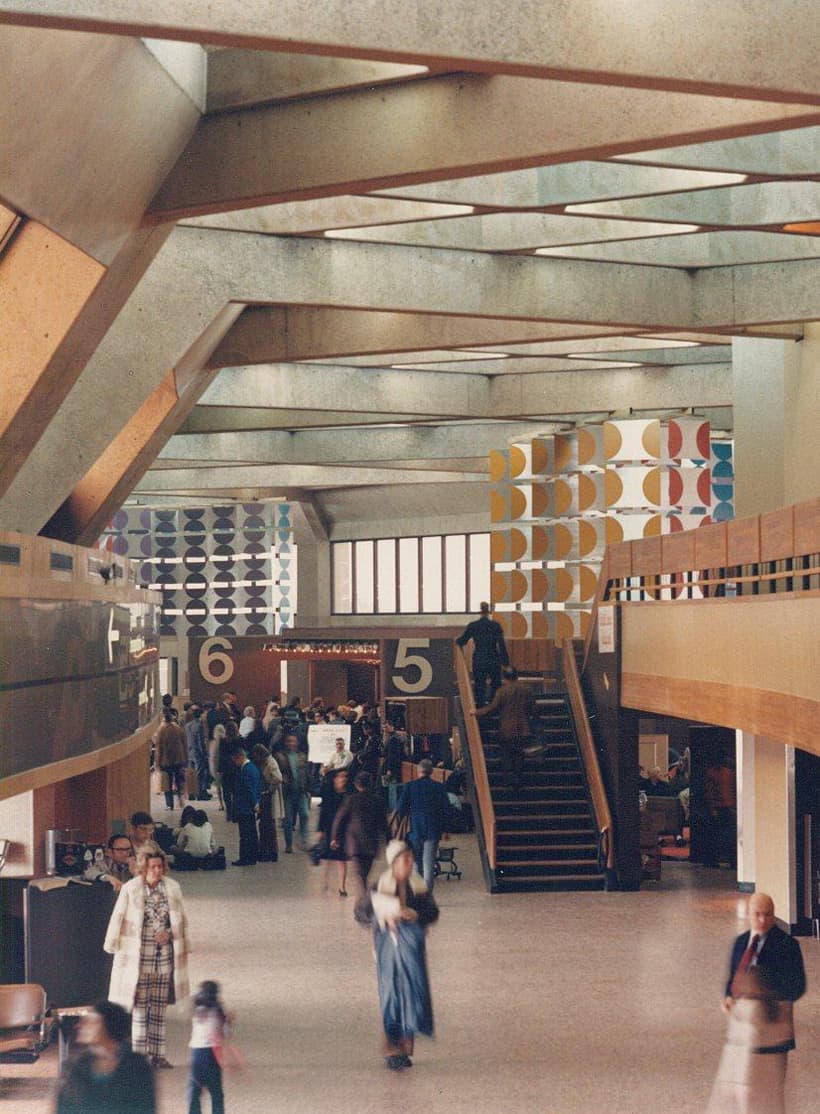 Justus says the airport is not currently in full compliance with TSA regulations, but it is grandfathered in, so it can keep running.
The ballot initiative is a divisive issue among Kansas City voters. Many are worried airlines will stop flying into the city because of the airport.
"The way that we have this crafted is that the airlines are responsible to backstop all of the debt on this," Justus says, "and so regardless of whether an airline decides to go somewhere else, they are still going to be responsible for paying back the debt on this."
Local businesses — especially those with employees who often fly for work — are in favor of a new airport, says Steve Vockrodt, a reporter for The Kansas City Star who has been covering the airport debate for years.
"The public at large though has seen, I think the experience that people have … is that this airport is easier to use than some of the bigger ones that they may connect through when they fly to one place or another," he says.
Vockrodt says City Hall's strong push to renovate the airport has created a division with the public. For many residents, their attachment to the airport comes down to convenience.
"I parked, you know, 100 feet from here, we're standing in a little bit of a line here, but otherwise, we just go to ticketing, go to the gate and go. And then when you leave, it's the reverse of that," says Steve Long, who doesn't live in Kansas City but says if he did he would vote against a new airport.
Others have a mixed view of the airport.
"I like this one. I love this one. It's very convenient, but if you've ever been stuck in an airport, there's no place to eat here," says Mona Bailey. "You're just stuck out here in this ring. Because even though we Kansas Cityans love it, visitors hate it. They really do."
Renovating the airport won't be easy or cheap, but Justus promises that taxpayers will not be on the hook for the billion-dollar price tag. She says funding will come from fees paid by the airlines, parking revenue and concessions.
"There's no taxpayer involvement, and that's been something that I think the pro-KCI boosters have wanted to make very clear," Vockrodt says. "It's 'cause there's a lot of confusion out there about, 'Are we as citizens on the hook for this thing? You know, what if it fails? If it fails, are we on the hook?' And the answer is no."
And this isn't just about the money it costs to build the terminal, but about potential lost economic opportunity with an airport that doesn't cater to business travelers. Supporters say companies could skip over Kansas City if the airport isn't improved.
Another issue for business travelers is the fact that the airport only services international flights to Canada, Mexico and the Caribbean.
"We are the largest city in the country without a direct trans-Atlantic flight," Justus says. "We cannot meet the needs of the corporate citizens and the frequent flyers if we don't get some trans-Atlantic service. And we're working hard to do that, but we can't do it with our current configuration."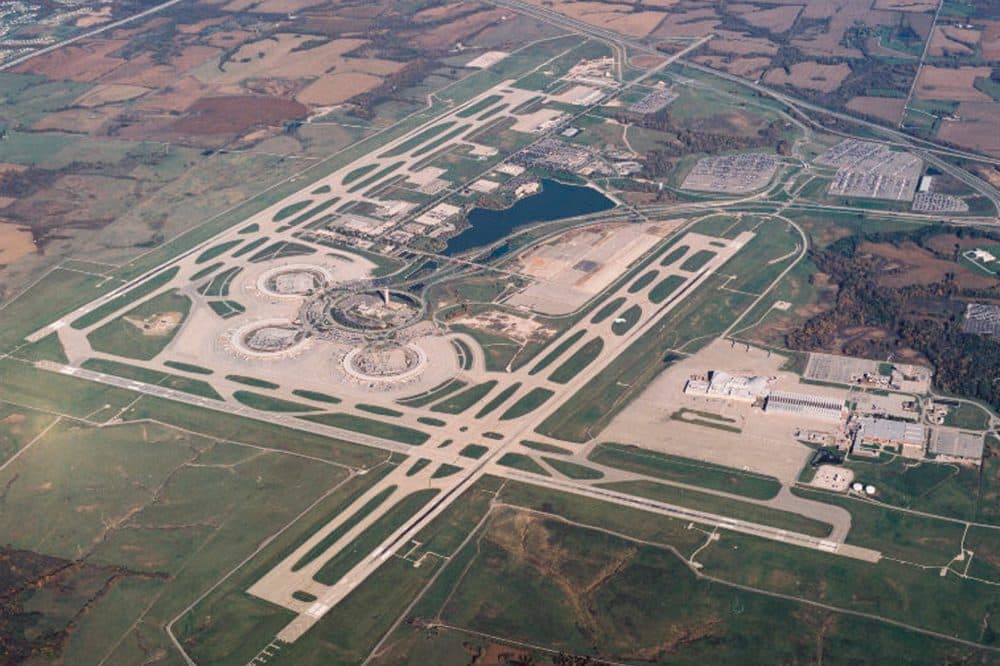 Airlines also avoid flying into Kansas City because the airport is such a mess, says Justin Meyer, deputy director of aviation for KCI.
"My job is to sell airlines on Kansas City, is to convince airlines to grow here, and the airlines have said, 'We don't like what you're selling,'" he says.
As an airport employee, Meyer says he can't take an official position on the ballot measure. But he says one problem with the current airport is getting travelers to their connecting flights. Many travelers trying to connect must exit security and then go back through.
"The new terminal means that perhaps we would have a few more connections," he says, "and if we get those connections, then the upside is more nonstop flights because we've got markets … where we've got less than 100 passengers, and they say, 'Look Justin, my airplane's 143 seats.' It doesn't work without having a little bit of connecting flow.
"So if we had a facility that facilitated connections, similar to the way Southwest has built a connecting bank structure in St. Louis, then the benefit for locals is the additional nonstop flights to existing markets and new nonstop flights to new markets."
The vote on Nov. 7 will likely be the most consequential airport vote in Kansas City since the 1960s — when voters approved the three horseshoe terminals that exist today.
This article was originally published on October 26, 2017.
This segment aired on October 26, 2017.