How Google Fiber Changed Kansas City
Play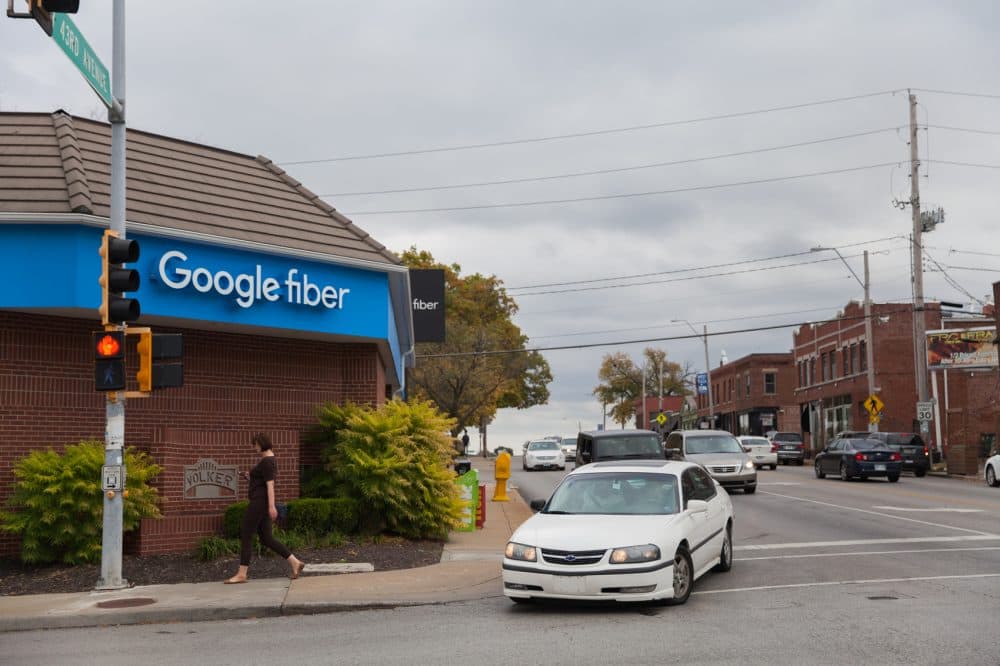 This article is more than 5 years old.
It will be months before Amazon announces which city will be the site of its second headquarters. The company's search drew 238 bids from cities and regions across North America — one of which came from Kansas City.
But the city made a different bid more than seven years ago. That bid would eventually win, making Kansas City the first site of a new, ultra-fast internet and TV service called Google Fiber.
"It was a pretty big deal," says Mark Bergen, who covers Google and its parent company Alphabet for Bloomberg. "This was Google's first foray into providing a service that is, traditionally, a lot of parts of the country, you have one or two providers and everyone more or less hates them."
Bergen says he remembers the excitement around Fiber's potential, when compared to internet services like Comcast and Verizon.
"You had slow speeds, poor service, high prices, and Google had promised good service, low prices and, like, unheard-of speeds for internet," Bergen says.
Google's worst-case scenario for fiber was that it would spend a lot of money and get competitors to increase service speeds and lower prices, Bergen says.
"The big picture, Google wins when more people are online, it wins when more people are using the internet more frequently," he says. "Google, it saw this as a lucrative business that they thought they could transform with technology, and build out some revenue beyond advertising."
Fiber and its speed were relatively new for everyday consumers. With the service, you could download a full-length movie in just about a minute.
Google announced its search for the first fiber city in 2010, and more than 1,000 applications poured in. Topeka, Kan., temporarily renamed itself "Google" with the hope of attracting the company.
But the win went just next door, to Kansas City.
Matthew Marcus, executive director of the Kansas City Startup Foundation, says there's no question that Google Fiber had a positive impact on the city's tech industry.
"When I look back at 2010, Kansas City had startups and entrepreneurs like any other city. But it was pretty quiet. The startup community wasn't very cohesive," Marcus says. "And then, it was like a few things took place in our city, one of which was Google choosing Kansas City to bring their fiber service, and it just kind of helped to cultivate this energy that was already starting to pick up."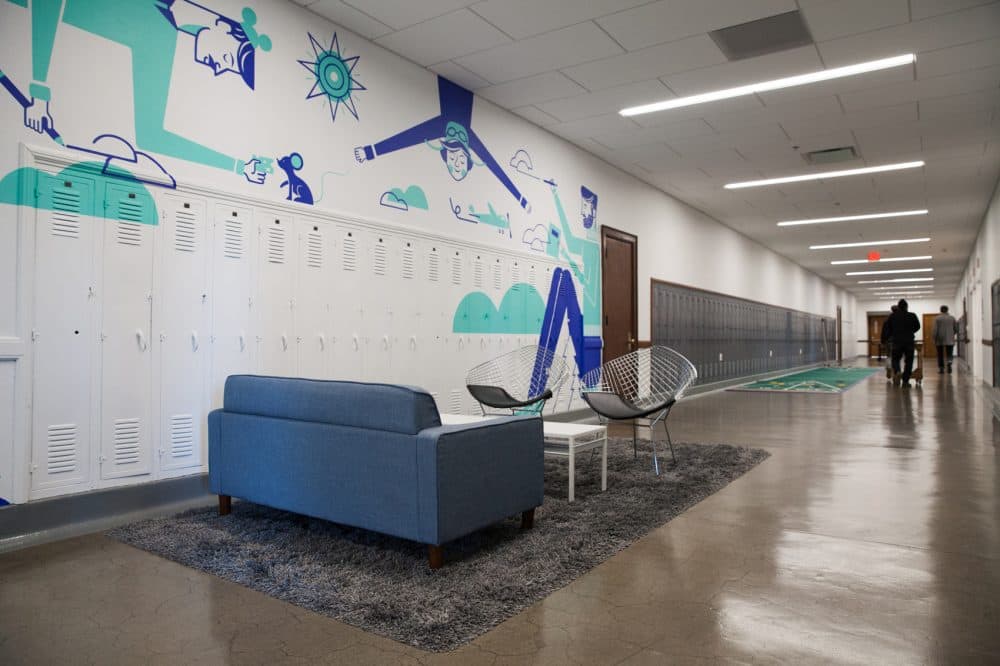 Buzz about Google Fiber's speed initially helped generate excitement in the startup community, Marcus says, which in turn had a ripple effect.
"Honestly I think it was more about just, 'Hey, here's a cool service that came to Kansas City. Entrepreneurs are gathering around it to try to put it to use for their businesses,'" he says. "And it just kind of started to breed out into other meetup groups, other initiatives, events that popped up just because of that excitement."
While Kansas City's tech scene may still be overshadowed by those in other American cities, Marcus says Google Fiber has helped foster growth.
"I'll say that we like to classify several things as 'BGF' and 'AGF' — 'before Google Fiber' and 'after Google Fiber,' kinda strange," he says. "We're not Silicon Valley, we're not Austin, we're not Denver yet, but we're also not, you know, Podunk Flyover Cowtown either."
In the last four years, first-time employers — many of them startups — added 84,000 jobs in the city, according to the data firm KCSourceLink. Available investment capital has increased 290 percent. New tech businesses have sprung up offering online marketplaces, farming analytics, pet data, public finance systems, athlete-only social media networks and plenty of others.
"We're not Silicon Valley, we're not Austin, we're not Denver yet, but we're also not, you know, Podunk Flyover Cowtown either."

Matthew Marcus
But in Kansas City, fiber isn't just for the tech industry. Schools and other public services adopted Google Fiber — and so did everyday residents.
"One of the things that I think is really interesting about when Google Fiber came to town is the way that they rolled it out," says Carrie Coogan, deputy director of public affairs at the Kansas City Public Library and chair of the Kansas City Coalition for Digital Inclusion. "And I think even they would say that there was a learning experience, because you had to have every person in the neighborhood sign up. They were called 'fiberhoods,' and you had to pay to sign up to get access, and if a certain percentage signed up, then you got to have Google Fiber in your neighborhood. But in a lot of the neighborhoods on the East Side in Kansas City, they didn't sign up."
Coogan says Google Fiber's rollout highlighted the city's so-called "digital divide." While wealthier neighborhoods were quick to put the money down, poorer ones didn't, which meant no fiber, and in some places, no internet at all.
"I think Google even recognized that, you know, 'We need to make sure that we're understanding the neighborhoods in the cities that we go into and how we can help everyone, and make sure that they have access,'" Coogan says.
One of Google Fiber's positive impacts has been increased competition among providers, Coogan says. Another was opening a fund that works on offering digital inclusion initiatives.
"What's important about that is that [Google] really listened to the things that people in the digital divide, and the people working in the digital divide, needed, which is people and resources," Coogan says. "And yes, it's partly a business decision, but it's also sort of a moral question, too: 'Are we going to help these people that need it?'"
Some Kansas City residents still have no access. According to a 2016 survey, only 56 percent of Kansas City households making less than $30,000 a year had access to the internet at home, compared to 91 percent of other households.
"I hope that [Google] will continue to understand that they need to look at the entire city, even the people who don't have connectivity, and find ways to help them going forward."

Carrie Coogan
But as Coogan points out, the library is connected — and full of people making use of Google Fiber.
"I think you'll find that, if you go into almost any library across the nation ... the 21st-century library has to have computer access for people that desperately need it," she says.
Coogan says that she'd recommend Google Fiber to another city.
"As much as it's been a learning experience for Kansas City and the nonprofits and everybody who's had access to Google Fiber, I think it's also been a learning lesson for them," she says. "I hope that they will continue to understand that they need to look at the entire city, even the people who don't have connectivity, and find ways to help them going forward."
Nationally, there's speculation that Google Fiber is foundering. It's lost multiple executives, including two CEOs, in the last year. There were layoffs, and plans to expand also seem to be on hold.
That hold in some ways marks "a shortcoming of Silicon Valley's utopian dream" to solve a "very old-fashioned problem in a very old-fashioned industry," Bergen says.
"I do think that the leaders at Alphabet are still imagining a world in which they want to deliver internet to every corner of the world," he says. "They wanna find some sort of magic-wand, technological solution. Clearly they have smart people working on technologies that we've never heard of around this. But digging up backyards is not something they're committed to anymore."
Whatever happens with Google Fiber, Kansas City will always have the benefit of getting it first, a stamp of approval from Silicon Valley. And like almost every city in America, Kansas City is hoping for another stamp — from Amazon.
This article was originally published on November 08, 2017.
This segment aired on November 8, 2017.