Not Quite Stuffed? 4 Recipes To Give Thanksgiving Leftovers New Life
Play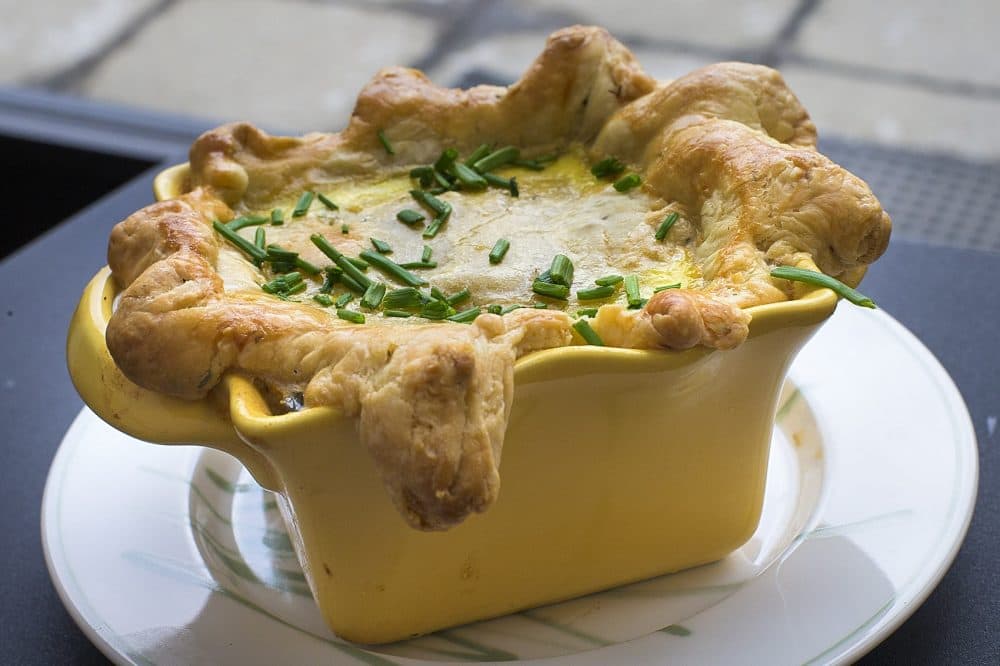 This article is more than 5 years old.
Resident chef Kathy Gunst joins Here & Now's Peter O'Dowd to share some of her latest ideas for Thanksgiving leftovers, including turkey pot pie, turkey mapo doufu and a salad that uses leftover roasted vegetables.
---
Turkey Stock
From "Soup Swap: Comforting Recipes to Make and Share," by Kathy Gunst (Chronicle Books, 2016)
Classic poultry stock is made by simmering a raw bird and vegetable for hours. In this easy recipe you "recycle" the carcass from a roasted chicken or turkey and add fresh vegetables.
You won't believe how much rich flavor you can coax from a leftover chicken or turkey carcass. If you have a large bird you can make this soup with one carcass but you will have a much richer, more flavorful stock if you use two. Remove any big pieces of leftover meat to use in soups, salads and sandwiches. Makes about 8 to 10 cups.
Ingredients
1 to 2 carcasses from roasted chickens, or 1 turkey carcass
3 onions, peeled and chopped
6 stalks celery with leaves, chopped
4 carrots, chopped
1 large leek, cut down the middle lengthwise, cleaned and chopped
1 cup packed chopped fresh parsley
2 bay leaves
8 black peppercorns, or a generous grinding of black pepper
Salt to taste
Instructions
Place the carcass (or carcasses) in a large stock pot. Add the onions, celery, carrots, leeks, parsley, bay leaves, peppercorns and a handful of salt. Just barely cover with cold water.
Bring to a boil over high heat. Reduce the heat to low, partially cover, and let cook about 1 hour. If fat forms at the surface skim it off and stir the soup a few times. Taste; if the stock seems weak raise the heat to moderate and let simmer/reduce vigorously for another 15 to 30 minutes, or until flavorful. Season to taste with salt and pepper.
Strain the stock, and when cool, place in covered containers in the refrigerator for up to five days or frozen for up to four months.

Fennel, Tangerine, Persimmon And Roasted Squash Salad With Pumpkin Seeds And Sun-Dried Cranberries
A thoroughly refreshing salad full of bright colors, textures and flavors. This is a great way to use leftover roast squash, carrots, potatoes or any of your Thanksgiving vegetables. Serves 4.
Salad Ingredients
1 large bulb fennel, cored and thinly sliced (save some of the fennel fronds, the top dill-like greens, to chop into the vinaigrette)
1 to 2 tangerines, peeled, separated into sections and cut into 1-inch pieces
1 ripe persimmon, peeled and thinly sliced (optional)
2 cups leftover roasted squash, carrots, Brussels sprouts, potatoes or any Thanksgiving vegetable, left whole or cut in half
1/2 cup pumpkin seeds or sunflower seeds
1/2 cup dried cranberries
Dressing Ingredients
1 tablespoon chopped fennel fronds
1 teaspoon Dijon mustard
1 1/2 tablespoon dried cranberries
Juice of 1 large lemon or Meyer lemon
1 tablespoon balsamic vinegar
1/3 cup olive oil plus 1 tablespoon
Salt and freshly ground black pepper to taste
Instructions
To make the salad: On a large serving plate or bowl arrange the fennel and top with tangerines and persimmon, if using. Scatter the leftover squash or vegetables around the outside. Sprinkle with the pumpkin seeds and cranberries.
To make the dressing: mix all the ingredients thoroughly. Season to taste. Pour a few tablespoons on top of the salad and pass the remaining dressing on the side.

Mapo Doufu
This classic Sichuan dish is made with tofu and chile paste. Traditionally it's made with ground pork, but if you add chopped-up bits of leftover turkey, it adds a delicious flavor.
It's made in a wok or heavy large skillet. Serve on white or brown rice. Serves 4.
Ingredients
1 tablespoon peanut or vegetable oil
1 1/2 teaspoons sesame oil
1 1/2 tablespoons finely chopped fresh ginger
2 cloves garlic, finely chopped
2 scallions, thinly sliced
1 to 1 1/2 teaspoon Chinese chile paste
1 teaspoon Chinese bean paste, optional
1 to 1 1/2 cups leftover turkey, white and dark meat, finely chopped
1 1/2 tablespoons soy sauce or tamari
1/2 cup chopped fresh cilantro
2 cups chicken broth or turkey broth
1 tablespoon corn starch
1 package of firm tofu, cut into small cubes, about 1/2 inch
Topping: 2 scallions, finely chopped mixed with 2 tablespoons chopped fresh cilantro
Instructions
In a wok or large heavy skillet, heat the peanut oil and 1 teaspoon of the sesame oil over high heat. Add the ginger and garlic and cook, stirring, for one minute. Add the scallions, chile paste and bean paste, if using, and cook for one minute. Add the turkey and stir fry for 30 seconds. Add the soy sauce and 1 tablespoon of the cilantro and stir. Add the broth and bring to a boil.
In a small bowl mix the cornstarch with 2 tablespoons of the hot liquid from the wok until it makes a smooth paste. Slowly whisk or fork the cornstarch into the mixture, reduce the heat to moderate and let simmer and thicken.
Slide the tofu into the sauce, and stir gently; cook for 10 minutes, covered. Taste for seasoning, adding more soy sauce or chile paste as needed. Stir in the remaining sesame oil and cilantro and serve hot over rice scattered with the additional scallions and cilantro.
Turkey Pot Pie
This is a classic way to use leftover turkey along with fresh winter vegetables in an herb-scented sauce.
Make the pastry a day ahead of time. The pot pie can be made up to two days ahead of time, covered and refrigerated or covered and frozen for up to three months. Serves 4 to 6.
Thyme Pastry Ingredients
2 cups flour
Dash salt
1 1/2 tablespoons fresh thyme, finely chopped, or 1 1/2 teaspoons dried
1 1/2 teaspoon fresh sage, chopped, or 1/2 teaspoon dried
2 sticks butter, well chilled and cut into small pieces
About 1/3 cup ice-cold water
Pie Ingredients
2 carrots, peeled and cut into 1-inch pieces
2 ribs celery, cut into 1-inch pieces
2 parsnips, peeled and cut into 1-inch pieces
1 leek, thinly sliced or 1 small onion, chopped
1 tablespoon olive oil
2 to 3 cups cooked leftover turkey, diced or shredded
1 tablespoon chopped fresh thyme, or 1 teaspoon dried
1 tablespoon chopped fresh sage, or 1 teaspoon dried
3 tablespoons butter
3 1/2 tablespoons flour
2 cups chicken or turkey broth
1/2 cup heavy cream
1/4 cup finely chopped fresh parsley
Salt and pepper
Instructions
Make the pastry: in the container of a food processor, pulse the flour, salt and herbs. Add the butter and pulse about 15 times until the mixture looks like coarse cornmeal. With the motor running, add only enough water so that the dough comes together and starts to pull away from the sides of the machine. Wrap in plastic wrap and refrigerate for at least an hour and up to 24 hours.
To make the pie: bring a pot of water to boil. Add the carrots, celery and parsnips and cook about six to seven minutes, or until almost tender but not quite. Drain under cold running water and drain again.
In a large skillet heat the oil. Add the leeks and cook, stirring for five minutes. Add the drained vegetables, turkey, herbs, salt and pepper and cook two minutes.
Meanwhile, to make the sauce, in a medium pot melt the butter over medium heat. Add the flour and stir to create a paste. Cook two minutes. Add the stock, whisking to create a smooth sauce. Cook about five minutes. Add the cream and parsley and cook another five minutes.
Add the vegetables to the sauce and cook five minutes. The sauce should be thick enough to coat the back of a spoon.
Working on a well-floured surface, roll out the pastry to a 12-inch circle.
Fill the vegetables and sauce into a large 12-inch skillet or divide into individual ramekins or ovenproof soup crocks. Top with the pastry and crimp the sides or tuck the dough over on top of itself. Using a small knife slash the pastry in the center of the pie in several spots to allow steam to escape while baking. Cover and refrigerate until ready to bake.
Heat the oven to 400 degrees.
Bake the pie on the middle shelf for 20 minutes. Reduce the heat to 325 degrees and bake for another 20 to 30 minutes, or until the pastry is a golden brown and the juices are bubbling on the sides.
This segment aired on November 24, 2017.