'It's A Food For Everyone': What German Currywurst Reveals About Berlin
Play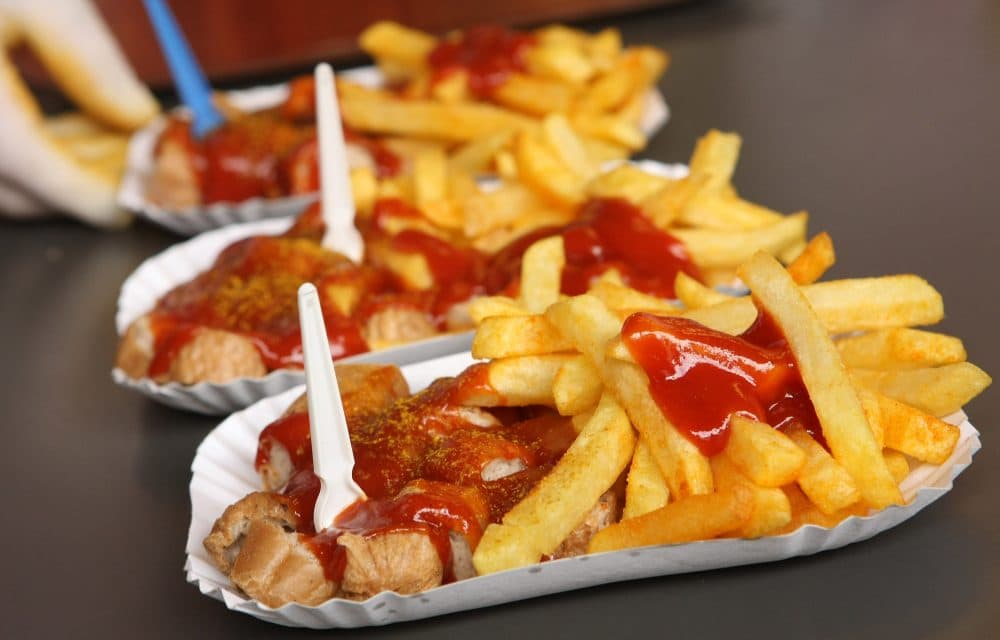 This article is more than 5 years old.
In Berlin, there's an entire museum devoted to a humble street snack: currywurst. It's made of sausage, curried sauce and sometimes a bun, with fries or potato salad on the side.
"It's no coincidence that it's popular in Berlin," says Bianca Wohlraum, the project leader of the Currywurst Museum.
Wohlraum says the currywurst has a devoted following in Berlin because, as legend has it, the street food was invented there on a rainy September day in 1949 by a food vendor named Herta Heuwer.
"She had a normal snack stand where she sold broiled sausages, and she said that one day there was bad weather, and it rained cats and dogs, and there was nothing to do, not so much customers," Wohlraum says. "She think about it, and experimented with different ingredients."
Those ingredients were a direct reflection of the Allied forces occupying Berlin after World War II — tomato ketchup from the Americans, curry powder from the British.
But Wohlraum says the exact recipe for Heuwer's original sauce has remained a mystery since her death in 1999.
"She loved to tell the story. And she always make a big mystery of it," Wohlraum says. "And so she said, 'I'm the inventor of the currywurst, it was my special mystery ingredients, and nobody knows the exact recipe, just me.' And she took it to the grave, didn't tell anybody the right recipe of her first currywurst sauce."

Exhibits at the Currywurst Museum show Heuwer was a Julia Child-like figure in Germany in the 1950s and '60s, appearing on TV game shows like "Pssst."
Other exhibits invite guests to compete in making different currywurst faster than their opponent, or to experience currywurst stands from different countries all over the world.
'It Belongs To Our City'
Much like Berlin today, currywurst is changing.
"We have a stand in Wittenbergplatz, Witty's, they just use organic sausage and organic potatoes," Wohlraum says. "Of course, we have also tofu sausages, or a chicken sausage for the Turkish community. So, I think it's of course a trend, but I think you can find very often nowadays."
But while the ingredients may change, Wohlraum says Berlin's currywurst culture has endured as a culinary equalizer.
"It's a fast food, it's a snack stand and everybody eat it," she says. "I eat it, my mother eat it, but also the bank manager at his lunch time. And when we go to the snack stand, yeah, maybe we go to this one, and there's just two tables, so we go to the table and share the table with other people. So we sometimes said, coming together over a sausage, or talking to people, it's easier with a currywurst."
The Currywurst Museum estimates that more than 800 million currywursts are consumed in Germany every year.
"You can find it on nearly every street corner here in Berlin, every day, and night time it's easy to get a currywurst after clubbing or something like that," Wohlraum says. "So, I think it belongs to our city."
This article was originally published on January 16, 2018.
This segment aired on January 16, 2018.