Determination And A Dream Help Create 10 Million Acre Patagonia National Park System
Play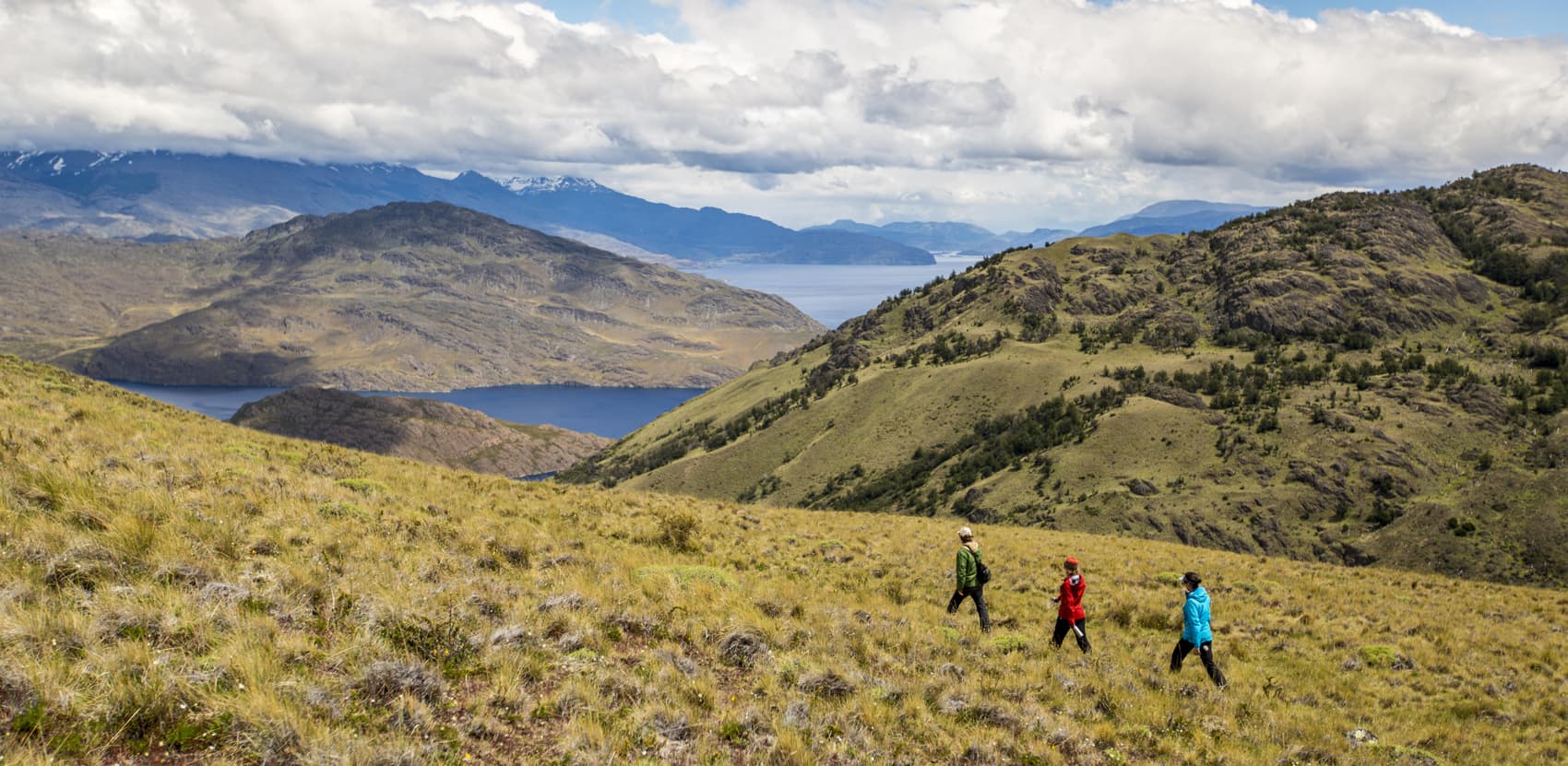 This article is more than 4 years old.
Adventurers and nature lovers now have a new area to explore: a 715-mile national park system stretching from Hornopirén, Chile, to the southern tip of South America. It's an area three times the size of Yosemite and Yellowstone parks combined.
The conservation land was created in a rare example of private-public partnership, the brainchild of Americans Kristine McDivitt Tompkins and her late husband Douglas. They donated 1 million acres, on the condition that Chile do the same — the country donated another 9 million.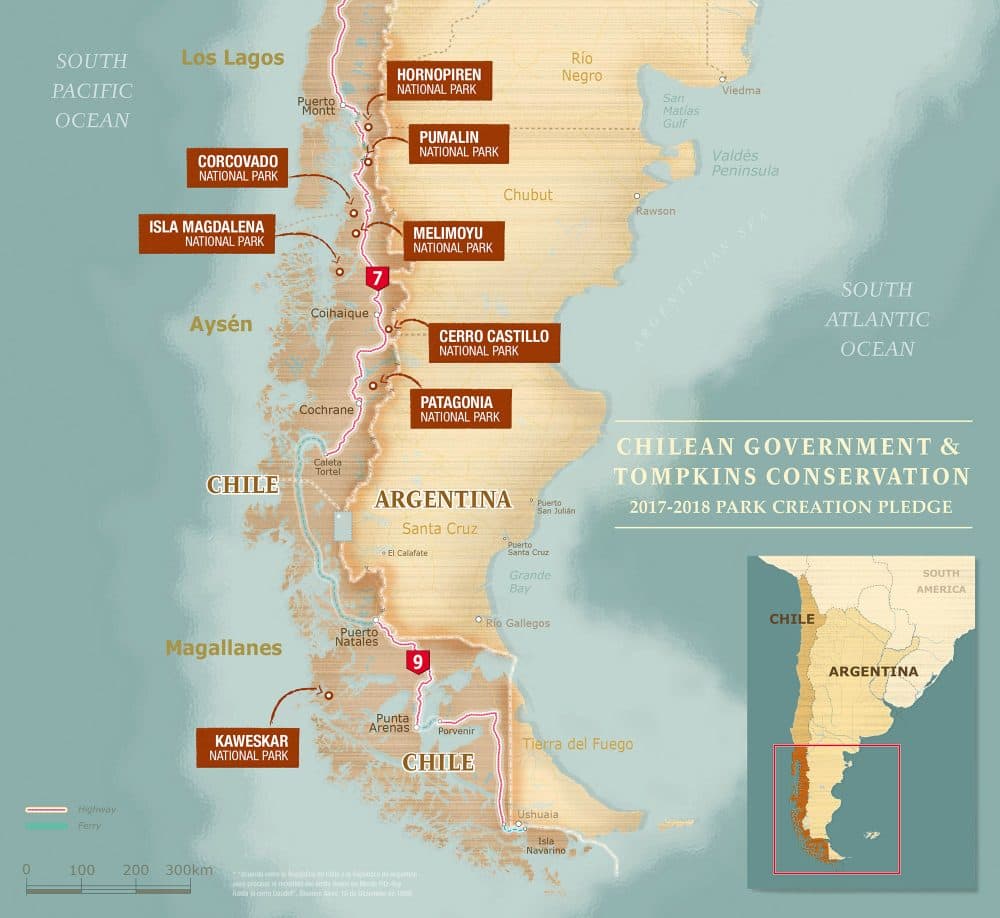 Tompkins joins Here & Now's Robin Young from Chile to talk about the park system and its significance.
Interview Highlights
On what sparked her and her husband's passion for buying up this land
"It all began in 1992, when Doug — after having sold his part of Esprit — decided to come to Chile, a place he'd been since the early '60s, and was really looking around and found what is Pumalín national park. And that's how it got started, and ever since then, we were based wherever our projects took us. And like many things, when you start them, it's an organic process and you're not quite sure where you're going to end up. But in this case it expanded quite a bit from any of our original expectations."
"There is a kind of knowing, a kind of identification with certain landscapes, that are undeniable but inexplicable."

Kristine McDivitt Tompkins
On whether she can understand people feeling concerned about two Americans buying up land in their country
"Yes I can. I think that any time you are developing something that's new — and specifically, we were foreigners, we were buying up significant tracts of land and then we were 'not doing anything with it.' It did cause a lot of controversy in the first, say, four years. So that's one thing. And the other thing is we've certainly come to understand that wherever there is conservation, there is going to be a natural conflict with development. Even though my opinion is to say that we're taking land out of production, my response is, 'No, we're changing what that land is producing.' If we were buying the land, locking up the front gate and not allowing any sort of public access, that's one thing. But we're producing something that increases the level of employment for the same land area, and has longevity built into it in terms of being an economic driver, in the sense that they're national parks."
On what drew her husband to the area initially
"Well Doug visited Patagonia with our friend and my former boss, Yvon Chouinard, the owner of Patagonia Company, in 1968. And I think for both of them, the sense of open landscape, vastness, it's a sort of romantic and wild place. So I think all of us became enamored with the Patagonia region for all the reasons that when you visit are quite obvious."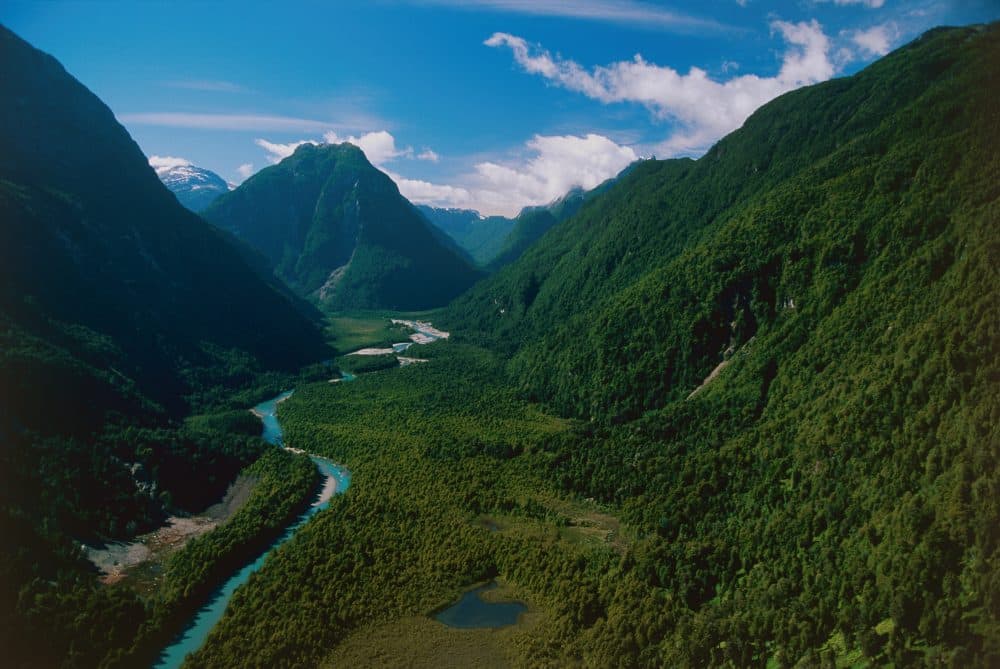 On the goal of land restoration
"In terms of the grasslands, basically, they're such large landscapes you really are removing the livestock so that the degraded grasslands can slowly make their way back. And it doesn't mean they come back to their original richness, but, they do begin to come back. And then what we call rewilding, the return of extirpated wildlife — in Argentina, jaguars, giant anteaters that belong there and haven't been there largely since the 1930s. Regenerating new forests. Restoration means finding the baseline for the areas that we're committed to, and bringing them back to their rightful evolutionary level."
On trusting that future governments will protect and maintain the parks
"This is the million-dollar question that everybody asks us. My response is this: If you look at national park systems on a global basis, governments come and go, but by and large — there are some exceptions to this — but by and large, it's difficult to unwind a national park and if I had to bet on what has the best chance for maintaining these protected areas long term, I'm gonna bet on the institutional protection of these lands. If you leave it in a foundation, for example, well what's going to happen with that foundation? These are big parks. They're complex ecosystems. If you leave it with your family, who knows what the necessities of even the next generation will be. So we have always believed, one, in the democratic nature of national parks, but also strategically, if you're investing large sums of money, and your heart and your life into these things, you better be setting them up so that in 100, 200 years, you have the best chance of them being still in place."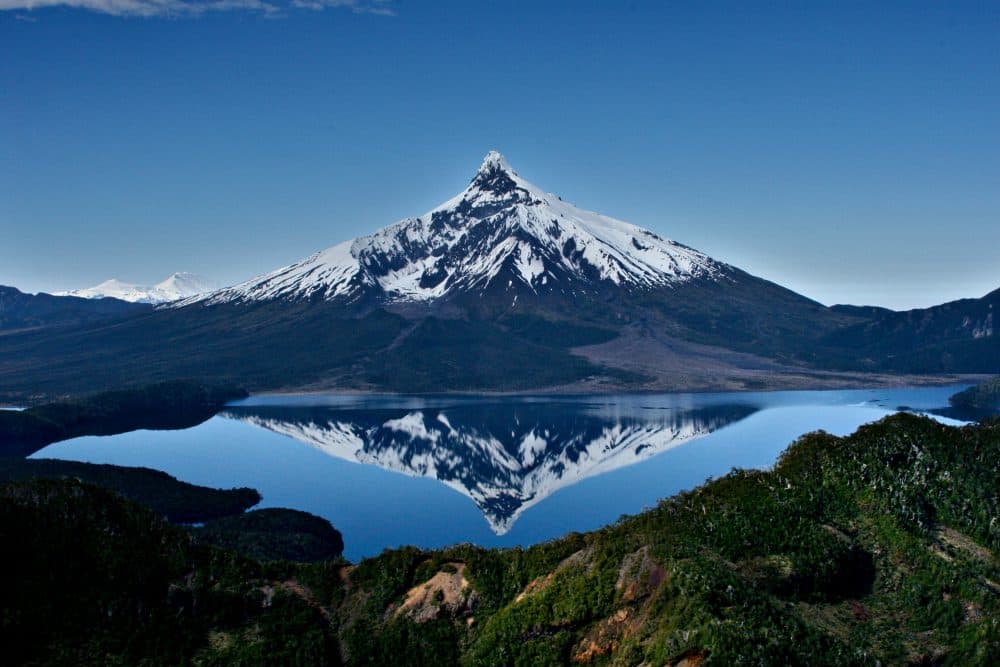 On explaining the pull of Patagonia
"I think so much of how you feel about a landscape is the part of you that's truly indescribable. There is a kind of knowing, a kind of identification with certain landscapes, that are undeniable but inexplicable. We work in temperate rainforests, down in the Patagonia grasslands, up in Argentina. These will be now 11 national parks that we've brought into being, and 13 million acres. And I just think each landscape speaks to us through a different voice, but it's no less powerful. It is the act of becoming involved in these areas, that you committed yourself to, that also shapes your relationship with them. So I have a feeling if Doug were here, he would agree with me that each area that we worked in, we develop a kind of love for them that is ... goes very deep."
This article was originally published on March 07, 2018.
This segment aired on March 7, 2018.