Why Stephen Hawking Was Able To Live So Long With ALS
05:53
Play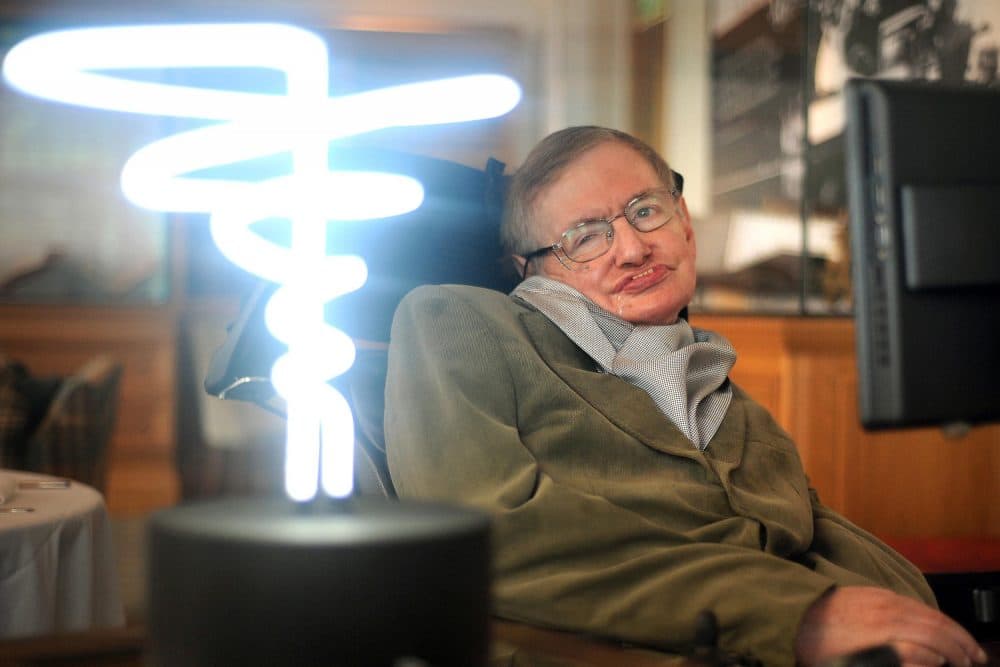 This article is more than 3 years old.
Stephen Hawking died last week at the age of 76 — 55 years after he was diagnosed with ALS.
Here & Now's Peter O'Dowd speaks with Steve Perrin, president and chief scientific officer at the ALS Therapy Development Institute, about why Hawking was able to live so long after his diagnosis.
Interview Highlights
On the rarity of Stephen Hawking's case
"It's very rare. He's certainly an extreme outlier. I mean, 10 percent of U.S. patients can live 10 years or longer. But somebody like Stephen Hawking is certainly an outlier.
"It's not uncommon to see people in their 20s diagnosed today. Diagnosis has gotten better and better over the years, so it's not unusual to see people diagnosed in their 20s and 30s anymore."
On life expectancy
"It's highly variable, we love to throw out language that it's three to five years, but it really depends upon a lot of factors, many of which we don't understand. But quality of care plays a big role."
"Somebody like Stephen Hawking is certainly an outlier."

Steve Perrin
On why it appears in some earlier than others
"We don't know, much like we don't know why Stephen Hawking is such an outlier. I mean, he was a theoretical physicist and we're now into theoretical neurobiology here. Again, quality of care makes a big difference.
"The earlier a person that has been diagnosed with ALS accepts the disease, which is quite challenging, and decides to intervene, the better their quality of life is going to be and the longer they're gonna live."
On the nature of the care
"Somebody like Stephen Hawking had access to 24/7 care for most of his life, which a lot of ALS patients do not. And that really helps with getting in front of things like opportunistic infections, in particular. So, good quality health care, early feeding tube to prevent the weight loss that patients experience — but it's that 24-hour care from a caregiver, professional nursing staff that really helps people like Dr. Hawking or Augie Nieto, [chairman of the ALS Therapy Development Institute], live longer with their disease."
On the nature of the disease
"It's a terrible disease, and it's a spectrum of diseases that we call ALS, but motor neuron disease affects and presents in people in very different ways, and that's why it's a spectrum of diseases. For instance, in the genetic form of the disease, with the same mutations, you could have one sibling show complete motor function loss and no cognitive deficits, the exact same mutation in a sibling or cousin could cause serious cognitive dysfunction and less motor function problems. So, ALS is definitely a spectrum of motor neuron diseases that we just call ALS because we really don't understand much of the underlying biology.
On what Hawking taught us about the disease
"He taught us to not let a disease like ALS conquer you. He had an incredibly productive life post diagnosis. And as technologies are being developed — like we have a precision medicine program that's helping to dive through patient heterogeneity — but as communication devices get more sophisticated and as we develop tools like exoskeletons to help with movement — ALS does not affect most people's cognitive function. You can live an incredibly productive life as did Dr. Hawking."
This article was originally published on March 19, 2018.
This segment aired on March 19, 2018.