Lamb Recipes For Spring That Prove It's Easier To Cook Than You Might Think
05:41
Play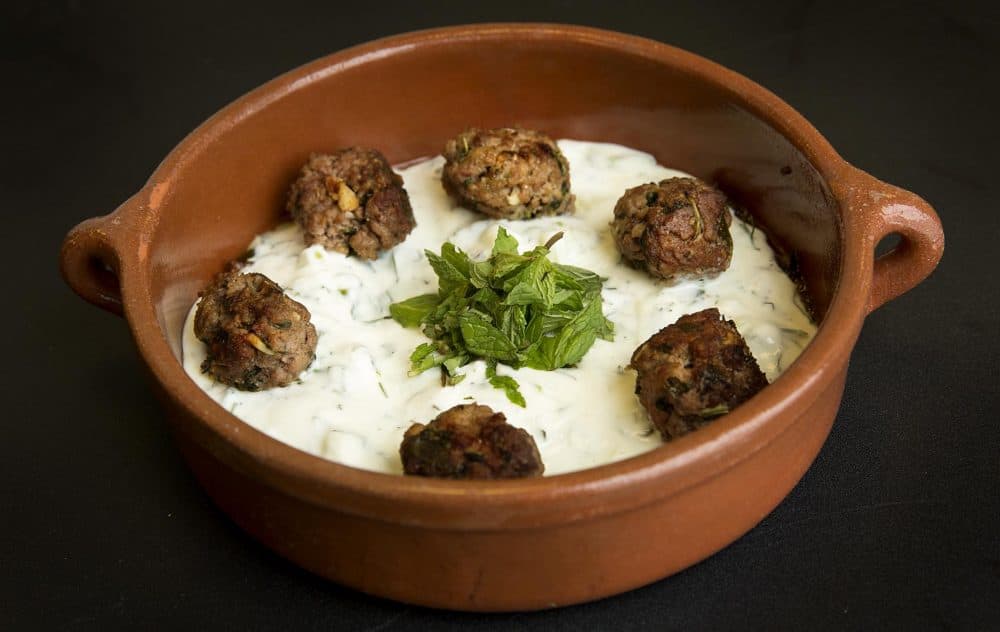 This article is more than 1 year old.
Lamb is a meat that will be appearing on tables a lot in the next few weeks. Here & Now resident chef Kathy Gunst joins host Jeremy Hobson with three recipes.
---
Lamb-Feta-Mint Meatballs With Yogurt Sauce
These simple, aromatic lamb meatballs are served on top of spiced yogurt and then, if you like, dusted with toasted walnuts. This would make a great first course or main course, accompanied by a green salad and warm pita bread.
The Meatballs
2 tablespoons olive oil
2 cloves garlic, minced
1 tablespoon chopped fresh thyme, or 1 teaspoon dried and crumbled
1 egg, beaten
1/4 cup breadcrumbs or panko
3 tablespoons fresh mint, chopped
1/2 cup feta cheese, finely crumbled, or cut into small cubes
Salt and freshly ground black pepper
1 pound ground lamb
1 tablespoon canola or vegetable oil
The Yogurt Sauce
3/4 cup Greek-style plain yogurt
1 1/2 tablespoons fresh mint, chopped
1 scallion, finely chopped
1 tablespoon lemon juice
1 teaspoon grated lemon zest
Salt and freshly ground black pepper
1/2 cup walnut halves (optional)
Instructions
In a medium skillet heat 1 tablespoon of the oil over low heat. Add the garlic and cook about 2 to 3 minutes, or until softened and golden brown. Be careful not to burn. Add the thyme and remove from the heat. Let cool.
In a large bowl thoroughly mix the oil and cooked garlic and thyme with the egg, breadcrumbs, mint, cheese, salt, pepper and ground lamb.
Divide the mixture into 20 small meatballs. The mixture can be covered and refrigerated for up to 12 hours ahead of cooking.
Make the walnuts and yogurt sauce: Heat the oven to 325 degrees. Place the walnuts on a cookie sheet and bake on the middle shelf for around 8 to 10 minutes, or until you can smell the nuts and they looked somewhat toasted. Remove and cool. Coarsely or finely chop and set aside.
In a medium bowl mix the yogurt, mint, scallion, lemon juice and zest and salt and pepper to taste. Set aside. The sauce can be made, covered and refrigerated for several hours before serving.
Cook the meatballs: In a large skillet heat the remaining tablespoon of olive oil and the canola oil over moderate heat. Working in batches, cook the meatballs about 3 to 5 minutes per side, until brown and cooked through (there should be no sign of pink). Drain on paper towels.
To serve, spread the yogurt sauce onto a serving platter and top with the warm meatballs. Scatter with the walnuts, if using.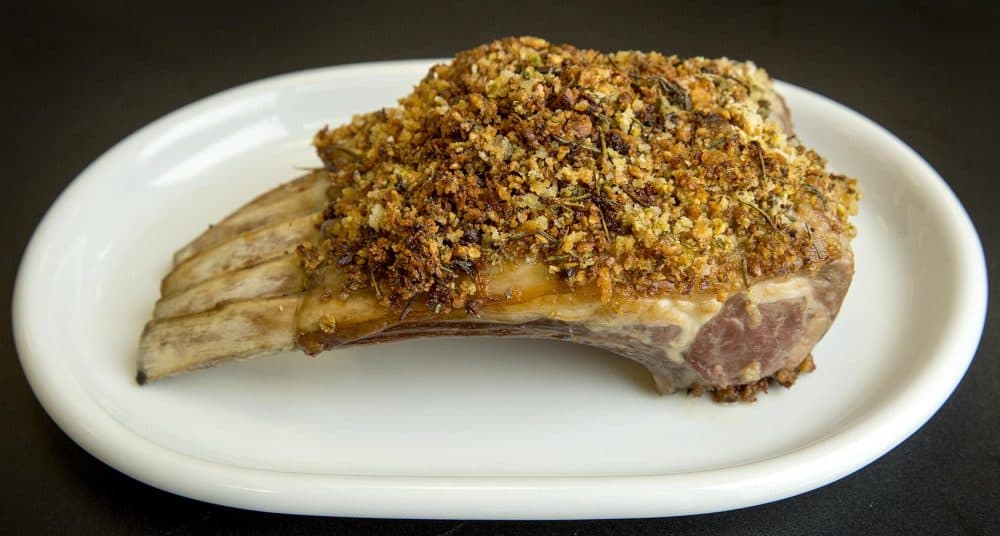 Rack Of Lamb With Pistachio-Garlic-Herb Crust
Rack of lamb is perfect holiday food — simple, elegant and hard to mess up. Here the crust for the lamb is made from salty, crunchy pistachio nuts, mixed with garlic, fresh rosemary and thyme, and the lamb is surrounded with cherry tomatoes.
You can season the meat and pat the crust on top ahead of time and simply pop the meat in the oven about 45 minutes before you're ready to eat. Serve with roasted potatoes and a good salad.
If you're serving a large crowd you can buy two or three racks, but you'll need to increase the roasting time by at least 5 to 10 minutes. Serves 2 to 4.
The Pistachio-Garlic-Herb Crust
3 cloves garlic
1/3 cup shelled salted pistachios
2 tablespoons fresh rosemary
1 tablespoon fresh thyme
Salt and freshly ground black pepper, to taste
1/2 cup panko or plain breadcrumbs
The Lamb And Tomatoes
1 rack of lamb, about 1 1/2 pounds, 8 chops
Salt and freshly ground black pepper, to taste
2 cups cherry tomatoes
2 tablespoons olive oil
1 teaspoon fresh rosemary, finely chopped
1 teaspoon fresh thyme, finely chopped
Instructions
Make the crust: Add the garlic to the container of a food processor and pulse until finely chopped. Add the pistachios, rosemary, thyme, salt and pepper and panko, and pulse until almost finely chopped. Set aside.
Season the lamb with salt and pepper on both sides. In a small bowl, toss the tomatoes, 1 tablespoon of the olive oil, rosemary, thyme and salt and pepper until thoroughly combined.
Place the tomatoes in the bottom of a medium-size roasting pan, a large ovenproof skillet or a large gratin dish. Gently place the lamb on top of the tomatoes, fat side up. Using your hand, press the crust mixture onto the lamb. (The recipe can be made several hours ahead of time. Cover loosely, being careful of the crust, and refrigerate until ready to roast. Be sure to remove the meat 30 minutes before roasting to return it to room temperature.)
Heat the oven to 400 degrees. Drizzle the remaining tablespoon of oil on top of the lamb. Roast the meat on the middle shelf for 20 minutes. Raise the heat to 425 degrees and roast another 10 to 18 minutes, or until the internal temperature of the lamb is 120 degrees for rare meat (it will rise to 125 to 130 degrees while it sits) and 130 for medium (it will rise to 135 to 140 degrees) and a few degrees more for well done.
Remove, loosely cover and let sit about 5 minutes; carve into separate chops. If the crust falls off during carving simply spoon a portion back on top of each chop. Serve the tomatoes on the side along with the pan juices.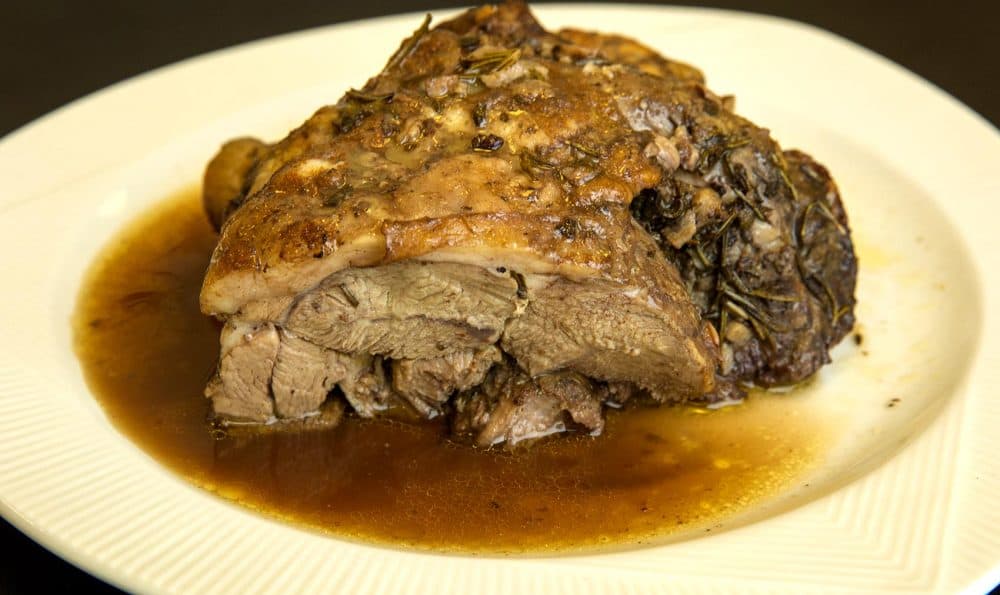 Braised Shoulder Of Lamb With Herbs, Garlic And Lemon
Lamb shoulder is one of the most forgiving cuts of meat imaginable. Here it is slowly braised with lots of garlic, fresh herbs, lemon zest and wine until it is fork tender. Serve with potatoes or pasta to soak up all those lovely juices.
This lamb dish is also great with sauteed spinach. Serves 6.
Ingredients
4 pounds boneless lamb shoulder
Salt and pepper
6 cloves garlic, coarsely chopped
2 tablespoons chopped fresh rosemary
2 tablespoons chopped fresh sage
2 tablespoons chopped fresh thyme
3 tablespoons olive oil
1 1 2/ teaspoons lemon zest
2 tablespoons lemon juice
About 1/2 to 1 cup dry red or white wine
Ingredients
Place the lamb on a clean surface. Add the salt, pepper, garlic, herbs, olive oil, lemon zest and lemon juice on both sides, coating it all over. Roll the meat up, fat side on the outside, like a big fat cigar. Place the meat, seam-side down, in the middle of a large roasting pan. Marinate, covered and refrigerated, for up to 12 hours or proceed.
Heat the oven to 300 degrees.
Add 1/2 cup of the wine and 1/4 cup cold water to the pan and cover with foil. Cook for about 3 hours, checking on the meat every hour or so. Add the remaining wine and 1/4 cup water if the pan appears to be drying out. Baste the meat with the liquids in the bottom of the pan several times.
The meat should be quite tender when tested with a small, sharp knife or fork. Remove from the oven.
Heat the broiler. Remove the foil and place the meat under the broiler for about 5 to 8 minutes, to crisp up the skin and give the meat a gorgeous golden brown topping. Serve hot, cut into thin slices, served with the pan juices.
This segment aired on March 20, 2018.
More From Our Resident Chef: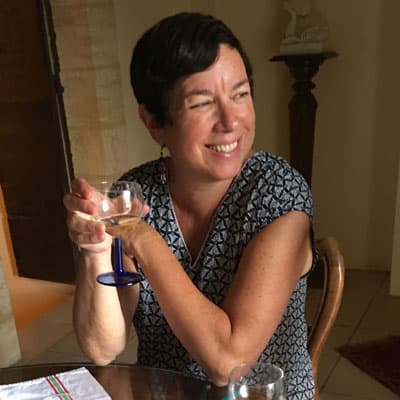 Kathy Gunst Here & Now Resident Chef
Kathy Gunst is a James Beard Award-winning journalist and the author of 15 cookbooks.