Actor Sean Penn Says 'To Write A Book Was To Allow Myself No Kind Of Containment'
11:03
Play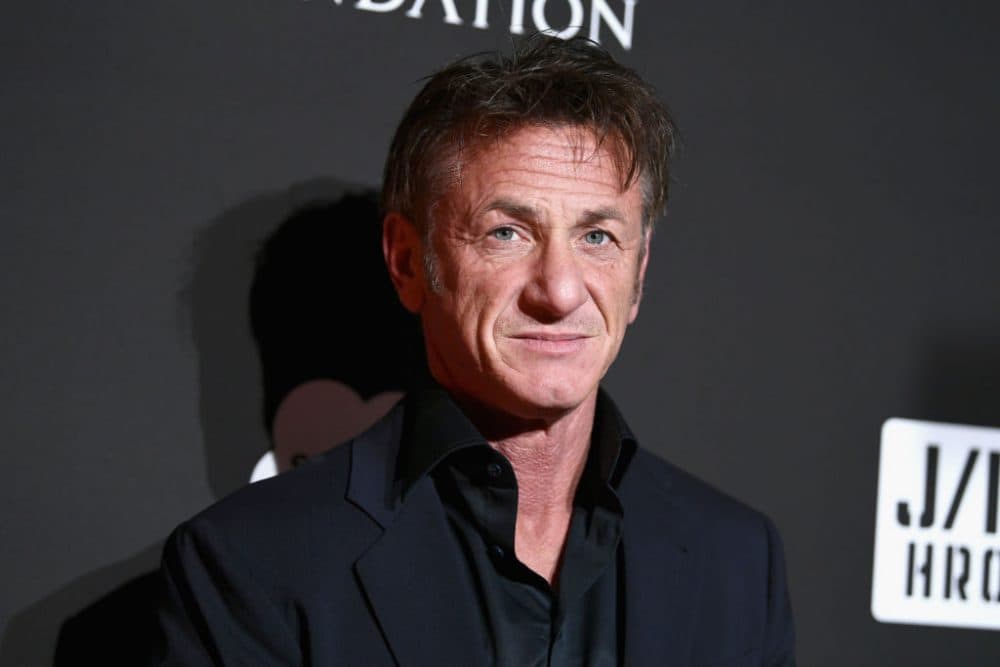 This article is more than 3 years old.
Two-time Academy Award-winning actor Sean Penn has just published his first novel. Penn joins Here & Now's Robin Young to talk about "Bob Honey Who Just Do Stuff."
Scroll down to read an excerpt from "Bob Honey Who Just Do Stuff"
Interview Highlights
On pursuing a book project
"Well I had come to a point where, I looked back over the time I'd spent in movies, and I think that if I had a greatest strength it was playing well with others, it was a collaborative interest and investment. However, cumulatively, over time, I think that anybody who has an individual creative spirit, to whatever degree, there is a time where you start to recognize that it is a great effort to play well with others, and then find the time where you don't play well with others. And what it's really doing is, there's a little push behind you saying, 'You got to go and travel the road alone on something,' where you're not going to have the disappointments of what the dream was on a project that come simply as a result of them not being expressed the way you want them to be expressed. And so to write a book was to allow myself no kind of containment of the language, or the music of a piece, or the imagery which one seeks to share with a reader. So that's what led me into the solitude of writing."
On the history of the book
"I think what happened is once I got the name Bob Honey in my mind, this sort of rhythm of speech — and I don't mean of his speech but of the novel's speech — started coming into my head, and it seemed a character of its own. And so there is a character in the book, Pappy Pariah, I gave this rhythm a name. And then wrote the book with the notion that a character of the novel was writing himself. And so there was a backstory attached to that. And when I put it out, the first time, in hindsight, I would say it was kind of workshopping it. It was a much-abridged version of what the novel is. And it was something that I thought would be interesting put out before the elections in 2016."
"I was, if nothing else, deeply invested in making myself giggle."

Sean Penn
On the complex nature of the writing
"I think that in some kind of avoidance of conceit, there has become a culture that's contained language too much. I was, if nothing else, deeply invested in making myself giggle while I was writing. And so in describing things familiar and simple, there's something in language itself that, pushed far enough, gets funny. I remember I made a movie one time, which was meant to be a kind of black comedy. And the director had shot an enormous amount of violence in one of the scenes. And based on the number of hits alone, with a foreign object on somebody's head, it was very funny when there were a lot of them. But when producers looked at it they said, 'Well, you know, this is just too violent because you're hitting them 25 times bringing it down to three.' When they brought it down to three, it became much realer. There wasn't anything funny about it anymore. And I think that this is true, also, for me, it's true with language — that pushed far enough, it makes me laugh. Let me put it that way."
On what he wanted to get at with the book
"Well I don't think anything's going on that's any different than any writer, where, you know, we live the life that we live and then there may be flares of exaggeration or play in a styled novel like this that may touch on things that had a real base. But some things came as a direct response to a kind of, what I thought was a ridiculous proposition that had come my way many times since I was about 30 years old, which was to write a memoir. And I think that you get to your final days, maybe you've lived 70 or 80 years, and there's something to share there, then I think a memoir might be of some value. To me, it was embarrassing to consider. However, if you're going to enjoy some play with something and have a sense of humor about it, in a broad and fictional way, you may well tap into the things that you've lived."
On his acting career
"Well, I'm not here to announce my retirement. It would take a wonderful piece of material, a world of money and very few days of shooting to complete a project that would have me — I don't enjoy it anymore. I think it's just as simple as that. And I'm finding myself enjoying writing tremendously."
Book Excerpt: 'Bob Honey Who Just Do Stuff'
By Sean Penn
Prelude
Transcript
SHERIFF'S BLOTTER – WOODVIEW COUNTY, CALIFORNIA
SEPTEMBER 15, 2001
"911 . . . What's your emergency?"
"Yes. My name is Helen Mayo. I live at 1531 Sweet Dog Lane. I don't know
if I have an emergency, but I do have a new neighbor and I'm sorry if I just think
he's [loud dog barking renders caller unintelligible]—Nicky, please!—I'm sorry
that's just my little doggy—if I just think he's behaving strangely, and perhaps,
the police would like to take a look, or maybe go and . . . you know, sniff it out.
Sniff, chat, whatever it is that you do." [more dog barking]
"It's a little difficult to hear you, ma'am. Can you describe the strange
behavior, please?"
"Well, it seems he's wrapping some kind of insulated wire around his
house."
"Insulated wire, ma'am?"
"Yes, or maybe a clothesline. He's spooling it into his toolshed. I don't
know his exact street number, but it's just two doors from me and across the
street and I can see him from my kitchen window and, well . . . I don't know. I
just think the police should be involved."
"Okay, ma'am. Thank you for your call. We'll go ahead and notify patrol."
"Thank you. Bye bye. [renewed loud dog barking] Who's a good boy-ee?"
---
SHERIFF'S BLOTTER – WOODVIEW COUNTY, CALIFORNIA
DECEMBER 7, 2003
Numerous residents of Upper Sweet Dog Lane reporting overgrowth of a neighbor's
lawn. A 30-day notice has been posted.
---
SHERIFF'S BLOTTER – WOODVIEW COUNTY, CALIFORNIA
DECEMBER 23, 2003
Resident at 1528 Sweet Dog Lane was cited for illegal posting of placard admonishing, "International Airports Boast Morbid Mannequins at Duty Free."
At 2200 hrs., a patrol car, dispatched to the address, served the citation
to the location. Resident was either not home or nonresponsive to officers. The
citation was left at resident's door.
---
SHERIFF'S BLOTTER – WOODVIEW COUNTY, CALIFORNIA
DECEMBER 24, 2003
At 0634 hrs., Woodview County Sheriff's office was contacted by cited resident.
"Woodview Sheriff's Office."
"Yes, ma'am. I am resident 1528 Sweet Dog Lane and in receipt of a citation
for illegal posting. To whom it may concern, it wasn't my sign."
(Without sufficient evidence to the contrary, citation was rescinded.)
---
SHERIFF'S BLOTTER – WOODVIEW COUNTY, CALIFORNIA
DECEMBER 29, 2003
Neighbors complain of excessive lawn mower noise—0300 hrs. When patrol
arrived at scene, all was quiet. Scent of fresh cut grass permeating the air.
---
SHERIFF'S BLOTTER – WOODVIEW COUNTY, CALIFORNIA
DECEMBER 1, 2004
"911. What's your emergency?"
"Yes, this is Helen Mayo on Sweet Dog Lane."
"Yes, Ms. Mayo. What's your emergency?"
"Well, I just don't know. But that neighbor, I've called you about him before.
He's cut his hair in a rather disturbing way."
"He's cut his hair, Ms. Mayo?"
"Yes, but I wouldn't bother you with a fashion, you know."
"No, I'm sure you wouldn't, ma'am. But you have to help me understand
your concern."
"Well, this hairdo of his, it's something like a Nazi, or a woodshop teacher.
And as you know, I'm not the only one on this street who has registered my
concerns about this man. Despite numerous complaints or reports or what
have you, I'm just baffled that you all have never actually engaged this gentleman.
That you people haven't made any official law enforcement contacts.
Forgive me if I . . . that with all his strange behavior and haircuts and all that . . .
you know what I mean . . . I'm not saying he looks Arab, mind you. He's a white
man. Anyone could see that, but I still think that the police should, well, you
know . . . yes, sniff him out, just sniff that man out!"
---
Station One
Seeking Homeostasis In Inherent Hypocrisy
Summer 2016
Cactus Fields, a Low-Cost Home for Assisted Senior Living, looms like a large khaki-colored brick isolated against a backdrop of distant ambient light. Its draped windows and solitary silhouette sit in a seemingly endless desert tableau. Here it seems that the desert itself has been deserted.
And there they are, the brand-less beasts of yesteryear. Moist, sagging eyes, illuminated by the rareed strobe of a passing car on the interstate. Behind the windows of the beige stucco building that sits behind a dilapidated, sporadically visited parking lot where brown weeds burst through fissures in the pavement, eight senior residents have been awakened by the power cut. They huddle side by side in plastic chairs. Portraiture of sagging faces falling in and out of indelicate light and shadow. Theirs, a blotchy batch of colorless dermal masks. That last life spark extracted from their oblivion, a reckoning of their uselessness in a world where branding is being. Bound by brutal boredom. Then . . .
mercy comes.
POP! POP! POP!
A chosen three down.
The elderly are being executed by a talented blunt force. Gloved hands reconnect wires in a power box out back. Eight now reduced to five whose day will come. A dull white Pontiac ignites its engine, rolls over the ssures of weed onto the interstate and under its driver's breath, "It wasn't me."
Excerpted from the book BOB HONEY WHO JUST DO STUFF by Sean Penn. Copyright © 2018 by Sean Penn. Republished with permission of Atria Books.
This article was originally published on March 27, 2018.
This segment aired on March 27, 2018.