'Enforce The Laws That Are Already On The Books,' New Jersey Gun Advocate Says
06:43
Play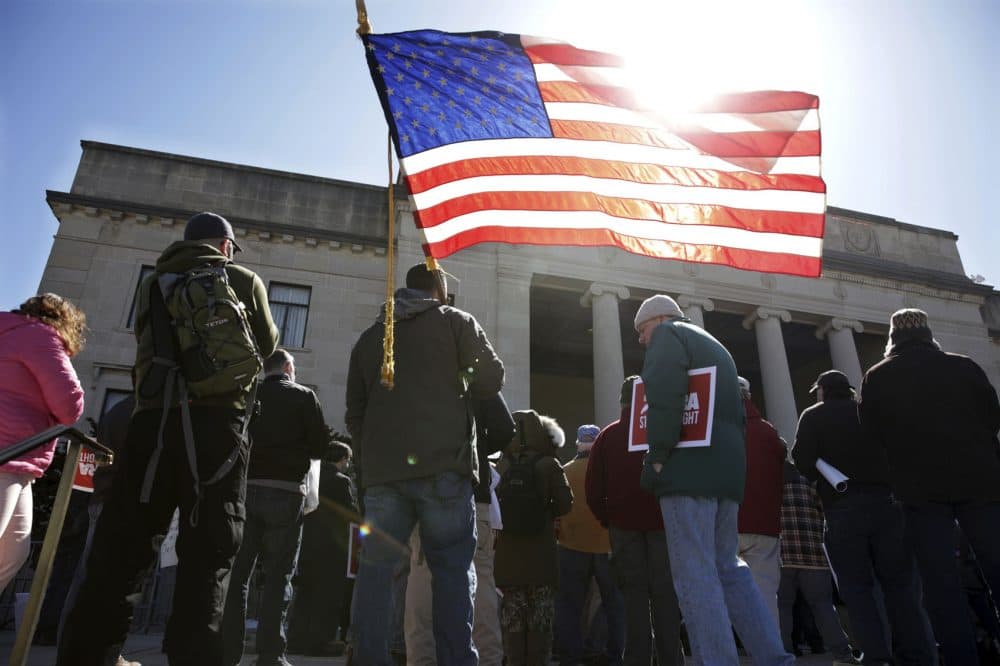 This article is more than 3 years old.
New Jersey is one of a number of states trying to pass new gun laws, following the school shooting in Parkland, Florida.
This week, the state assembly passed a number of measures to tighten what are already considered to be strict gun control laws. The provisions include a limit on the magazine capacity of guns, and a ban on ammunition capable of penetrating body armor.
Here & Now's Lisa Mullins talks with Alexander Roubian (@TheArmedVegan), president of the New Jersey Second Amendment Society. He was one of about 2,000 people who gathered outside the state house to protest as the assembly was voting on the measures.
"Restricting the types of tools has never shown any indication of reducing violence," Roubian says. "There's enough laws on the books. Let's work on making sure those are being enforced, and our databases are updated with any individual that could be a threat through mental illness or some type of violent crime."
Interview Highlights
On why one person would need to fire more than 10 rounds at a time
"Well, it depends on the circumstances. You know, we don't have a magic wand here or a magic ball here to figure out what the circumstances are. But why should any individual be limited to how they could be able to defend themselves?"
On some New Jersey lawmakers calling to arm teachers
"Well, they're not calling to arm teachers. They're trying to change the law so that teachers — like the ones that are in my major organization that are competitive shooters and very proficient when it comes to self-defense and shooting firearms — won't be barred by federal or state laws to be able to protect the students. And the laws that they're proposing are not going to force anybody into having to carry a firearm."
On what does need to change
"The only thing that should be changing is that government [should] enforce the laws that are already on the books. You know, the fact of the matter is that the people that in New Jersey are being arrested with firearms, the first offense that they plea bargain away [is] the actual illegal possession of a firearm. So if we wanted to be really firm on quote-unquote gun violence and reduce the amount of deaths, we should start convicting and prosecuting the people that are actually committing the crimes and not going after law-abiding citizens that, you know, just want to exercise their constitutional protected right."
"The fact of the matter is in New Jersey we have no Second Amendment."

Alexander Roubian, president of the New Jersey Second Amendment Society
On why he doesn't support stronger background checks
"The argument here is that the background checks we have in place that were supposed to be based off of reporting of the government, reporting of the schools, mental health professionals, all the police reports, all the police interactions, that infrastructure, that system failed. That was a government error. That wasn't an error of lack of laws."
On why gun laws in New Jersey have gone too far
"The fact of the matter is in New Jersey we have no Second Amendment. People cannot carry a firearm in public for self-defense, as 48 other states allow. In New Jersey, you're very limited to the types of firearms you're able to purchase. Now, also they want to reduce the magazine capacity as we mentioned before. What that does is that puts, you know, petite individuals — or women specifically that we're getting a lot of complaints about — that they have to sell their guns to buy a larger caliber handgun because the larger caliber handguns have a lower capacity of ammunition in the magazines, and that provides a very unsafe situation where you are now forcing people to use types of guns that are not suitable for themselves."
This segment aired on March 30, 2018.