Why Data On Tracing Guns Is So Difficult To Find
Play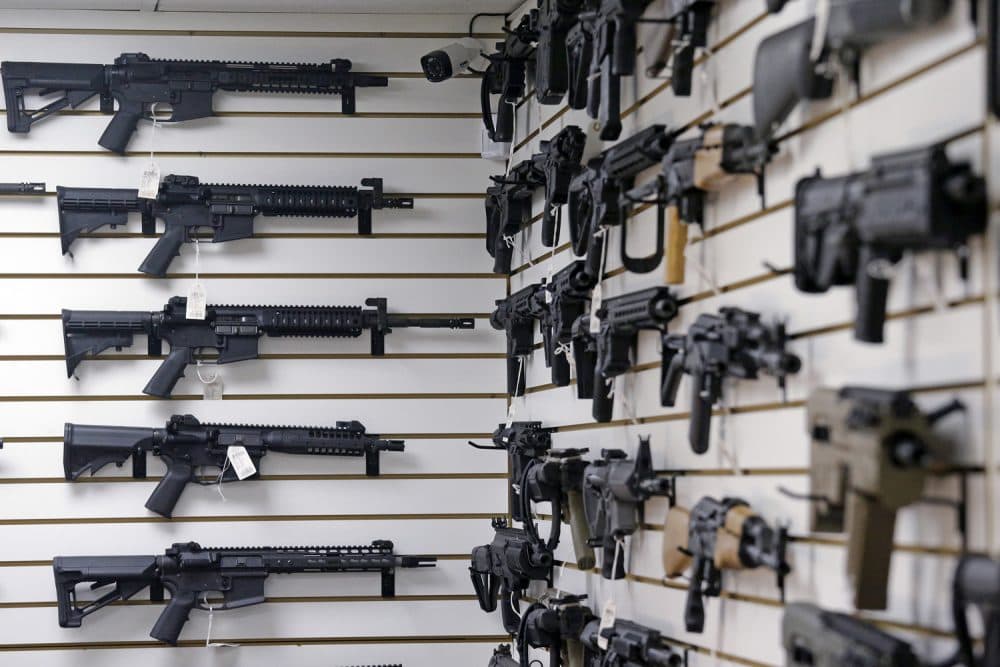 This article is more than 4 years old.
Some of the conversations about how to reduce gun violence after the Parkland shooting in Florida have focused on gun research.
The so-called Dickey Amendment of 1996 had a chilling effect on research into the causes of gun violence. Language in the latest omnibus spending bill attempts to reverse the Dickey Amendment.
But there is another congressional amendment that has stymied efforts to research gun violence, and, specifically, to trace guns: the Tiahrt Amendment. It has support from the firearms industry, which has argued that it protects gun shops that are operating legally. But detractors, like former New York City Mayor Michael Bloomberg, say it blocks researchers and the public from knowing where guns used in crimes come from.
Here & Now's Robin Young speaks with Daniel Webster, professor at the Johns Hopkins Bloomberg School of Public Health (@JohnsHopkinsSPH), which has received funding from the former mayor's philanthropic efforts.
Editor's Note: We have reached out to the National Rifle Association for an interview on this topic, and have not heard back.
Interview Highlights
On his research in the '90s
"I was very intrigued by some research that was being done, being led by Glenn Pierce, who is at Northeastern University. He demonstrated that a very small proportion of licensed gun dealers, as little as 1 percent, sold roughly 60 percent of the guns used in crime. And we know that certain gun dealers sell more guns than others, but it was a very skewed distribution."
On the 2003 Tiahrt Amendment, which stopped the Bureau of Alcohol, Tobacco, Firearms and Explosives (ATF) from sharing that information
"I was very disturbed because I knew from not only the research that I was doing, using the same type of data — these are data, just so folks understand what the data are: When local police recover a firearm from a criminal suspect or a crime scene, they can share that basic information about the firearm and ATF will gather information to trace where that gun initially was sold, and when, and to whom. So I had done some research looking particularly at the role of a small number of gun dealers in selling guns that are used in crime and then some things that were done to draw attention to those gun dealers, sometimes simply with bad publicity and sometimes with lawsuits or criminal prosecutions brought against them. And when there was some accountability process, you had a notable reduction in the flow of guns coming from those type of gun dealers into the hands of criminals. And just as we were making those discoveries and publishing those data, we found that this Tiahrt Amendment was passed and restricted our ability to obtain that data. So since that time we've only been able to get a little bit of data here and there from local law enforcement agencies rather than get what we had gotten from the ATF, which is a national database."
"The only thing that the Tiahrt Amendment did was protect the bad gun dealers. It did nothing to help the good gun dealers because they didn't need help."

Daniel Webster
On why the average citizen needs this data
"I think many gun owners want to know whether to do business with a gun shop or not. But I also think it's a matter of public safety that there should be local pressure when there is a local business that appears to engage in practices that have an important bearing on public safety. And I've seen this in many different cities, Baltimore I had the most direct access to. We once had a gun shop just over the city line that accounted for a very large share of the guns used in crime year in and year out, until eventually the compliance with gun laws was so poor that the ATF, finally, after literally a decade, was able to take his license away. We're literally half a mile away from him. Another gun shop virtually never had a gun show up in crime. This is a city in a region with a high rate of gun violence, and it seems to me that both citizens and public officials should want to know if there are businesses that are contributing to an important public safety problem."
On why this data would be good for some gun shops
"Because their records generally are quite good and they can distinguish themselves as a safe and responsible gun shop. The only thing that the Tiahrt Amendment did was protect the bad gun dealers. It did nothing to help the good gun dealers because they didn't need help. The data suggests that, again, most comply with the laws and are quite responsible."
On Bloomberg Philanthropies' funding for the Johns Hopkins School of Public Health
"Well Michael Bloomberg has made a big commitment to public health, globally and domestically. And so he's given funds to our school, and we're very grateful for that. The center I direct, the Center for Gun Policy and Research, has received some modest contributions from Bloomberg Philanthropies, but that has not constituted the majority of our funding. Most of our funding is from other foundations."
This article was originally published on April 03, 2018.
This segment aired on April 3, 2018.