Senegalese Drummer For 'Black Panther' Shares Message Of Music With Connecticut Students
Resume
Walt Disney's hit film "Black Panther" broke new ground as the first mainstream superhero movie with a predominantly black cast and plenty of strong leading women.
The film's music also opened new doors: introducing authentic African sounds into an action-packed Marvel-movie score.
Central to those sounds is the talking drum from West Africa, which can be heard sailing above many of the orchestral and choral arrangements.
Massamba Diop is the Senegalese drum soloist heard throughout the film. He recently visited with seventh-graders at the Roger Ludlowe Middle School in Fairfield, Connecticut. The students listened and watched carefully as the master drummer introduced to them to his small, but fiery instrument called the talking drum. He cradled the small tunable drum under his left arm, then compressed and released its tension strings, while beating its head with a stick.
Diop performs around the globe as the lead drummer for Afropop superstar Baaba Maal. He's also worked with musicians like Peter Gabriel, Herbie Hancock and James Brown. Diop was in Connecticut as part of the Senegal-America Project, which he co-founded more than a decade ago, using music to encourage cross-cultural understanding.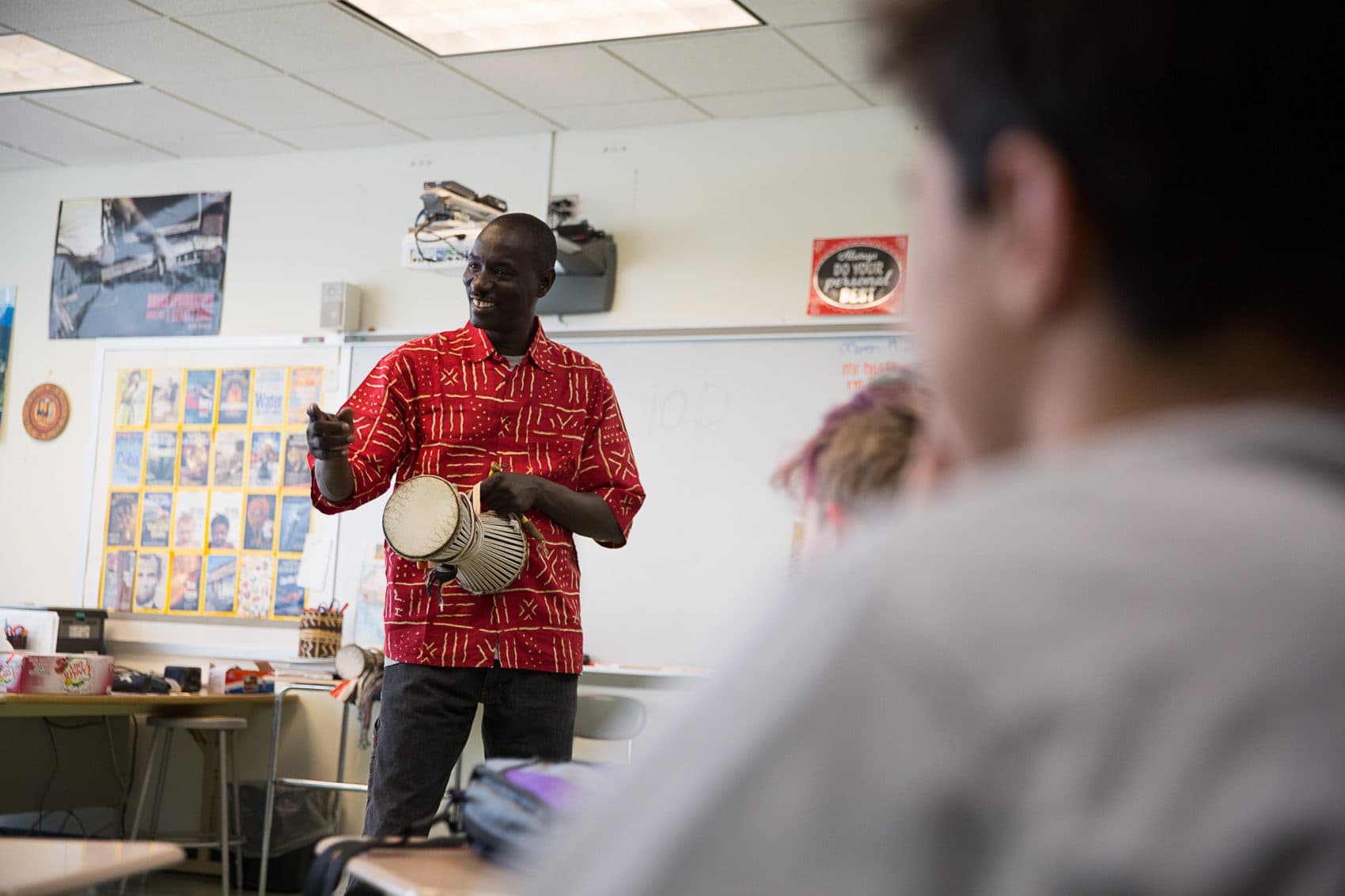 The school's social studies program often brings in people to enhance the study of world cultures, and has worked with the Senegal-America Project for several years. They've even taken students to Africa.
"The artists use the music as their vehicle," says geography and culture teacher Richard Haxhi. "We at my school are trying to use the classroom as that vehicle to teach the kids about global citizenship."
This year, students are especially excited about studying Africa because many have heard Diop's drumming featured on the score for "Black Panther."
"Massamba played the drums every time the Black Panther stepped up and every time you saw him in a scene," said 13-year-old Aaron Field. "I think it was one of my favorite Marvel movies yet. I loved it."
After the classroom workshops, students were treated to a high-energy concert in the school auditorium. Tony Vacca, U.S. co-founder of the Senegal-America Project, talked about performing with Diop.
"First of all," Vacca says, "he's playful and ferocious ... all at the same time. He's playful as in, 'Let's go!' And ferocious as in, 'You can't keep up, you're in the dust!' "
Later, Diop sat down to talk about recording the music for "Black Panther."
He first met Ludwig Göransson, the film's composer, when Göransson was in Senegal touring with singer Baaba Maal, researching the sounds and rhythms of Africa to weave into his compositions. Maal's voice can be heard soaring over the hilltops in the film, as the main character T'Challa enters the mythical African nation of Wakanda.
While in Senegal, Göransson asked Diop to improvise around T'Challa's name, and around action scenes from the film. Later he flew Diop out to California to record.
"First day when I do my soundcheck with my talking drum, my soundcheck with the action with my talking drum, all the people who are there, they jumping. 'Yeah! We looking for this guy! We're looking for this instrument!' " Diop says. " 'I don't think this exist.' I say, 'I am here.' "
And Diop is certainly here: He's already been signed for the next "Black Panther" film.
At the same time, he says he'll keep sharing the message of his talking drum with schoolkids — one which he says calls on all people to just keep talking.
This segment aired on April 9, 2018.