Activist Known As 'Monopoly Man' Re-Emerges At Facebook Hearing As 'Russian Troll'
03:48
Play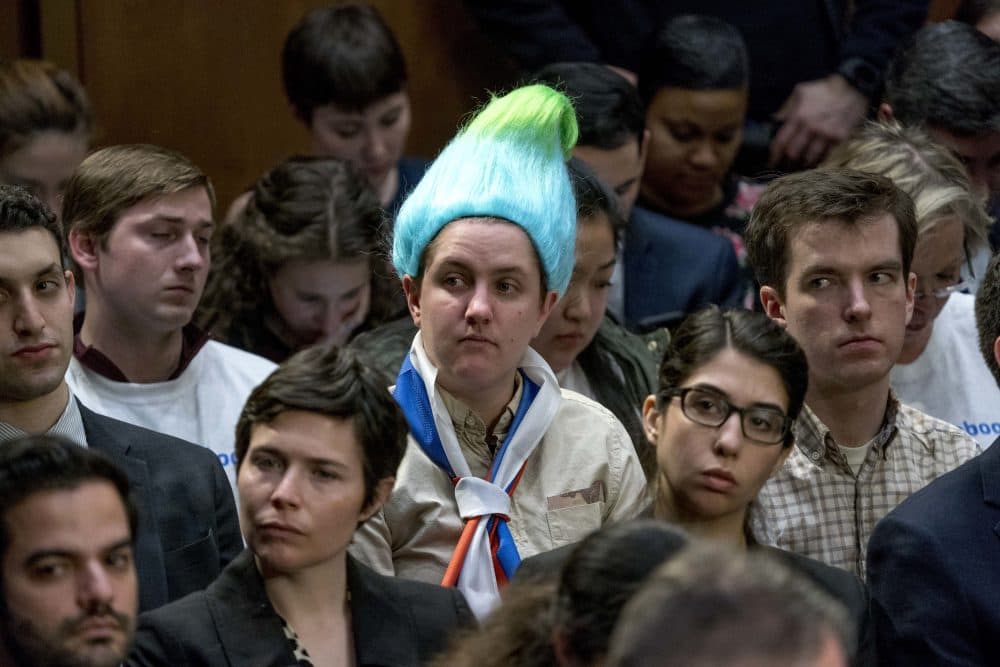 This article is more than 1 year old.
Remember last fall when the character Rich Uncle Pennybags from the board game Monopoly lit up social media after photo-bombing a Senate hearing on the Equifax data breach?
Well, so-called Monopoly Man appeared again Thursday, complete with a monocle, top hat and bushy white mustache, during a Senate hearing with Consumer Financial Protection Bureau chief Mick Mulvaney.
The activist, whose real name is Amanda Werner, also dressed up as a "Russian troll" and sat in the audience during Facebook CEO Mark Zuckerberg's Senate hearing earlier this week. Here & Now's Robin Young speaks with Werner (@wamandajd) about the stunts.
"I think the trick is that you have to know exactly what the rules are: You can wear you know outlandish clothes, you can have crazy hair, you can't wear a mask," Werner says. "So I just barely skirt the line. You know, technically, a monocle is just a form of glasses."
Interview Highlights
On the message behind these appearances
"You know, I've got a lot to say. I think one reason I've taken the approach of kind of making a spectacle of myself is to actually steal away the spotlight from these lawmakers who want to grandstand in these hearings, and then not pass any meaningful legislation. So hopefully by stealing their spotlight, I'm putting more pressure on them from their constituents to actually do their jobs."
"I don't think it's political at all. I think it's really more about the little guys versus the big guys."

Amanda Werner
On these data breach hearings being personal
"Actually much like the Equifax data breach, my data was part of the 87 million Americans who were exposed to Cambridge Analytica in the last election. But one reason I wanted show up specifically to Mark Zuckerberg is because he's allowed Russian trolls to run rampant on Facebook to the point where 126 million Americans were exposed to Russian propaganda during the election. Meanwhile, Donald Trump won the Electoral College by just 70,000 votes."
On those who argue this is just politics, given Werner's past work for Sen. Elizabeth Warren (D-Mass.)
"No, not at all. Actually, I have Trump supporters that follow me on Twitter, which is definitely interesting for me being a transgender person. But no, I don't think it's political at all. I think it's really more about the little guys versus the big guys."
This segment aired on April 13, 2018.