Toilet Paper Is Free In Public Restrooms. Why Aren't Tampons?
Play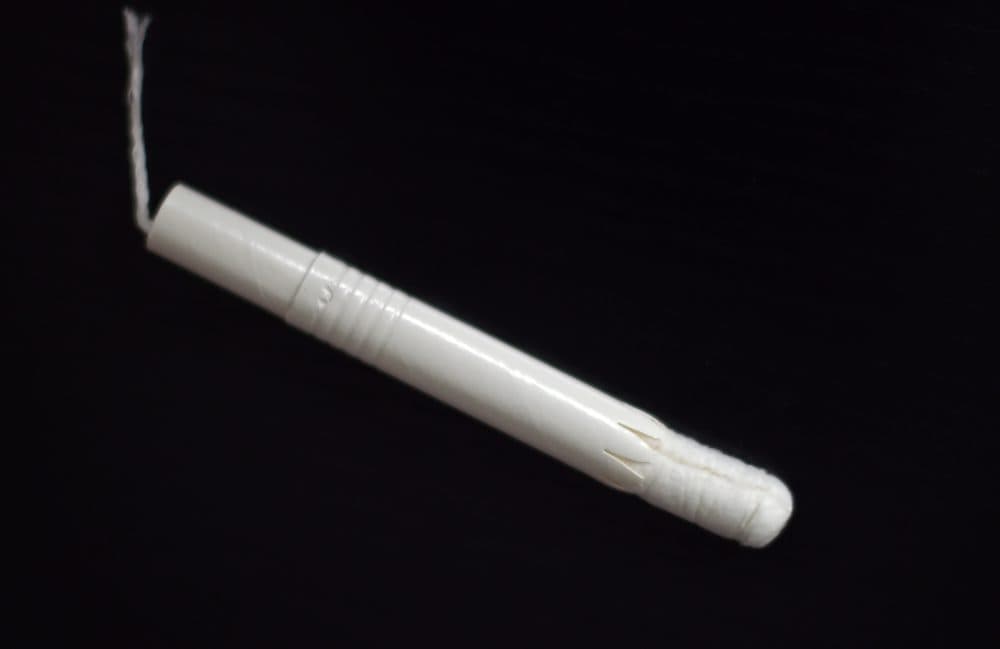 This article is more than 4 years old.
Imagine entering a public bathroom stall and realizing it's missing something important — something like toilet paper.
What do you do? You might rush out to buy your own roll, or, more embarrassing, ask a stranger if they have any tissues to spare. It's not something men often think about — but it's how it could feel for a woman caught off guard by her period.
"The consequences of not having access to [menstrual] products are pretty humiliating, and really a loss of dignity," Free The Tampons founder Nancy Kramer (@NancyKramer) tells Here & Now's Eric Westervelt (@Ericnpr). "I mean you can, as we like to say, 'MacGyver' your own solution with a bunch of toilet paper, but that's certainly not ideal. Women run the risk of having blood-stained clothing in an environment where that's just disrespectful and humiliating."
Kramer's organization is trying to make feminine hygiene products freely available in locations outside the home.
"We don't expect people to walk around with rolls of toilet paper on them," she says. "I don't think we should expect people to walk around with tampons and pads on them."
Interview Highlights
On how she became an activist on this issue
"The first time I saw menstrual support products freely accessible in a public restroom was when I went to Apple's corporate headquarters way back in 1982. And I just thought this seemed like it made all the sense in the world, and I immediately instituted the policy in my own business, and I've been advocating for businesses and schools to follow suit ever since 1982."
"I think that if men got periods, frankly I don't think we'd be even having this discussion."

Nancy Kramer
On how common it is for women to be caught off guard in public by their period
"It can happen to anyone. I mean we don't have any idea exactly when our periods are going to come, it's not like, '2 o'clock on Tuesday, my period's going to come.' Our bodies simply don't work that way. So as I said, stress or other factors — travel, for me that was always something that really kind of messed me up. When the exact time is going to be, you don't now."
On her efforts to provide free feminine products all over, not just in places like schools
"As part of my advocacy I've been able to, for example in my hometown of Columbus, Ohio, been able to advocate for the airport. For example, when you fly in and out of John Glenn International Airport, you'll have access to menstrual support products in all the restrooms. Same thing with our convention center. Same thing for our shelters. And we're working on the schools here, but one step at a time."
On why toilet paper, soap and paper towels are free and widely available, and tampons aren't
"I think it's a lack of awareness. I also think that historically, men made the decisions for those types of items, and in defense of men, there's nothing that their body does that's exactly like a period. So it's very difficult for a man to relate to. There's just nothing that's the equivalent. But I think that as we are having more awareness around this issue, we're seeing these states saying, 'This isn't OK in schools,' and I think next we'll see it more in the restrooms. And my goal is, before I die, to have changed the socially accepted norm on this issue."
On what she says to those who argue everyone needs toilet paper, but not everyone needs menstrual products
"I think it's a matter of, what do we need to tend to our normal bodily functions? And menstruation is a normal bodily function that we have absolutely no control over. Again, I think that if men got periods, frankly I don't think we'd be even having this discussion."
This article was originally published on April 25, 2018.
This segment aired on April 25, 2018.