U.S. Can't Afford To Walk Away From Syria, Retired Army Gen. Jack Keane Says
10:58
Play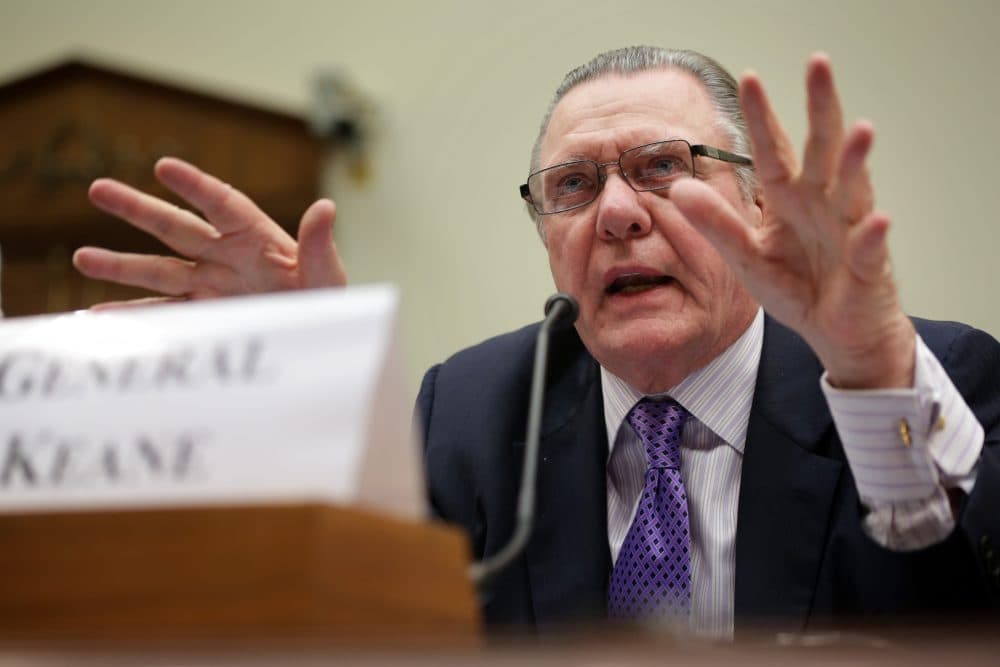 This article is more than 2 years old.
President Trump's recent military strike against Syria after the Assad regime's alleged use of chemical weapons was necessary, but not sufficient, says retired four-star general Jack Keane.
Here & Now's Jeremy Hobson talks with Keane (@gen_jackkeane), former vice chief of staff of the U.S. Army and chairman of the Institute for the Study of War, about what else in his view the U.S. should be doing in Syria, and Iran's role in the conflict there.
Interview Highlights
On supporting President Trump's decision to strike Syria this month, but arguing the strikes weren't sufficient
"I mean, just dealing with chemical weapons, I thought the first strike was insufficient. In other words, when [Syrian President] Bashar al-Assad used chemical weapons last April, we had a very proportioned, measured response. I think we should have taken down his air-delivery means, which was resident at six airfields, and we could have done that all in one night — take down his air-power infrastructure. ... And that was a deterrence strike. In other words, we were using that strike, measured and proportionate, so that he would not use chemical weapons again.
"A year later, because they had military value to Assad — and that's his pattern of behavior — he did it again. So obviously the first strike didn't work, and the [strike this month] was another measured, proportionate strike. I felt we absolutely should have done what we could to cripple his war machine, particularly all of his air-power infrastructure, on the second strike. So yeah, I think it's insufficient."
"Syria will become the anchor point for the Iranians' domination of the Middle East, and it's a major, major victory for them if we do that."

Retired Army Gen. Jack Keane, on the potential consequences of the U.S. reducing its role in Syria, or pulling out of Syria completely
On U.S. strategy in Syria
"The larger issue with Syria, the United States really doesn't have a strategy dealing with Syria beyond ISIS. ... Syria's about as complicated a foreign policy issue the United States has dealt with in decades, and you can be on any side of this argument, and be somewhat reasonable. But when I look at the problem, I think we have to know where we are right now. We squandered many opportunities to be in a much better position than we are now. Russia and the Iranians have successfully propped up the Assad regime. That's just a fact. And we have to recognize that."
On his view that Assad must go
"Oh yeah, absolutely. But we have to put a strategy in place, and it's a long-term strategy to achieve that end. What we could do is, we've driven ISIS out of eastern Syria. We still have some more work to do there, because there's 2,003 ISIS fighters still left there. And when I say eastern Syria, I mean east of the Euphrates River Valley, and what we should do is use that as a base of control, a control zone, clear ISIS out of there and tell the Russians and Iranians and the pro-Assad regime, 'Stay west of the Euphrates River Valley, don't come east of that, or you're gonna be subject to be interdicted.' "
On Trump signaling he may draw down the U.S. presence in Syria
"Yeah I know, and I'm disappointed by that, because I think if you just walk away from Syria, what you've done is you've just turned this over to the Iranians and to the Russians who are in a political and military alliance. Syria will become the anchor point for the Iranians' domination of the Middle East, and it's a major, major victory for them if we do that.
"We've got to recognize that since 1980, Iran has been unequivocally clear about what their strategic objectives are, is to spread the Islamic revolution throughout the region that is the Middle East, drive the United States out of the Middle East as an intermediate objective to accomplish that and ultimately destroy the state of Israel as they dominate the Middle East, and they are quite about that business: They dominate and control Lebanon. They are dominating most of the control in Syria. They have huge political influence inside of Iraq. They began the civil war in Yemen. They toppled the government there — which was friendly to the United States — with a single purpose in mind: to dominate and control Yemen.
"So they are about their task of domination of the Middle East, and I think the United States has gotta recognize that, we've got to form an alliance with our allies to counter that aggression. It doesn't mean that the United States has to provide the dominant amount of military force or the dominant amount of money. I don't think we should. I really think this is more up to the Arabs themselves. But I do think we have to provide some leadership to them. It's sort of like an Arab NATO, that has been so successful in dealing with the Soviet Union's aggression post-Cold War, World War II, and I think it's as much political and as much economic as it is military."
This article was originally published on April 30, 2018.
This segment aired on April 30, 2018.