Sen. Blumenthal: Stormy Daniels Payoff 'Could Implicate The President In Criminal Misconduct'
05:15
Play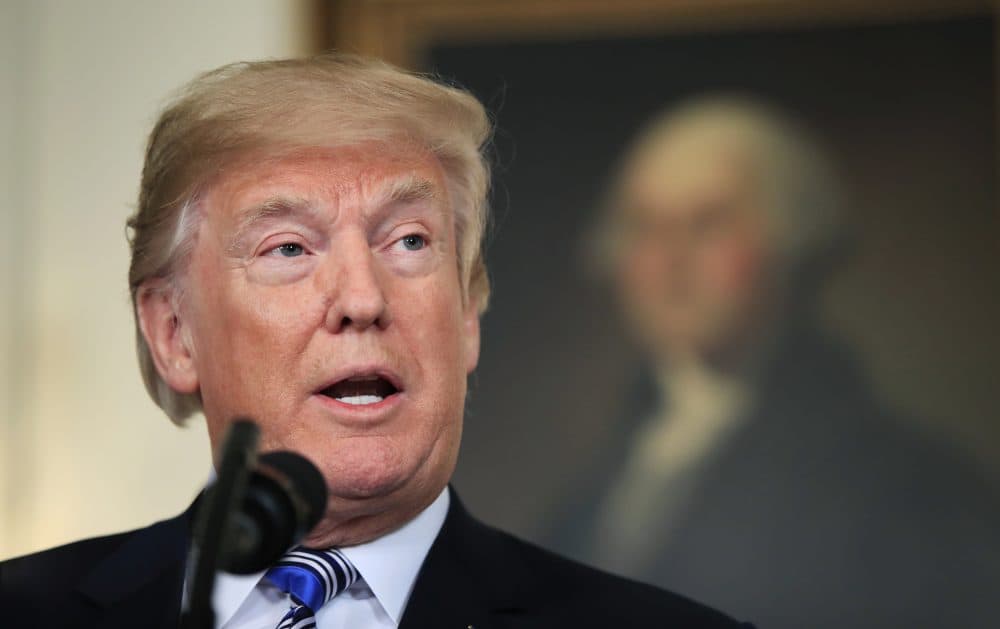 This article is more than 2 years old.
Sen. Richard Blumenthal (@SenBlumenthal), a Democrat from Connecticut, joins Here & Now's Jeremy Hobson to discuss President Trump's reimbursement of his lawyer Michael Cohen for a $130,000 payment made to adult film star Stormy Daniels.
Interview Highlights
On whether it was a mistake for Trump lawyer Rudy Giuliani to disclose the reimbursement
"This disclosure was part of a strategy to minimize or reduce the negative impact of, essentially, the lies that the president has been telling. He has said he had no knowledge about the payments to the woman who allegedly he had an affair with. And the facts indicate now that he did, and he is essentially trying to get ahead of the story."
On potential campaign finance violations
"If he used personal funds to advance his campaign, it could well be a violation of campaign finance laws, if it was not reported. In-kind contributions have to be reported. And there are all kinds of other ways that this disclosure could implicate the president in criminal misconduct. The question is what the president knew and when did he know it about these payments to Michael Cohen, and potentially others as well. And the best indicator or an answer to those questions is likely in the records, documents and recordings that were seized from Mike Cohen in that April 9 raid on his home, his office and hotel room by the FBI."
"Firing Robert Mueller, or Rod Rosenstein, for that matter, would be a spark that would literally light on fire the United States Congress."

Sen. Richard Blumenthal
On whether the payment was a contribution to Trump's campaign
"Federal authorities, whether from the federal prosecutor's office in the Southern District of New York or the special prosecutor's office, want to know the answer to that question. It seems to defy belief that the payment to Stormy Daniels was for any purpose other than to persuade her to be quiet at a critical time in a campaign about this affair, or alleged affair. And it seems to defy belief that the president, or whoever made those payments, didn't understand and know that fact, which means it was a payment designed to advance his political campaign. Now, these kinds of claims, which have been widely made, have to be substantiated by fact."
On what this could mean for special counsel Robert Mueller or Deputy Attorney General Rod Rosenstein
"Firing Robert Mueller, or Rod Rosenstein, for that matter, would be a spark that would literally light on fire the United States Congress. It would provoke a firestorm there and around the country, even among Republicans. I've talked to many, many of my Republican colleagues in the Senate, some in the House of Representatives, who believe the president would be 'crazy' and 'suicidal,' those are the words they use, to fire Robert Mueller, the special counsel. And all the more important that we advance the legislation, which I've helped to draft and advocate, protecting the special counsel against that kind of firing. This legislation was approved by the judiciary committee where I sit by a vote of 14-7 with four Republicans joining Democrats.
"But remember, as recently as yesterday, in one of his tweets, the president said, 'I may have to use the powers of the presidency to get involved and take action' — not an exact quote --  'that would thwart the investigation.' And that is like a thunderclap. Not just gathering storm clouds, but a shot across the bow of the special counsel. And we should act before he adds more tinder to this smoldering potential constitutional conflagration."
This segment aired on May 3, 2018.