Haunted By His Past As A Bully, He Apologized To His Victims — 60 Years Later
Play
This article is more than 5 years old.
For many, the memories of being bullied as a child — or bullying — linger through adulthood. But how many people take action?
It took nearly 60 years, but Chicago-area resident Bruce Smit decided to seek out the two little girls he tormented as a child at Monee Elementary School. And it turned out that the sisters, Lorraine O'Kelly and Kathleen Rys, still live in the area, and were willing to meet with him.
The trio — the bully and the bullied — join Here & Now's Robin Young to talk about the lifelong consequences of bullying, and the significance of the apology.
Interview Highlights
On how the experience of being bullied remains tender years later
Lorraine O'Kelly: "It still hurts till today. You never forget what happened, even though you know we're older now and we put it in the past. But the memories are there forever."
Kathleen Rys: "I think it impacted in the way that, it's hard for me to make friends today. It's hard for me to get close to somebody. I feel like I don't belong. Even today I feel this way."
On how Lorraine and Kathleen were bullied
LO: "Well, you would go to school every day, and as soon as you got to school — even on the bus — we were like the untouchables, people would just shun you and they would go away from us, and we were called names and no one ever would sit next to us, and if they had to sit next to us, they would be afraid to and everybody else would laugh. It was very difficult. ... They'd wash their hands if they came near us or had to touch us. If we were going up and down stairs, they would make sure that they were far enough away from us. On the school bus, there would be no one that sat next to us. Eating lunches, we would have to eat alone. It was just that way from grade school all through high school."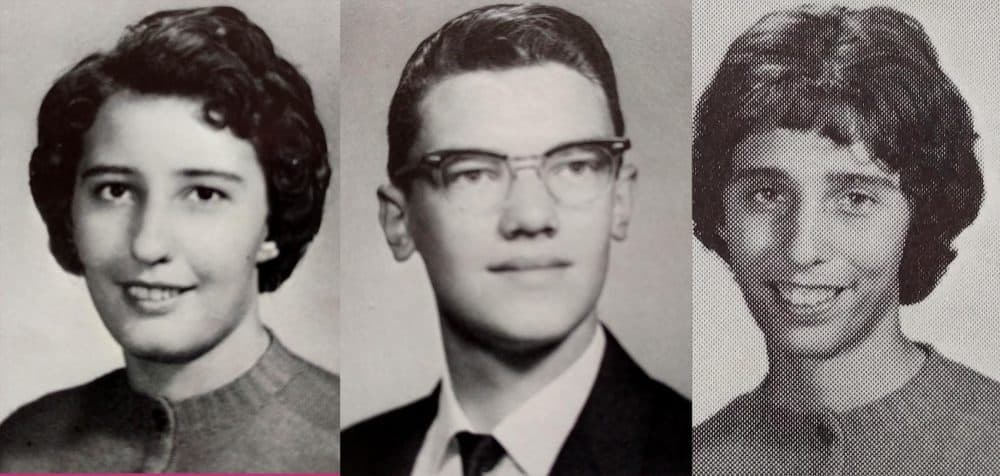 Bruce, on deciding to meet with Lorraine and Kathleen
Bruce Smit: "Well, it's pretty sad. I've been bothered by this for most of my adult life. And when I met my wife, she was the victim of some bullying in high school. And I said, 'Well sit down, I have a story to tell you.' And I explained to her what I was doing with a bunch of other people in the grade school, I just sort of jumped on the bandwagon, it wasn't just me. It was a whole bunch of folks that were making fun. And I said to her one day, 'If I could find these ladies, I would apologize.' And she took it upon herself to do that. And it was a bit difficult at first, because the ladies were a bit skeptical, but she managed to convince Mary, Lorraine's daughter, to investigate, and they actually had the courage to meet me. And [it was] a bit awkward at first.
"I had some planned remarks to say. Before I got very far, one of them said, 'I forgive you.' And then the other lady said, 'And me too.' And it derailed my entire presentation."
"You never forget what happened, even though you know we're older now and we put it in the past. But the memories are there forever."

Lorraine O'Kelly
On how Bruce participated in the bullying behavior
BS: "I can remember Kathleen walking down the hallway toward us. She would carry her books in front of her, and she'd have her head down, and she was just walking down the hallway in a meek fashion, and we would jump against the wall and just plaster ourselves as tight as we could until they passed, and then we'd giggle and walk away.
"I knew this was wrong when I was doing it. I didn't feel good about myself when it was done. I was just sort of following the crowd because it was the thing to do, I guess, at the time. And when I was in medical school, I began to think about this, and it really, really bothered me. Interestingly enough in our conversation in the restaurant, none of us could figure out how this happened. How did it start, and what was it really all about? We just did it.
"It was just bothersome. I would choke up when I would talk about this. I've met so many people that have had similar experiences. This has really reached out a whole lot farther than I ever thought it would. If we can make a difference in somebody's [life] with this story, it's been worth all of the effort."
"The people that do the bullying don't realize that it may be a temporary thing while you're doing it. But the long-term effects are lifelong."

Bruce Smit
On apologizing for his bullying
BS: "I feel better. I still carry the memory of what I did, and I'll take that to my grave, I expect. But I feel relief. I still feel guilty, I still feel bad about what I did. I'm remorseful, I'm ashamed and disgusted with my behavior. But it just feels better to be able to face it and talk to the people — thank gosh they're still here, that I could talk to them."
On Bruce's apology
KR: "I think it helped me. What I'm trying to say is, I'm more happy for Bruce, that he's got this off his shoulders, that he doesn't have to carry this anymore. I feel more for him, at this point.
"I think it's a blessing that we did get a chance for one person, in the whole entire school, to come forward and say that he's sorry, which is wonderful for us. I think it brings us some peace that we never had. We buried this, and we never told anybody about it in our family. ... There's nobody that would even notice anything was going on, or look our way. So we would come home from school and we would just be by ourselves, and never mentioned it to nobody. It brings peace to us that someone actually could come forward and admit that they did this to us."
Kathleen, on her yearbook not having any signatures
KR: "Nope, not one. It's like my yearbook is brand-new."
BS: "It's sad, isn't it? There were some very difficult moments when we were talking, and this is one of them. I took the yearbook from Kathleen, and I was looking at some of the photographs, and they were pointing out, 'This guy was no good,' and, 'This guy was really rough,' and so forth. And one of the ladies said to me, 'Did you notice anything in particular?' And I said yes, there were no signatures in the book. And I'm thinking how sad that is.
"The people that do the bullying don't realize that it may be a temporary thing while you're doing it. But the long-term effects are lifelong."
This article was originally published on May 18, 2018.
This segment aired on May 18, 2018.