Tahini Is Having A Moment. Here Are Recipes That Show Off Its Sweet And Savory Sides
Play
This article is more than 4 years old.
You might have noticed the sesame seed condiment tahini popping up a lot more often on supermarket shelves and in recipes lately. Here & Now resident chef Kathy Gunst joins host Jeremy Hobson to explain what tahini is, and share recipes that showcase its versatile flavor.
---
Baba Ganoush
A classic Middle Eastern dip made from mashed eggplant, tahini, garlic, lemon and olive oil. The trick here is to roast the eggplant first until it is soft and almost collapses, then peel it, chop it up and place in a strainer for 20 minutes or so to let the bitter juices drain out.
The dip will keep, covered and refrigerated, for two to three days. Serve with za'tar-dusted pita chips. Serves 4 to 6.
Ingredients
1 large eggplant, or 2 small ones
1 clove garlic, chopped
1/3 cup olive oil, plus 1 tablespoon
1/4 cup fresh lemon juice
1/4 cup tahini, plus 1 tablespoon
Salt and freshly ground pepper
1/4 cup fresh parsley, chopped
Instructions
Heat the oven to 425 degrees. Place the eggplant on a sheet of foil and roast for about 20 to 35 minutes, or until the eggplant is fully softened and starting to collapse in on itself. Remove and wrap in the foil for 3 minutes. Remove from the foil and then remove the peel.
Chop the eggplant into 4 to 6 pieces and place in a fine strainer set over a large bowl. Let drain about 20 minutes or, if you're short on time, gently push the eggplant down to help release all the bitter juices.
In the bowl of a food processor, pulse the drained eggplant and garlic a few times. Add the 1/3 cup of oil, lemon juice, tahini, salt, pepper and parsley and pulse until chunky and not totally smooth. Season to taste, adding more salt, pepper or lemon juice. Spoon into a bowl and add the remaining 1 tablespoon olive oil on top along with some salt and pepper. Serve with pita chips.
Za'tar-Dusted Pita Chips
To make, follow this recipe, but substitute 1/2 to 1 teaspoon za'tar for the ground cumin.
Tahina Sauce
This is a wildly versatile sauce: Thin it out a bit with water or more lemon juice, and it's a salad dressing. Serve it on sauteed greens, spoon it on cold noodles, roast it on carrots or other vegetables or spoon it on grilled fish or chicken. You can also use it as a dip for crudites. Makes about 1/3 cup.
Ingredients
1 clove garlic, finely chopped
Juice of 1 to 2 large lemons, about 1/4 cup
1/3 cup tahini, well stirred
1 tablespoon olive oil
1 to 2 teaspoons honey
About 1/4 cup boiling water
Salt and freshly ground pepper
Variation For Asian-Inspired Sauce
Add 1 teaspoon grated ginger
1 tablespoon rice wine vinegar
Dash sesame oil
Dash soy sauce
Instructions
In a bowl, mix all the ingredients to create a smooth sauce. Add more water to create a thinner sauce.
Taste for seasoning, adding more salt, pepper, lemon juice or olive oil as needed.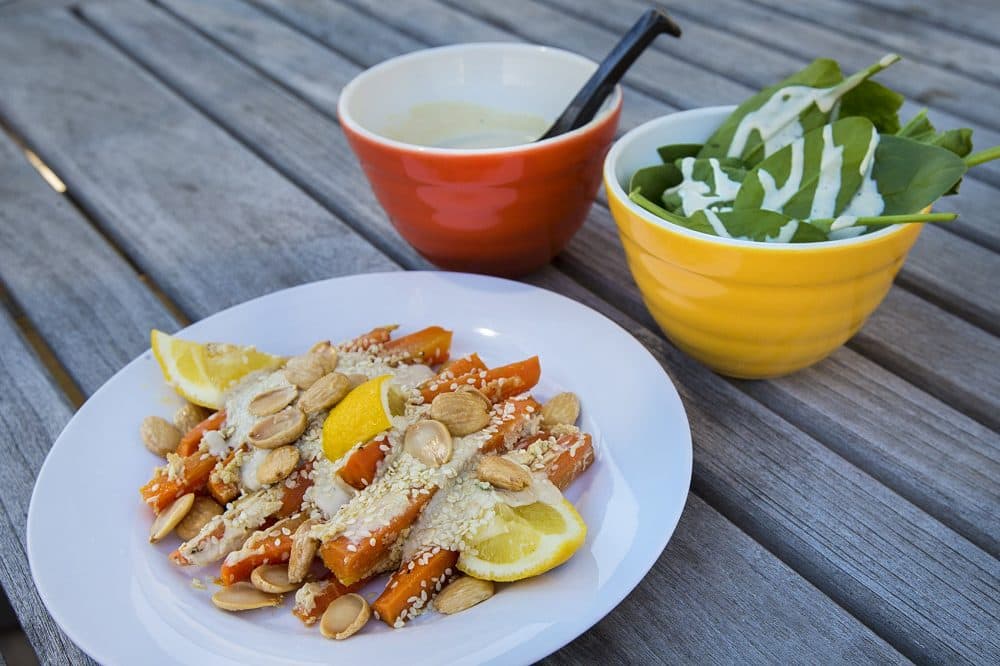 Roast Carrots With Tahina Sauce, Sesame Seeds And Lemon
This is a simple side dish that goes well with rice dishes, grilled fish and any grilled or roasted meat. Serves 4.
Ingredients
1 pound carrots, peeled and cut into 1/2 inch sticks
1 1/2 tablespoons olive oil
Salt and freshly ground black pepper
About 1/3 cup tahina sauce (see above)
1 tablespoon sesame seeds
1 lemon, cut into wedges
Instructions
Heat the oven to 425 degrees.
Place the carrots in a small roasting dish or ovenproof skillet and toss with the oil, salt and pepper. Roast on the middle shelf for 12 minutes.
Add half the tahina sauce and toss. Roast another 3 to 5 minutes, or until the carrots are almost tender.
Remove from the oven and spoon on the remaining tahina sauce. Sprinkle with the sesame seeds and scatter the lemon wedges on top of and around the carrots. Serve hot or at room temperature.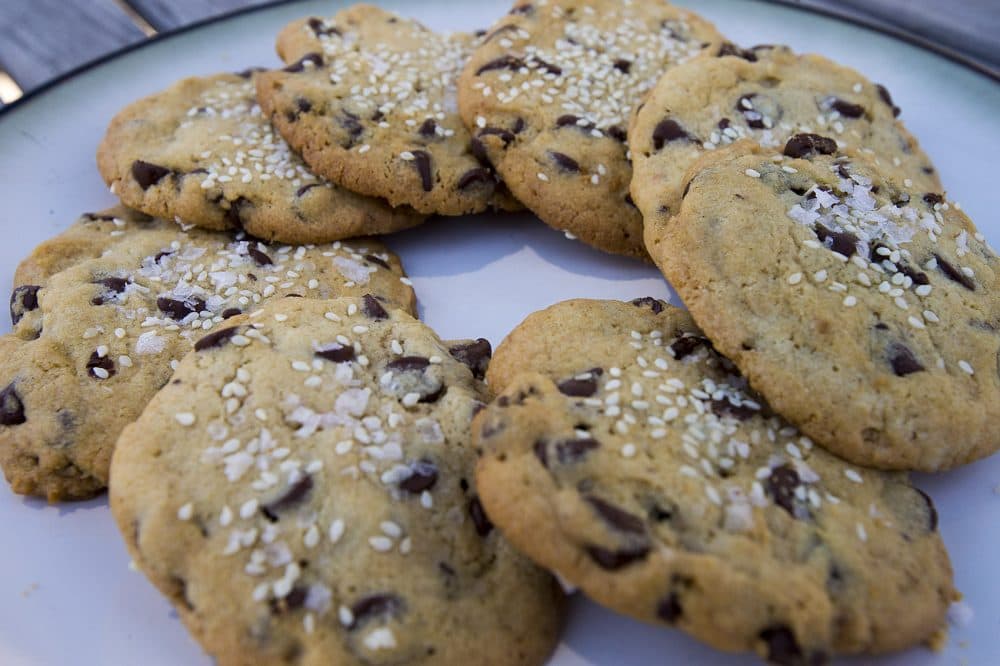 Sesame Seed- And Sea Salt-Dusted Chocolate Chip Tahini Cookies
I don't like peanut butter cookies — call me crazy, but peanut butter never appeals in sweet dishes. But tahini? Well, that's a different story.
These cookies are not overly sweet, and tahini gives them a rich, nutty flavor. I sprinkle the top with sesame seeds and coarse sea salt. The dough can be frozen for up to 2 months, or refrigerated for at least four days. Makes about 20 cookies.
This recipe is my adaptation of David Lebovitz's recipe for tahini cookies from his website.
Ingredients
8 tablespoons unsalted butter, at room temperature
1/2 cup tahini, well stirred to mix oil and paste
1/3 cup granulated sugar
1/3 cup packed light brown sugar
1 large egg, at room temperature
1 large egg yolk
1 teaspoon vanilla extract
1 cup plus 2 tablespoons flour
3/4 teaspoon baking soda
Pinch sea salt
1 3/4 cups bittersweet or semisweet chocolate chunks, or chocolate chips
Topping Ingredients
About 1/4 cup sesame seeds, white
About 1/8 cup coarse sea salt
Instructions
In a bowl working with an electric mixer, or the bowl of a stand mixer, beat the butter, tahini, granulated sugar and brown sugar on medium speed for about 3 minutes, until fluffy, stopping and scraping down the sides a few times as needed.
Add the whole egg, the yolk and vanilla and continue to mix for another minute.
In a small bowl, whisk together the flour, baking soda and sea salt. With the mixer on low speed, add the dry ingredients until just combined, then add the chocolate chips, being careful not to overmix.
Cover the dough and refrigerate for at least 1 hour or overnight.
Heat the oven to 325 degrees. Line two baking sheets with parchment paper or silicone baking mats.
Scoop out a generous tablespoon of dough, roll into a ball and place on the cookie sheet, making sure not to place the cookies too close together. Repeat with the dough working on both cookie sheets. Using the palm of your hand, gently push the cookies down. Sprinkle with the sesame seeds and coarse sea salt.
Bake on the middle shelf and upper shelf of the oven for 6 minutes; remove and turn them around and exchange the top-rack cookies for the middle rack. Continue baking another 6 to 8 minutes, or until the cookies are a rich golden brown around the edges but still somewhat pale in the center. Remove and let cool.
Repeat with any remaining cookie dough. Serve after the cookies have cooled for 5 minutes, or keep in a tightly sealed container for 1 to 2 days.
This segment aired on May 24, 2018.