3 Cake Recipes To Satisfy Your Summer Sweet Tooth
05:41
Play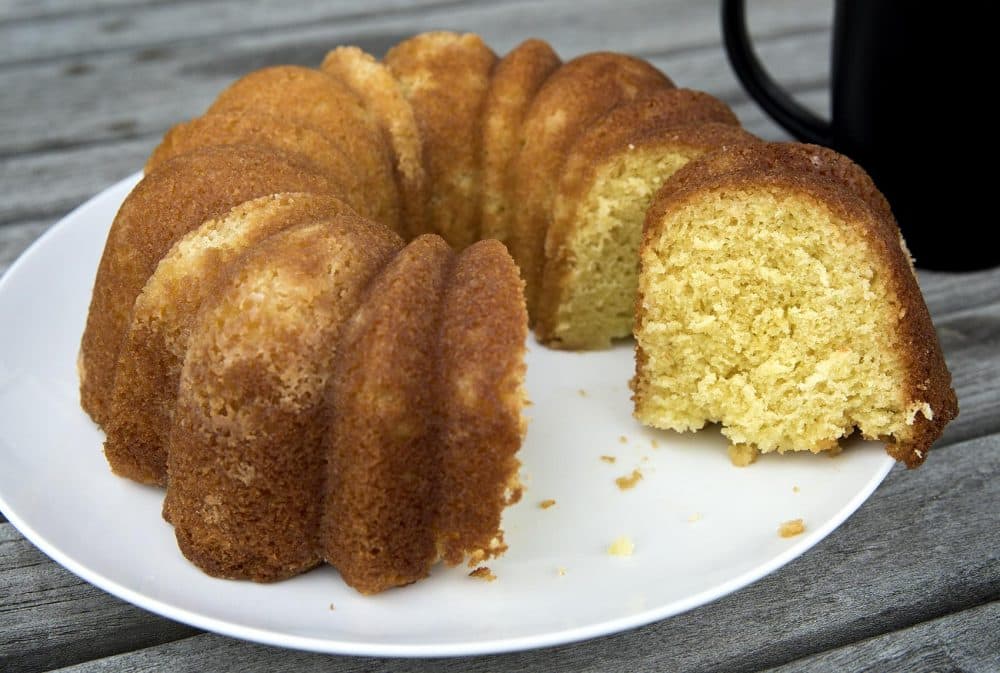 This article is more than 3 years old.
If you want cake but don't feel like baking (or baking much) on a hot summer day, Here & Now resident chef Kathy Gunst has three cake recipes — only one of which involves firing up the oven. She shares samples with host Robin Young.
---
When the days are hot and the humidity is rising, who feels like baking?
Well, I do.
Here are three summer cakes: one is a traditional baked cake (a lemony sour cream Bundt cake that is excellent served with summer berries), one is a nostalgic chocolate refrigerator cake and one is a refreshing layered ice cream cake.
Chocolate-Strawberry Whipped Cream Refrigerator Roll
Did you grow up with that famous refrigerator cake? The one made by layering chocolate wafers with whipped cream? My mother-in-law, Nancy Rudolph, used to make this cake for her children and then my children. They always used to call it "Granny Cake."
This is my ode to that nostalgic cake. I layer chocolate wafers (thin chocolate cookies) with vanilla-scented whipped cream and slices of ripe seasonal strawberries and then layer the entire roll with whipped cream and top it with more strawberries and dusted chocolate (made by grating a few cookies).
You need to let the cake set in the refrigerator for at least four hours. Serves 8.
Ingredients
2 cups whipping cream
1 teaspoon vanilla extract
2 to 3 tablespoons sugar
One 9-ounce box chocolate wafers, or thin chocolate cookies (I use Nabisco Famous Chocolate Wafers)
2 cups ripe strawberries, cut into slices (or raspberries, blueberries or blackberries left whole)
Instructions
Whip the cream: Using a hand held whisk or a mixer, whisk the cream until soft peaks form. Add the vanilla and at least 2 tablespoons of the sugar and beat until the cream is thickened and whipped. You can add the additional sugar if you want it sweeter. The cream will keep covered in the refrigerator for up to two hours.
To assemble the cake: Take one cookie and spread about 1/2 tablespoon of the whipped cream on the inside. Add a slice of strawberry or a berry and top with another cookie. Repeat until you have one long log or make two shorter logs.
Place the log on its side (so the flat part of the cookie is horizontal) and cover the top and sides with the remaining whipped cream; decorate the top with the remaining berries. Refrigerate for at least three to four hours. Just before serving, using a grater or microplane, grate several cookies of top of the cake for a dusting of chocolate.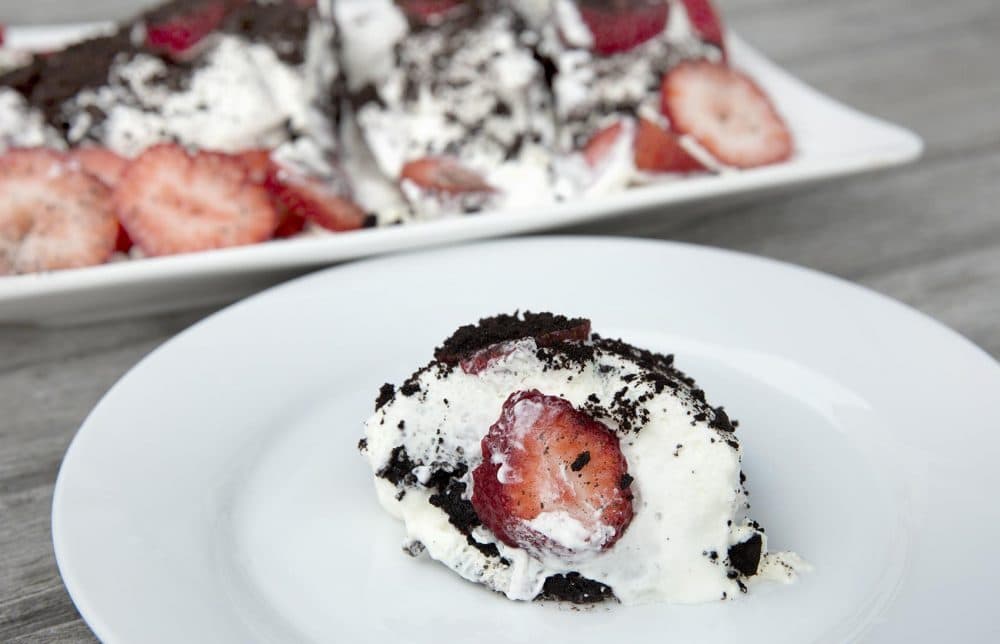 Sour Cream Lemon Bundt Cake
This moist, lemony cake has become a favorite of mine because it's so simple, and is a winner every time.
The recipe comes from Here & Now producer and cake-decorating maven Karyn Miller-Medzon, who learned to make it when she was a student at the Cambridge School of Culinary Arts in Cambridge, Massachusetts.
The cake will keep for several days and can be served on its own (with iced tea or coffee) or with summer fruit like peaches and nectarine slices or fresh summer berries. Serves 8 to 10.
Cake Ingredients
2 1/2 cups all-purpose flour
1/2 teaspoon salt
1/2 teaspoon baking powder
1/2 teaspoon baking soda
Grated zest of 2 large lemons (wash and dry the lemons before zesting)
2 1/4 cups granulated sugar
1 cup sour cream (or plain whole fat Greek yogurt)
1 teaspoon vanilla
1 cup unsalted butter
4 large eggs
Lemon Glaze Ingredients
1 1/4 cup confectioners' sugar
1/4 cup fresh lemon juice
1/2 teaspoon vanilla extract
1 teaspoon lemon zest
Instructions
Grease and flour one Bundt cake pan, two large loaf pans or six to seven miniloaf pans. Heat the oven to 350 degrees.
Sift the flour, salt, baking powder and baking soda in a bowl. Set aside.
In a small bowl, combine lemon zest with sugar and thoroughly mix together with your hands. Set aside.
In another small bowl, combine the sour cream and vanilla. Set aside.
In a mixing bowl, cream the butter and the citrus sugar mixture until light and fluffy, about 4 minutes. Add the eggs one at a time, scraping down the mixing bowl well after each addition. Mix until blended. Add half the flour mixture and then half the sour cream mixture and mix until incorporated. Add the remaining flour and then sour cream. Do not overmix.
Pour batter into pan(s). Bake on the middle shelf of the oven for about 50 minutes. Bake for less time if making smaller items. The cake is done when a toothpick or skewer inserted in the center comes out clean. Allow to cool before glazing.
To make the glaze: Mix all the ingredients until smooth. Pour over the top of the cooled cake.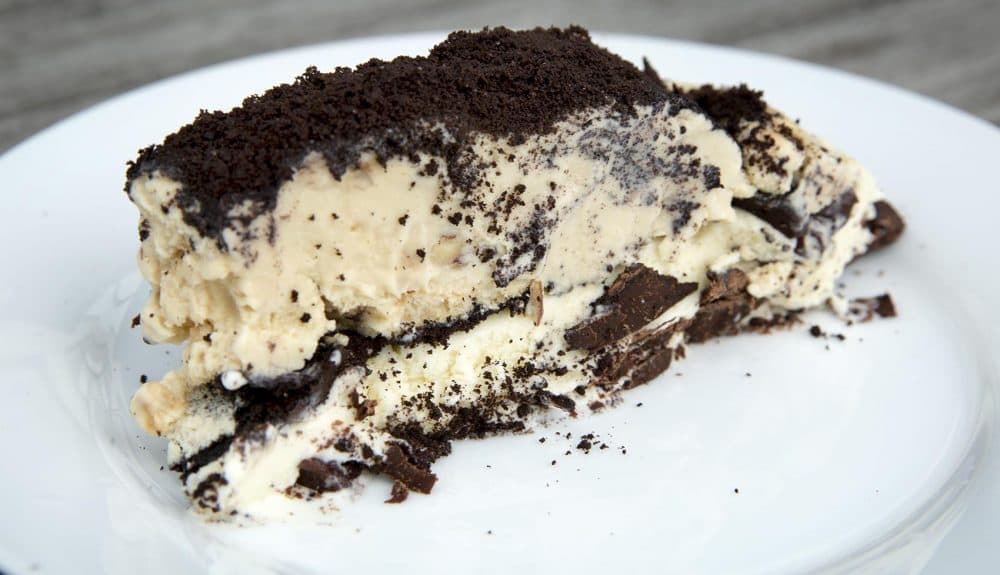 Ice Cream Cake With Crushed Cookies And Chocolate
This simple ice cream cake is so much fun to put together — and is the perfect recipe to let the kids get involved! You choose two to three different flavored pints of ice cream, sorbet or gelato and layer them with good-quality melted chocolate and your favorite type of crushed cookie.
A few ideas:
Ginger ice cream and raspberry sorbet with crushed gingersnaps and bittersweet chocolate
Mint chocolate chip ice cream and coffee with crushed chocolate waters
Lemon sorbet and chocolate gelato with crushed lemon cookies and dark chocolate
Vanilla ice cream and butter pecan ice cream with crushed chocolate cookies and milk chocolate
Or ... mix and match. Come up with your own favorite combinations. Plan on letting the ice cream cake freeze for about four hours.
Serves 6 to 8.
Ingredients
3 cups cookies (chocolate wafers, amaretti almond cookies, lemon cookies, gingersnaps, etc.)
2 pints of your favorite ice cream (best to use two different flavors of ice cream, gelato or sorbet)
2 cups of semisweet, milk or dark chocolate
Instructions
To crush the cookies, place them in a food processor or blender and pulse until the cookies look like fine breadcrumbs.
Remove the first pint of ice cream from the freezer and let if soften slightly; alternately, you can soften it a bit in a microwave for a few seconds. You want the ice cream to still be frozen but soft enough to work with and shape into the bowl.
Use a metal or plastic bowl that is 8 inches wide and line it with parchment paper. Sprinkle half the cookie crumble into the bottom of the bowl and press down onto the paper to create a thin layer. Place in the freezer for 15 minutes.
Remove and add the softened pint of ice cream by using a soft spatula to spread it on top of the cookie crumbs in a smooth, even layer. Place in the freezer for 15 minutes.
Meanwhile, melt the chocolate in a small saucepan over very low heat until smooth and melted. Remove from the heat.
Remove ice cream from freezer and spoon half of the melted chocolate on top of the ice cream. Use a soft spatula to smooth it out into one layer. Place in the freezer for 15 minutes.
Remove the second pint of ice cream from the freezer to soften slightly.
Remove the cake from the freezer and spoon the second ice cream flavor on top of the chocolate layer. Place back into the freezer for 30 minutes.
Remove from the freezer and add the remaining melted chocolate on top in a smooth layer. Freeze another 15 minutes. Add the remaining cookie crumbs on top, press down to create a single layer and freeze for about 2 to 3 hours.
To serve: Take a tea towel and lightly moisten it with hot water. Wrap the warm towel around the outside of the bowl to loosen the cake. Place a large plate on top of the bowl and carefully flip the bowl over. Remove the bowl and carefully peel off the parchment paper. You can keep the cake, covered lightly with plastic wrap, in the freezer for several hours but it's best served right after being unmolded.
---
We mentioned our producer Karyn Miller-Medzon is quite the baker. Here's a sampling of some of her delectable creations:
This segment aired on June 14, 2018.
More From Our Resident Chef: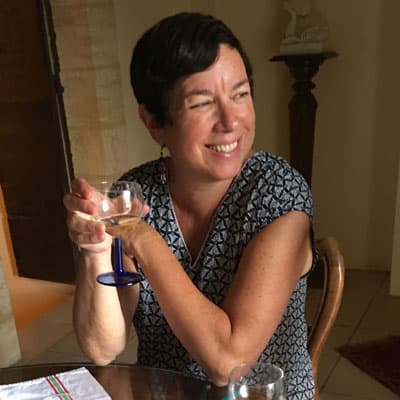 Kathy Gunst Here & Now Resident Chef
Kathy Gunst is a James Beard Award-winning journalist and the author of 15 cookbooks.