Fourth Of July Burgers: Tips To Impress Meat Eaters And Vegetarians Alike This Holiday
Play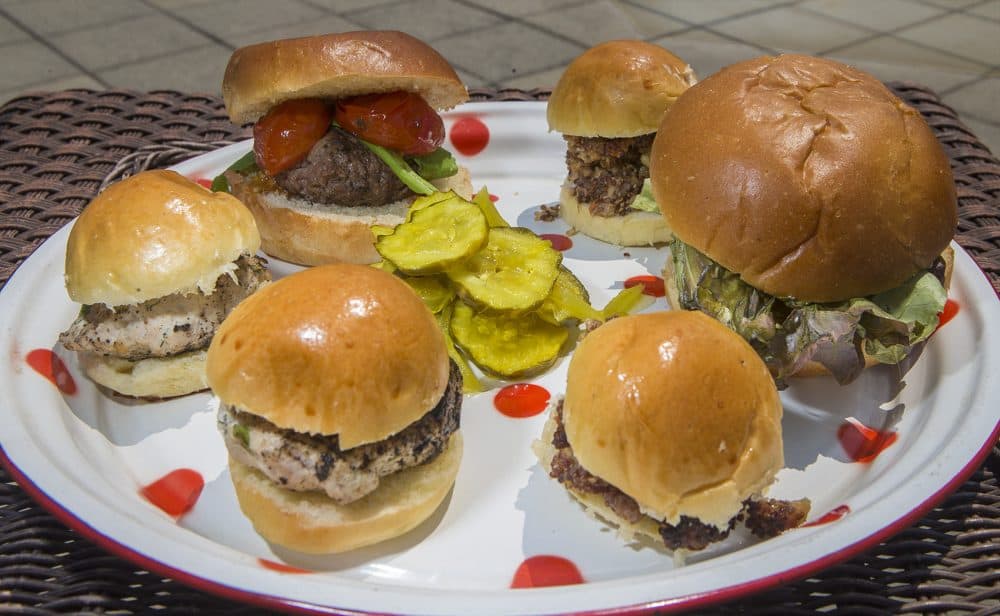 This article is more than 4 years old.
Are you planning on firing up the grill for your Fourth of July celebration? Here & Now resident chef Kathy Gunst brings hosts Jeremy Hobson and Peter O'Dowd tips and samples of beef, turkey-feta and vegetarian burgers.
---
Classic Burger
This is the simplest of recipes, but there are certain "tricks" that can make the difference between a great burger and just a good burger.
Meat: Sure, you can go to the supermarket and buy preground beef, but you'll never know exactly when it was ground or what parts of the cow it came from. Go to a butcher. Ask for freshly ground beef, with at least 20 percent fat so you have a juicy, flavorful burger. Yes, it will cost you a few bucks more than the store-bought variety — but the flavor payoff is huge.
Seasoning: I don't like to add much to a good burger. I know some people like to add grated onion and herbs and spices and all sorts of stuff to their burgers, but I am a purist. My formula is simple: Buy good meat. Don't mess with it. Salt and pepper are my only seasonings and I don't add them until the burger has hit the grill. Salt can cause a burger to become dry and tough, as J. Kenji López-Alt of The Burger Lab explains:

Salt will dissolve muscle proteins, which subsequently cross-link, turning your burgers from moist and tender to sausage-like and springy. The effect is dramatic … Salt starts affecting meat — dissolving proteins, drawing out moisture — the moment it comes in contact with it, adversely affecting the exterior texture of your patties. And that's not a good thing.

Forming the burger: I like a hefty, 6- to 8-ounce burger. Think of the burger like a delicate piece of pastry and handle with care. Handle it like a baby. Don't pat or squish the burger into a tight, flat round, but shape it loosely and handle as little as possible.
Cooking the burger: Heat a grill — charcoal, gas or wood — until it reaches around 400 degrees. Make sure the grill grates are clean so the burger doesn't stick. Place the burger on grill, season liberally with sea salt and freshly ground black pepper, cover and cook about 6 to 8 minutes, depending on how rare or well-done you like it. Flip it over and cook another 6 to 8 minutes.
Flipping: There's no need to flip your burger more than once or twice to check on them. I know it's tempting to want to keep flipping the burger over and over and show off your grilling skills — but don't!
It's done: When an instant-read thermometer inserted in the center of the burger is around 120 degrees for rare; 130 degrees for medium rare; 150 degrees for almost well-done.
Bun and condiments: Have the buns ready (warm them up on the grill for just a minute so it's hot, but not burnt) and serve the burger with any and all condiments.
Turkey-Feta Burger
Turkey is very lean and mild and, unlike good chopped beef, definitely benefits from a flavor boost. Here, I mix ground turkey with creamy feta cheese, a touch of mayonnaise, fresh herbs and hot sauce to create a flavorful burger.
Ingredients
1 pound ground turkey
Salt and pepper to taste
1/2 cup crumbled feta cheese
2 tablespoons mayonnaise
Dash hot pepper sauce
1 tablespoon fresh thyme, chopped
1 1/2 tablespoons fresh dill, chopped
Instructions
Very gently mix all the ingredients together. Form into two to four burgers.
Over a 400-degree grill, cook the burgers for 4 to 5 minutes on each side. Serve on a bun, pita or grilled toast.
Superiority Burger
by Brooks Headley, from "Superiority Burger Cookbook: The Vegetarian Hamburger Is Now Delicious"
This is not fake meat, nor is it vying to be. The unlikeness to the real thing is canny. Think of these as vegetable and grain croquettes that get put on buns. These are our namesake, they are absolutely recognizable as food, and are meant to be a Luddite response to the modern gaggle of vegetable patties that bleed and squirt and ape.
Makes 8 to 10 patties.
Ingredients
1 cup red quinoa
1 medium yellow onion, chopped
2 teaspoons ground toasted fennel seeds
1 teaspoon chile powder
1 cup cooked chickpeas, rinsed and drained
1 teaspoon white wine vinegar
1 cup small-diced carrots
1/2 cup coarse bread crumbs
3/4 cup walnuts, toasted and crushed
Juice of 1 lemon
1 tablespoon chopped fresh flat-leaf parsley
1 tablespoon hot chile sauce
2 tablespoons nonmodified potato starch
Grapeseed oil for searing the patties
Toasted buns/shredded lettuce/roasted tomatoes/2 pickle slices/Muenster cheese (if you like)/sauces (honey mustard, Special Sauce) of your choice for serving
Instructions
Preheat the oven to 425 degrees.
Cook the quinoa in 1 1/2 cups salted water until fluffy, about 45 minutes. Cool and reserve. In a separate pan, sauté the onion until translucent and browned, and season with salt, pepper, the fennel, and chile powder. Add the chickpeas and keep on the heat for 5 to 10 minutes, stirring constantly. Deglaze the hot pan with the white wine vinegar and scrape everything stuck to the bottom of the pan back into the mix. Using a potato masher, roughly smash the onion-chickpea mixture. Mix the chickpea mash by hand with the cooled quinoa.
Roast the carrots in the oven until dark around the edges and soft, about 25 minutes. Add to the chickpea-quinoa mixture. Add the bread crumbs, walnuts, lemon, parsley, and chile sauce, and season again with salt and pepper, until it tastes sharp. Mix the potato starch with 1 tablespoon water to create a cloudy, thick slurry. Fold the slurry into the burger mix as the binding agent. Form the mixture into 8 to 10 patties and sear in grapeseed oil in a hot sauté pan or cast-iron skillet until fully browned, about 3 minutes on each side. To serve, place each patty on a toasted bun with shredded iceberg lettuce, Roasted Red Tomatoes, 2 pickle slices, Muenster cheese (if you like), and sauces such as honey mustard or Special Sauce.
Recipe and photo from SUPERIORITY BURGER COOKBOOK by Brooks Headley. Copyright © 2018 by Brooks Headley. Photographs copyright © 2018 by Sunny Shokrae. Reprinted with permission of W.W. Norton & Company, Inc. All rights reserved.
Buns, Grilled Toast And More
Finding good burger buns has become easier in recent years. Look for brioche buns or homemade buns at your local butcher or bakery. You can always make smaller burgers for a party and make the bun smaller by cutting out a smaller shape from a large bun using a biscuit cutter.
You can also grill good bread on the grill (brushed with olive oil) for about 1 to 2 minutes per side until toasted, and serve open-faced burgers on one piece of grilled bread. Pita bread and English muffins work well with burgers, as does a baguette sliced in half lengthwise and then into smaller pieces.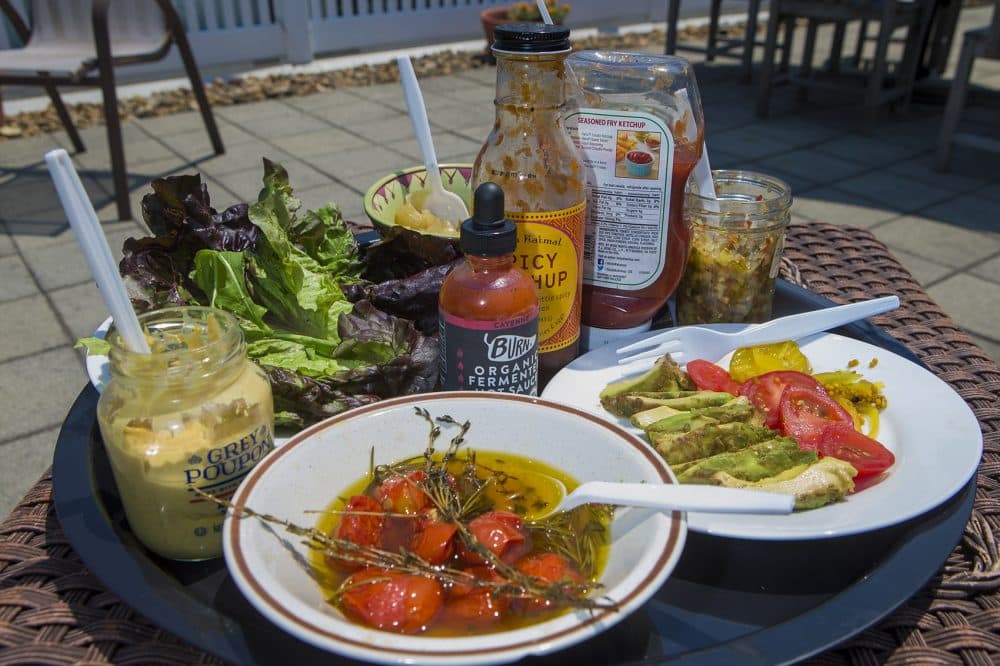 Condiments And Toppings
Set up a condiment bar and let everyone top their own burgers with any or all of the following:
A variety of ketchups: I'm currently in love with Maya Kaimal's spicy ketchup, a blend of sweet and spice with hot chiles and toasted cumin.
A variety of sweet and spicy mustards
Onions: I love thinly sliced raw onion as well as caramelized onions: thinly slice a large red or yellow onion and cook in 1 1/2 tablespoons olive oil, salt and pepper over low heat for about 25 to 30 minutes until softened and sweet.
Tomatoes: Slice ripe, raw tomatoes or slow roast cherry tomatoes for about an hour at 250 degrees with a few tablespoons olive oil and fresh herbs, or, thinly sliced sun-dried tomatoes.
Avocado slices or guacamole
Shredded red cabbage or coleslaw
Crisp bacon
Fried egg
Pickles: I love everything pickled. Use traditional dill, half-sour cucumber pickles or bread and butter pickles. Try slices, or something new like pickled peppers, green beans and pickled fruits like cherries and peaches.
Chopped olives or tapenade
Chutneys
Cheese: crumbled blue cheese and feta. Thin slices of sharp cheddar, gruyere, Parmesan or your favorite cheese
Hot sauces
Sprouts and lettuce: sharp arugula, sweet butter lettuce, sprouts for peppery crunch
Mayonnaise
Chopped fresh herbs and scallions: think chopped dill, thyme, basil leaves, chopped scallions and more
Roasted red peppers
Cucumber and pepper slices
Kimchi
This segment aired on July 2, 2018.