Soccer Ball That Survived Challenger Explosion Returns To High School It Came From
Play
This article is more than 4 years old.
A soccer ball that survived the 1986 explosion of the space shuttle Challenger has completed a long journey — including a trip to the International Space Station — back to the high school where it came from.
One of the seven astronauts who died in the explosion was Ellison Onizuka, the first Asian-American in space. His daughter's high school soccer team had given him the ball to take on the mission.
Max Brodsky (@max_brodsky), features producer for ESPN's "E:60," tells Here & Now's Jeremy Hobson the message the team wrote on the ball is still readable today.
"It's pretty unbelievable. And that message says, 'Good luck shuttle crew,' " says Brodsky, who produced "Bonds of Earth," a new ESPN documentary on the ball and its story. "And even when you touch the ball now, little flakes kind of come off in your hands."
Interview Highlights
On how the ball survived the explosion intact
"That's a great question, and I think one that people who remember that day and remember watching it ask themselves, and the truth is I don't have a scientific or a logical explanation for you. It was something that they found floating in a black duffel bag on the Atlantic Ocean, part of the Coast Guard search and salvage operation to look through all the wreckage. It was with Ellison's personal flight kit. And they actually recovered a few other items that he had been bringing up there with them. One was a lotus flower, and another one was actually a football from the University of Colorado, where he went to school."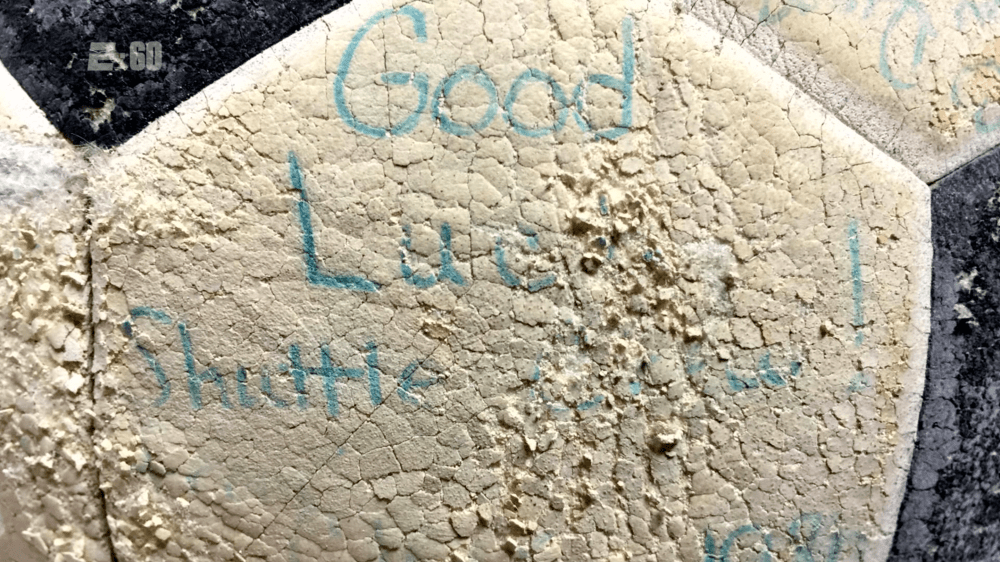 On the story behind the ball, and soccer's importance to Onizuka's family
"Both of Ellison's daughters, Janelle and Darien, they played soccer their whole lives. Ellison was very active in the soccer program. I believe he was a charter member of the booster club for the girls soccer team there. So he was a very familiar face around the team. And it's tradition in this area that when an astronaut goes up to space, he'll often ask organizations that are important in his life if they have any special mementos they want them to bring up.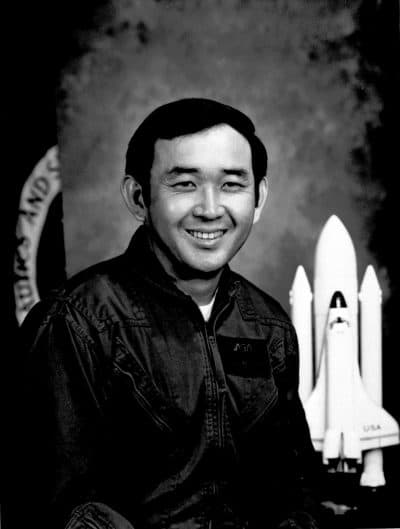 "So he went to his daughters' school, Clear Lake High School, which is about a mile down the road from Johnson Space Center in Houston — and it's really the high school where the children of astronauts go and the family of all the people who work at NASA, so it's very much a NASA high school. So he came to the high school and said, 'Is there anything you guys want me to bring?' And his daughter suggested a soccer ball signed by her team. I know he picked it up a few days before heading out to the Challenger launch. And it's one of the last memories that Janelle has of her father, is him coming to get that signed ball from the field."
On the ball's discovery years later on top of a filing cabinet
"As with many schools, there's lots of construction going on, there's lots of turnover with the administration and with the folks who work there, and I think as time went on, it got lost in the shuffle. They have a lot of NASA memorabilia there. Again, it's kind of the NASA high school right next to the Johnson Space Center there. And so it kind of got lost in the shuffle with a lot of this memorabilia until their soccer coach found it on top of a filing cabinet back in 2000. He actually had a very interesting connection to the ball himself.
"His name is Jered Shriver, and his father, Loren Shriver, was an astronaut. And Lornen Shriver flew with Ellison Onizuka on Ellison's first mission back in 1985, about a year before the Challenger. So the two families became very close. Jered was friends with Ellison's daughters, and his sister was actually on that soccer team that signed the ball. So when he found it on that filing cabinet, he said he was looking at the writing on it, couldn't really make it out, and then he sees his sister's signature and it all kind of clicked on what this ball was, and he recognized the tremendous meaning behind it and was able to save it from potentially getting lost forever."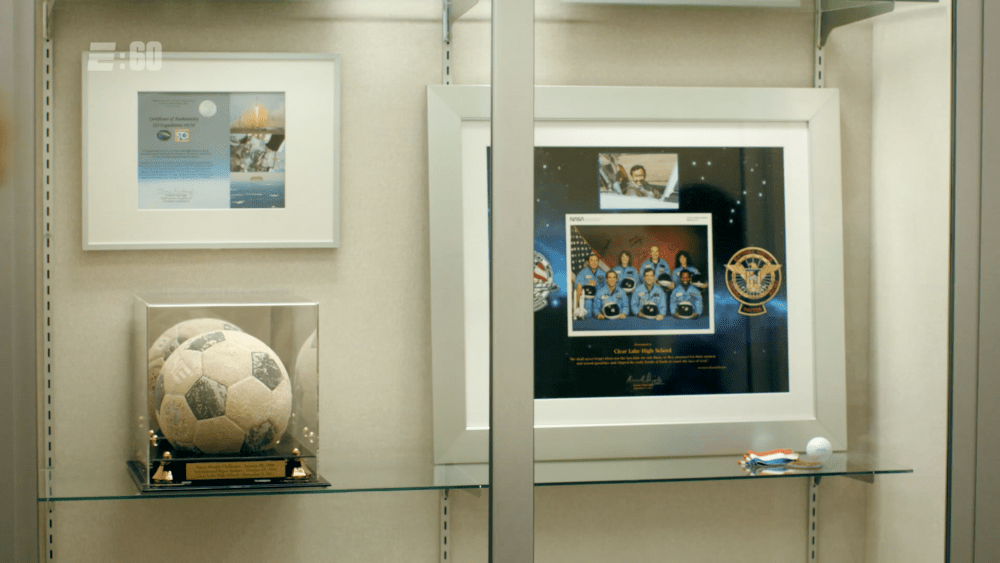 On where the ball is displayed now
"The ball is now very prominently displayed just inside the main entrance of Clear Lake High School. It's in a big new glass case with a picture of the Challenger flight crew. It's got a little plaque that says the original date that it was supposed to go up to space, when it actually did and then when it was dedicated back to the school this past fall. So it's something I think the students are much more aware of, and that they display very proudly in the school."
This segment aired on July 9, 2018.