'Aladdin' Genie Michael James Scott On Bringing Movie Magic To The Stage
11:22
Play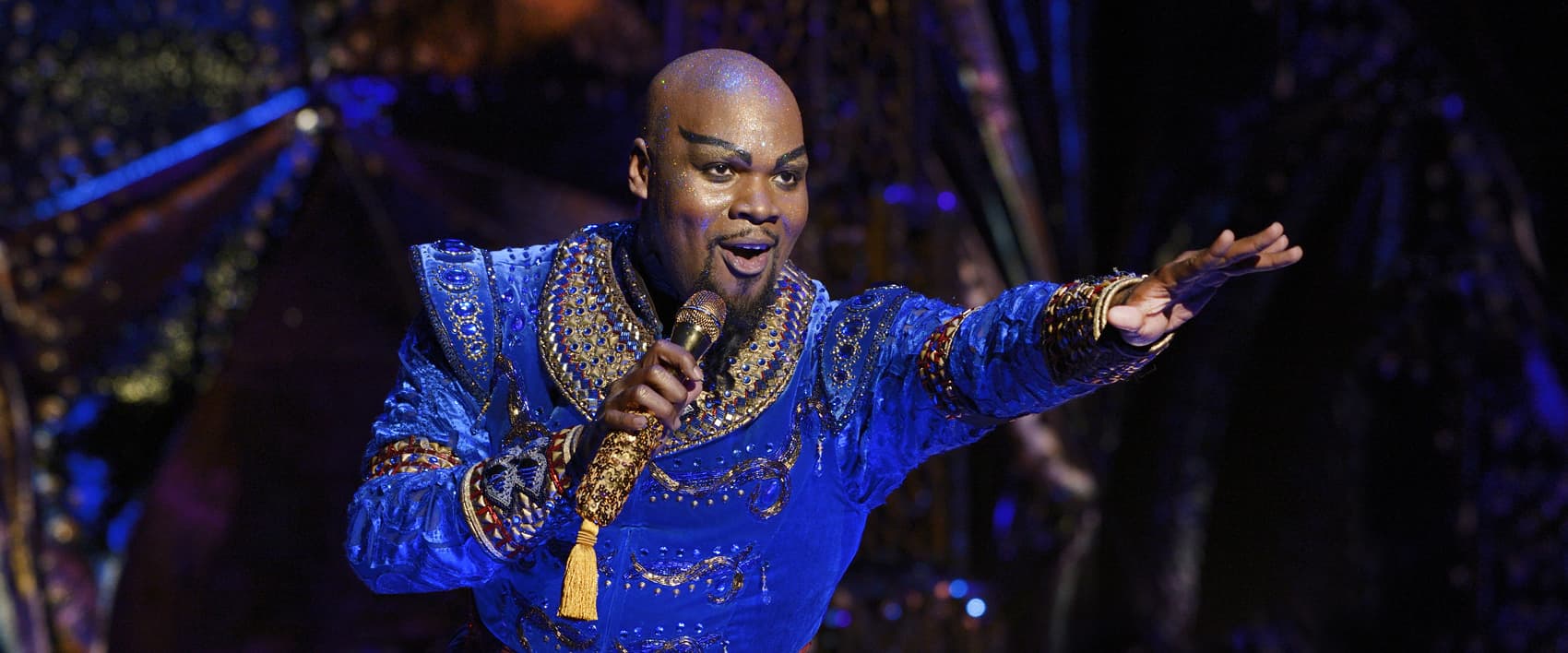 This article is more than 3 years old.
The stage adaptation of the 1992 Disney film "Aladdin" is out on a North American tour.
Michael James Scott (@iamMJScott), who stars as the Genie, talks with Here & Now's Jeremy Hobson about following in Robin Williams' footsteps, some of his favorite numbers to perform and growing up in a musical family.
Interview Highlights
On whether he watched the movie version of "Aladdin" growing up
"I mean, absolutely. I grew up with the brilliance that is 'Aladdin,' and as you grow up, you never forget the music and the story. ... I remember the very first sort of thing when Robin Williams [as the Genie] is like, 'Come closer, come closer, oh, too close!' For some reason I still remember that. And then of course I remember 'Friend Like Me.' But I also did my first tap solo to 'Friend Like Me,' so I think that that's probably another big reason why I remember that particular song."
On the show's musical style
"We go into the sort of Fats Waller, Cab Calloway feel, which has that more jazzy kind of a thing. So this was for it to really feel like a parade of costumes and scenery, and as you'll see in the show, our ensemble changes four times during this number, which is insane. And what it's sort of representing is that it's a different part of the parade. And I love this particular feel that we have in the show because ... it's such a throwback. It almost makes people a little bit surprised when they see and hear it, because it's so different. The sound is so different. But this is kind of what it was originally intended to sort of be, is to have that old big-band feeling."
"I grew up with the brilliance that is 'Aladdin,' and as you grow up, you never forget the music and the story."

Michael James Scott
On his favorite song to sing in the show
"There are two moments for me. There's a new song that was written for the show called 'Somebody's Got Your Back,' it's in the second act and it's with the Genie and Aladdin, and then with Aladdin's friends. It has a very soft-shoe kind of a feel, and I love to sing it. And I also love 'A Whole New World,' of course. I don't get to sing it — I sing it at the very end, I sing a little snippet and I love singing it, because it's just such a fun thing. ... It's a beautiful moment. It's sort of just an open feeling, to get to do that."
On which he likes doing most: singing or dancing
"I mean, I love them all, truly. I grew up singing in church. So singing was the first thing that I did and, I say this all the time, but my mother said I sang before I spoke. So singing, it's just within me, and I come from a family with lots of music around. So, singing is amazing. But there is no feeling like dancing though, too. My inspiration is Fred Astaire, Gene Kelly, Ben Vereen, Sammy Davis, like those cats are like, that's everything for me. So to be able to get to dance, that as well, I don't know there's just, there's something about it that I love, and it feels so freeing to get to do."
On how long he'd like to keep playing the Genie
"I'll be the Genie as long as I can do it. As long as my body will let me do it, good lord. But I love it. And you know, when you play the Genie, if you're having a bad day and you come in and play the Genie, it's the best medicine for you, to get rid of all of that and get to come in and play a character with so much light."
---
Here's more information on tour dates.
This article was originally published on July 27, 2018.
This segment aired on July 27, 2018.