How To Make The Most Of Your Summer Garden Produce
Resume
It's August, Here & Now resident chef Kathy Gunst's garden is thriving and there's plenty of great produce in local farmers markets. Kathy brings in dishes made with summer produce to share with hosts Robin Young and Jeremy Hobson.
---
Zucchini And Mint Fritters
Got a garden overflowing with zucchini? Not sure what to do with all the summer squash at the farmers market? Here's your answer.
These fritters/pancakes are great served for breakfast, lunch or dinner. The batter and the yogurt sauce can be made a few hours ahead of time, and the fritters cooked just before serving. Makes 10 fritters; serves about 4 to 5.
The Fritters
1 cup grated zucchini and or yellow squash
1 egg
1 tablespoon fresh mint, chopped
Salt and freshly ground black pepper
1/4 cup plain whole-fat yogurt
1 tablespoon lemon juice
1 1/2 tablespoons finely chopped scallions
About 1/3 to 1/2 cup breadcrumbs or panko
1 1/2 tablespoons grapeseed oil or canola oil
1 tablespoon olive oil
3 tablespoons fresh mint, chopped
The Yogurt Sauce
1 cup plain whole-fat yogurt
1/4 cup chopped fresh mint
1/4 cup chopped scallions
1/3 cup coarsely chopped Marcona almonds, pistachios or regular almonds
1 tablespoon lemon juice
Salt and freshly ground pepper
Splash hot pepper sauce (optional)
Instructions
Make the fritter batter: Place the summer squash into a large bowl. Push the squash off to the sides and add the egg in the middle. Using a fork, whisk the egg. Add the mint, salt, pepper, yogurt, lemon juice, scallions and enough breadcrumbs so the mixture holds together when you try to form it into a small pancake/fritter. Cover and refrigerate until ready to cook.
Make the sauce: in a small bowl mix all the ingredients and taste for seasoning.
Cook the fritters: Form the batter into 2-inch-long fritters, adding more breadcrumbs if needed so the fritters hold together.
In a large skillet heat the grapeseed oil and olive oil over moderately high heat. Without crowding the skillet add about 3 to 4 fritters and cook about 4 to 5 minutes on each side, until golden brown and cooked through. (The fritters can be kept warm in a low 225 degree oven for about 30 minutes.)
Serve the fritters hot with the yogurt sauce on the side and garnish with the fresh mint leaves.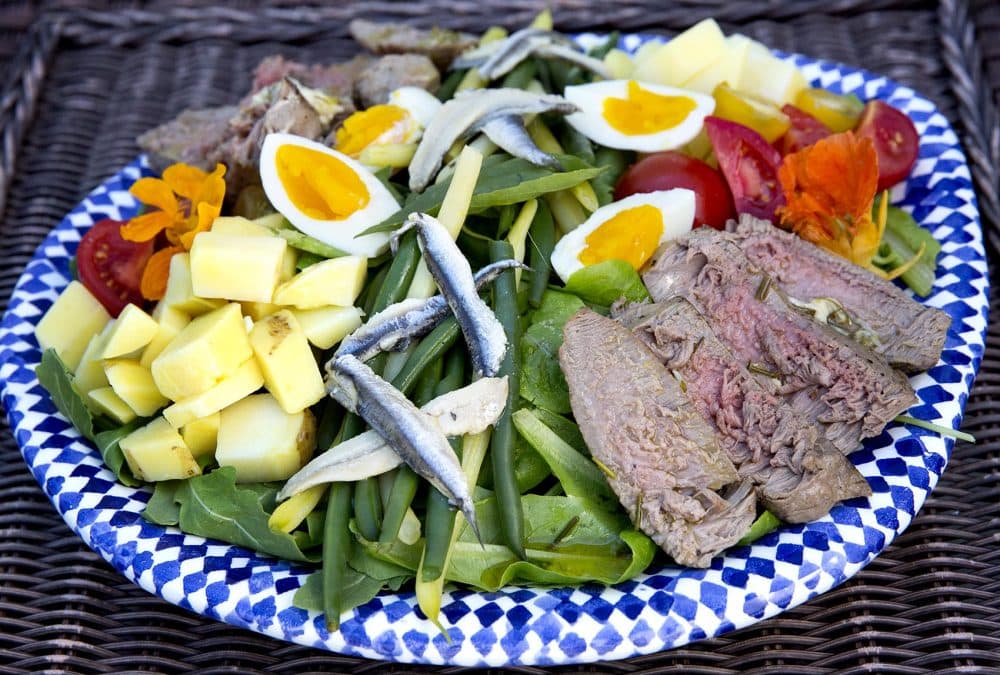 Fresh Tuna Garden Niçoise Salad
This classic main-course summer salad from southern France is made with fresh sauteed tuna, green beans, potatoes, hard-boiled egg, summer tomatoes, anchovies and greens. Serve with warm bread or a baguette.
Although there are several ingredients that need to be cooked, the elements can all be prepared ahead of time and the salad put together in about 15 minutes just before serving.
The Salad
1 egg
1 large potato, or 2 medium, peeled and cut into small 1/2-inch cubes
1 pound green beans, ends trimmed
1 pound fresh tuna steak
Salt and freshly ground black pepper
1 tablespoon olive oil
3 cups fresh salad greens or arugula or a combination
1 cup pitted black and or green olives
1 cup cherry tomatoes, halved, or 1 medium ripe tomatoes, cut into cubes
1/2 cup Niçoise olives or other pitted black and/or green olives
4 anchovy filets (optional)
1 lemon, cut into wedges
Anchovy Vinaigrette Ingredients
2 anchovy fillets, chopped
1/8 teaspoon salt
Freshly ground pepper to taste
1 1/2 teaspoons grated lemon zest
1/4 cup lemon juice
3 tablespoons minced fresh chives
1/2 cup extra-virgin olive oil
Instructions
Cook the egg, potato and beans: Bring a small pot of water to boil over high heat. Reduce the heat, add the egg and cook for 6 minutes. Remove from the heat and let sit 6 minutes. Drain and place under cold running water. Drain again. Roll the egg in the empty saucepan from side to side until the shell begins to crack. Add cold water. Drain and peel the egg and cut into quarters.
To prepare the potatoes and green beans: Bring 1 inch of water to a boil in a large pot fitted with a steamer basket. Add potatoes, cover and cook until just tender (you don't want them to be falling apart or overly soft and mushy), 8 to 10 minutes. Drain and cool. Add more water to the pot, if necessary, so it's at least 1 inch deep. Add the green beans to the steamer basket, cover and cook until bright green and just tender, 4 to 6 minutes. Rinse in a colander with cold water until cool. Drain thoroughly.
Prepare the vinaigrette: Mash anchovies and salt in a medium bowl using the back of a spoon. Stir in the pepper, lemon zest, lemon juice and chives. Whisk in the oil in a slow, steady stream until well combined.
The above steps can all be done several hours ahead of time; cover and refrigerate until ready to serve.
Cook the tuna: Just before serving, season the tuna with salt and a generous amount of coarsely ground pepper. In a medium skillet, heat the olive oil over moderately high heat. Cook the tuna about 5 to 6 minutes per side for medium-rare; cook for more or less time if you prefer your tuna more well done or rare. Remove to a cutting board and cool for a minute or two. Cut into thick slices.
To assemble the salad: Arrange the greens on a serving platter. Arrange the tuna, potatoes, green beans, tomatoes and olives on top of the greens. Arrange the anchovies if using on top of the salad and place lemon wedges along the outside edge of the salad. Spoon about 1/4 cup of the vinaigrette over the top. Serve the remaining vinaigrette on the side.
Summer Tomato And Herb Galette
This is a simple, savory galette or tart with a layer of lemon and herb-flecked ricotta cheese, ripe garden tomatoes and plenty of fresh garden herbs. Serves 4 to 6.
Pastry Ingredients
1 1/2 cups flour
Salt
1 tablespoon chopped fresh thyme
1 tablespoon chopped fresh rosemary
1 1/2 sticks butter, chilled and cut into cubes
About 1/3 cup ice water
Tart Ingredients
1 cup ricotta cheese
Salt and freshly ground black pepper
1/3 cup chopped fresh herbs like thyme, rosemary, basil, fennel fronds, chives, parsley, or any combination you like
1 1/2 teaspoons grated lemon zest
4 medium-large ripe tomatoes, or 2 large, red, yellow, green or a combination
Instructions
Make the pastry: In the bowl of a food processor, pulse the flour, salt and herbs until combined, 3 to 4 pulses. Add the butter and pulse until the butter resembles coarse cornmeal, about 15 pulses. With the machine running, add half the water until a rough dough forms and pulls away from the sides of the bowl. If more moisture is needed, add more water, 1 tablespoon at a time.
Transfer the dough to a piece of wax or plastic wrap and, using your hands, gently form into a disc, about 2 inches thick. Wrap the disc fully and refrigerate for at least 1 hour and up to overnight. The dough can also be frozen in plastic wrap for up to 1 month. If frozen, defrost in the refrigerator for 24 hours, or until thawed.
Heat the oven to 400 degrees. Remove the dough from the refrigerator and let come to room temperature for 15 minutes. Lightly flour a work surface, unwrap the dough and, using a rolling pin, roll the dough into a circle about 12 inches in diameter and about 1/4-inch thick. Gently transfer the crust, flour-side down, to a parchment paper-lined baking sheet.
Place the ricotta in a small bowl and mix in the lemon zest, half the herbs, salt and pepper. Spread the ricotta in a thin layer on the pastry, leaving a 1-inch border of dough. Arrange the tomato slices in one layer on top of the ricotta, just slightly overlapping, if necessary. Sprinkle the tomatoes with the remaining herbs and season generously with salt and pepper. Gently fold the 1-inch dough border in toward the center of the tart to form a crust. If the dough rips while folding, gently pinch it together with your fingers.
Bake the crostata on the middle shelf of the oven until the crust is golden brown, about 40 to 45 minutes. Let cool for 10 minutes and serve warm or at room temperature.
This segment aired on August 2, 2018.