Nassar Abuse Survivor Looks Ahead After USA Gymnastics CEO Resigns
09:42
Play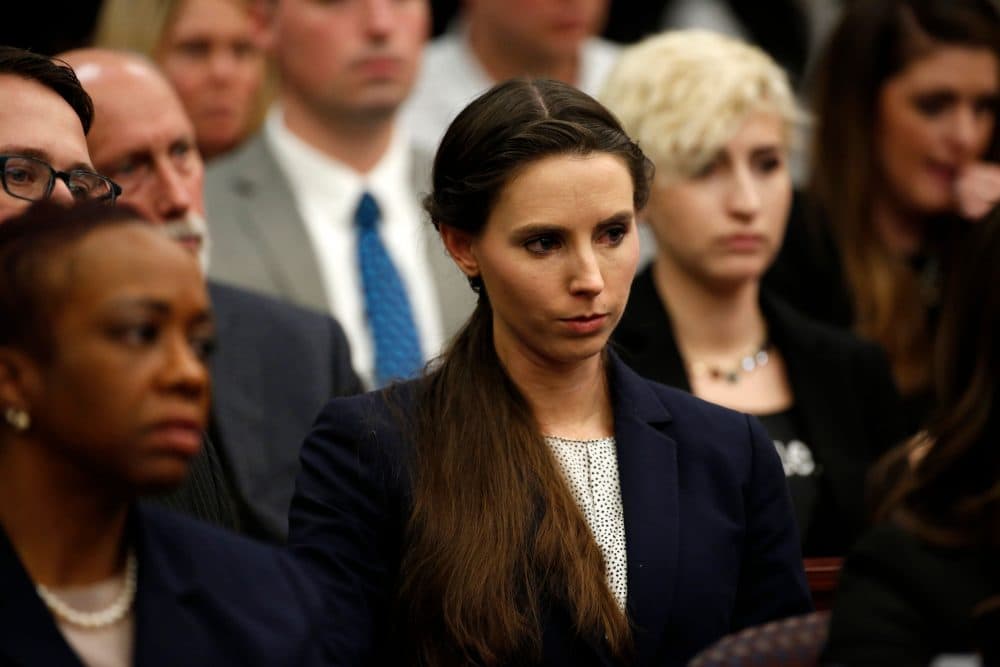 This article is more than 2 years old.
The fallout continues from the sexual abuse scandal involving former USA Gymnastics team doctor Larry Nassar. Nassar was sentenced earlier this year to decades in prison after pleading guilty to molesting young gymnasts.
The Wall Street Journal reports the Justice Department is now investigating how the FBI handled the allegations against Nassar. USA Gymnastics CEO Kerry Perry resigned Tuesday following a series of missteps after the Nassar scandal.
Here & Now's Lisa Mullins speaks with Rachael Denhollander (@R_Denhollander), a former youth gymnast and the first person to publicly accuse Nassar, about changes she would like to see at the organization moving forward.
"The current athletes — who are really still children by and large — should not be saddled with keeping themselves safe," Denhollander says. "That's the board's job. That's the coaches' job. That's the sponsors' job. Keeping these little kids safe, that's the job of the adults."
In a statement, USA Gymnastics says it's "made progress in stabilizing itself and setting a new path to ensure that the safety and interests of our athletes remains at the heart of our mission."
Interview Highlights
On continuing to follow developments involving Larry Nassar and USA Gymnastics
"It is of great personal interest, not just because of my own story, but really even more as a survivor advocate, because the reality is every time there is a news story, every time USAG does something that is insensitive and really victim attacking, there are hundreds of survivors that it's just devastating to. There are hundreds of survivors that wake up from nightmares, that have anxiety attacks, that are being faced with their abuse and just complete indifference and even antagonism towards them because of what they've suffered. And then you have a whole group of elite athletes and junior elite athletes who are pouring themselves into this sport who don't deserve to be saddled with a completely incompetent organization that is doing nothing about the abusive culture that they were raised in. And so my main focus as I'm watching it is just realizing all of the damage that is being done to former sexual abuse survivors and to the elite athletes that are still in this program."
"The reality is that Larry is a symptom of a problem at [USA Gymnastics]. He is not the only predator. USAG is notorious for predators within the gymnastics community — sexual abuse, verbal abuse, physical abuse."

Rachael Denhollander
On coping with being sexually abused
"I don't think you ever move past sexual abuse. You learn how to live with it, you learn how to grieve it in ways that are nondestructive. But that wound is always a part of you, just as much as any kind of physical injury — catastrophic physical injury heals, but you're left with the scars. It will always be a part of my story now."
On her reaction to Kerry Perry's resignation
"I am grateful that there has been recognition that USAG is heading in the wrong direction. But frankly it's too little, too late. USAG for the last two years has had the opportunity to be more concerned about children and about the athletes that were harmed, and the little girls that were abused not just by Larry, but by their member coaches, and who suffered just incredible forms of abuse even at the Karolyi Ranch. And they have consistently refused to investigate what really went on. And the longer they continue to do that, the more predators are able to flourish within USAG, and the more damage is being done to the sexual assault survivors and the more the current children are at risk."
On controversy involving USA Gymnastics' Karolyi Ranch training center
"The Karolyi Ranch was the training center where the elite and junior elite athletes, and essentially the rising stars in the gymnastics world, were required to go every month to train, and the parents were not allowed to come on the premises. And every aspect of the athlete's life was completely controlled, right down to every calorie that she put in her body. The elite athletes have talked in graphic detail about having even their gym bags and their backpacks searched for spare granola bars to control everything that they ate, and essentially being starved at the ranch, of incredible emotional and verbal and even at times physical abuse, that took place at the Karolyi Ranch.
"Larry was allowed to treat these girls, quote-unquote treat them, in their rooms, on their own beds, without any supervision, without anyone checking up on them. And the reality is that Larry is a symptom of a problem at USAG. He is not the only predator. USAG is notorious for predators within the gymnastics community — sexual abuse, verbal abuse, physical abuse. This was commonplace in gymnastics, and USAG has not only done nothing about it, but they have promoted the coaches that abused this way, because it got the results that they wanted."
"The current athletes — who are really still children by and large — should not be saddled with keeping themselves safe. That's the board's job. That's the coaches' job. That's the sponsors' job."

Rachael Denhollander
On whether changes USA Gymnastics has made, like stopping monthly training camps at Karolyi Ranch and creating an athlete task force, have made a difference
"Ultimately no, because they haven't changed the heart of the issue. The issue with the Karolyi Ranch, that was done under incredible public pressure, and it was done after the athletes had been speaking out for almost a solid year.
"The reality is that athletes have been speaking out about the abusive culture in USAG for decades. [Former U.S. Olympic gymnast] Dominique Moceanu began speaking out about it in the '90s, and she was ostracized and silenced and isolated from everyone else. These are not surprise issues. And the fact that it took this long and this much public pressure to get USAG to make even the slightest change is clear evidence that they're not changing because they see the problem. They're just changing because they want people to shut up."
On if she's been contacted by USA Gymnastics or the U.S. Olympic Committee to speak out again
"I have not. And that's another thing that is very disturbing, is USAG has repeatedly reported that I and others have spoken and met with Kerry Perry. That's not correct. We have not. Kerry Perry and I had a very brief interaction at the sentencing hearing where I passed my cell phone on to one of her assistants. But I never received a call from her."
On whether her choice to speak has brought about change
"That's a hard question to answer. I think it has brought significant change in terms of cultural awareness. It has brought change in some practical measure. But it has not done anywhere near what it needs to do to accomplish the reason that I came forward, which was to protect the next generation, to bring healing and closure to the assault survivors who have already been so horribly abused and to change the institutional dynamics so the next generation doesn't go through what we went through. And there's a lot that still needs to happen."
On what current gymnasts can do, and who bears responsibility for addressing USA Gymnastics' problems
"To continue speaking out the way they have been, and to stand with survivors, to stand against the abusive culture, is something that they can absolutely do. But they shouldn't have to be saddled with that right now. They should be able to trust the leaders that are in charge essentially of their careers. Their parents should be able to trust the coaches that they drop their girls off at the gym to work under."
This article was originally published on September 05, 2018.
This segment aired on September 5, 2018.