'Winnie's Great War' Tells Story Of World War I Through Beloved Bear's Real-Life Journey
09:52
Play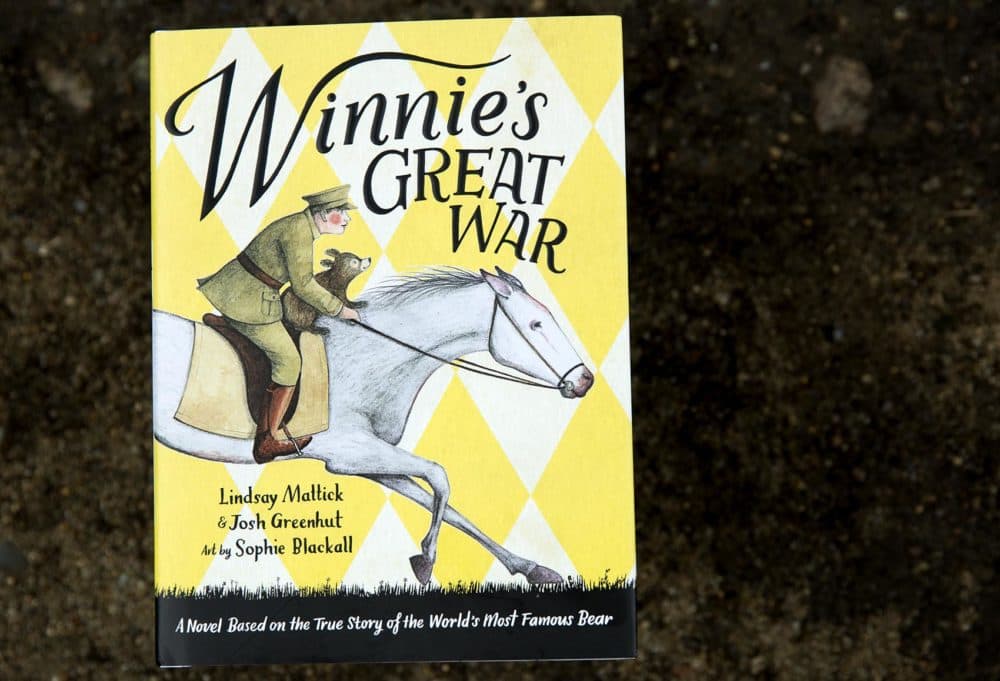 This article is more than 3 years old.
In 1914, Canadian veterinarian Harry Colebourn was making his way from Winnipeg to Quebec to deploy for battle in World War I, when he met an orphaned bear cub at a train station in White River, Ontario.
Colebourn purchased the bear for $20, reboarded his train with members of his unit, and named her Winnipeg — after his hometown — or Winnie for short. The bear traveled with him to England, where she became a regiment mascot for the soldiers training for the battlefield.
That real-life bear became the inspiration for one of the most loveable characters in children's literature, Winnie the Pooh. Author Lindsay Mattick, the great-granddaughter of Harry Colebourn, spoke with Here & Now in 2015 about the picture book she wrote about Winnie, "Finding Winnie: The True Story of the World's Most Famous Bear."
Her new children's book, "Winnie's Great War," introduces young readers to World War I through the lens of her great-grandfather's pet bear. But what possessed Harry Colebourn to buy a wild animal on his way to war? Mattick (@lindsaymattick) tells Here & Now's Peter O'Dowd it's a question she's thought about a lot.
"He loved animals. Animals were a part of Harry's life from a very young age and that led him to become a veterinarian," she says. "And when he met Winnie in White River all those years ago, I think he saw an opportunity to really provide a source of joy to his fellow soldiers, and probably himself, as they were heading off."
Scroll down to read an excerpt from "Winnie's Great War"
Interview Highlights
On the family archive that contained Colebourn's records of Winnie
"So the family archive as we now call it for a long time was really an old Corning Ware box with photographs and things that I had anxiety that one day my house would somehow burn down and all these items would not make it out into the world. So they're items that my grandfather, Harry's son Fred, kept for many many years, and fortunately for all of us in our family and now everyone else who's had the opportunity to see them, they really do serve as incredible proof points that this remarkable story actually happened.
"It wasn't like the family archive was this revered treasure trove of items. I think it really gained significance when in the late 1980s, there was a story that came out that gave credit to the ownership of Winnie to another regiment, and my grandfather, Harry's son Fred, who was very much a man of accuracy, went down at that point to get his father's 1914 diaries to say, 'No, no, no. This was a bear named Winnipeg, Winnie for short.' At that point the diaries certainly were the first piece in correcting the story. And over the years, I've had a lot of time obviously to look at the diaries, and now I realized just how much they do tell."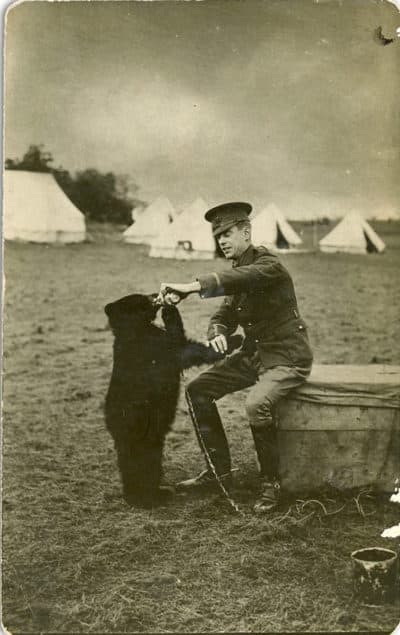 On how Colebourn's regiment reacted when he brought his pet bear to training camp
"Well, none of us really know what the responses were, and certainly in 'Winnie's Great War,' we took some creative liberties, and the colonel's not too happy in 'Winnie's Great War,' but in real life, we don't totally know. What we do know is that mascots including bears were not entirely unusual. Winnie, believe it or not, was actually not the only bear mascot that came over during the First World War, and all kinds of animals throughout history from goats to pigs to monkeys have served as mascots."
"She was a star attraction at the London Zoo. There was a zookeeper who wrote that Winnie was the only bear they ever trusted entirely."

Lindsay Mattick
On how Colebourn gave up Winnie when he left camp
"We know that December the 9th, 1914, he writes in his diary that he brought Winnie to the London Zoo, and she had been with them for about four months. Many people thought the First World War would be over in not too short of a period of time, and of course, it lasted four years. So I think at the time he probably didn't realize that he'd be leaving her for as long as as he did. We know that he had written on the back of a photograph that he sent home to some family in Canada that one day Winnie would be coming back to Canada with him. So we think that was his intention, in fact, to bring her home, but clearly at the end of the war, she had found a new home with new friends."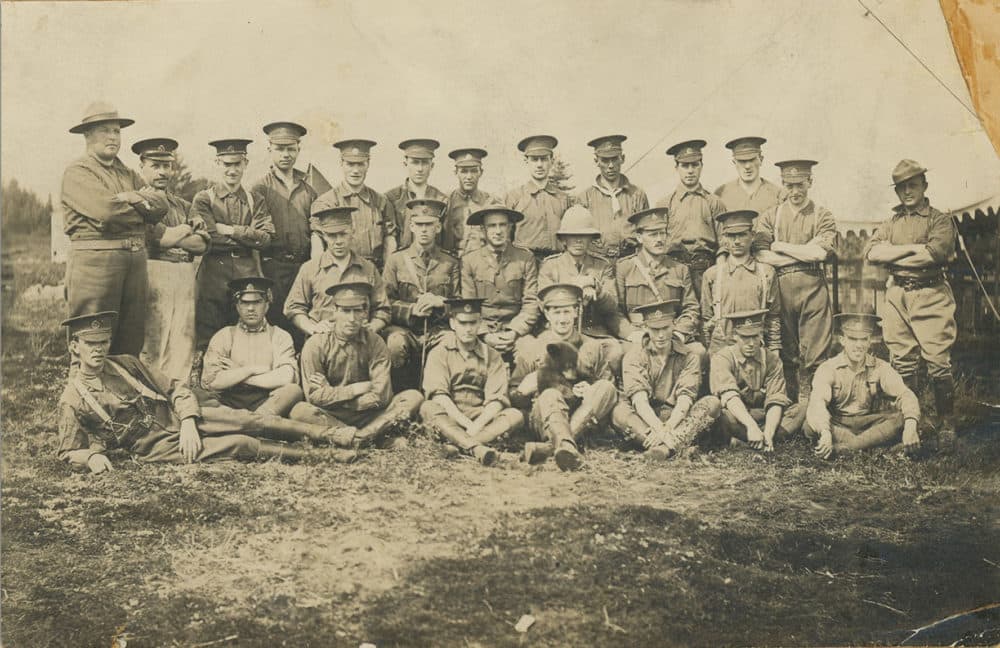 On Winnie's life at the London Zoo
"From all accounts, it was a pretty great life. She was a very beloved bear. She was a star attraction at the London Zoo. There was a zookeeper who wrote that Winnie was the only bear they ever trusted entirely. If you can believe it. I always thought, 'Well, I don't know how you sort of partly trust a bear,' but there was an obituary written when she died. She lived for 20 years, which is a long life for a bear, but it really talked about how much people loved her, and children were allowed to go inside her enclosure and play with her."
"My whole life has reminded me that from the most simple act done out of love can come these unbelievable consequences."

Lindsay Mattick
On how to write a book about war for children
"I think [co-author Josh Greenhut] and I as we endeavored to put this book together, had many conversations about the best way to tell it. It could have been told through Harry's perspective.
"We felt that including the actual diary entries was extremely important because it grounded a story, which is really a blend of fact and fiction, historical fiction, for kids. So I think for kids to understand while they're going to have this story told to them through the perspective of a bear, who's going to go on these adventures and along the way befriend all kinds of animals and have different interactions that are of course, fictional and interesting, but they will never leave the fact that this really happened by having those diary entries ground them in the realities. It brings to life that of course, the war was very real for Harry. It was very real for his fellow soldiers. And I think the the beauty of 'Winnie's Great War' is that it allows us to tackle some pretty key themes when it comes to talking about war: duty, self-sacrifice, bravery. It allows us to do it in a way that I think is accessible for a younger audience."
On the importance of this story to Mattick's family
"My whole life has reminded me that from the most simple act done out of love can come these unbelievable consequences. I talked about that in the dedication to 'Finding Winnie,' and in my dedication for my kids for this book, I really have thought about how this story reminds you to be brave. It reminds you to be curious. It reminds you to be aware, and I think if there's a legacy that my great grandfather's story has it's that even in the most devastating of circumstances, going off to war, he found a way to find joy, find love, and simple acts that he took ended up having a very beautiful consequence in the form of inspiring one of the most beloved characters in children's literature."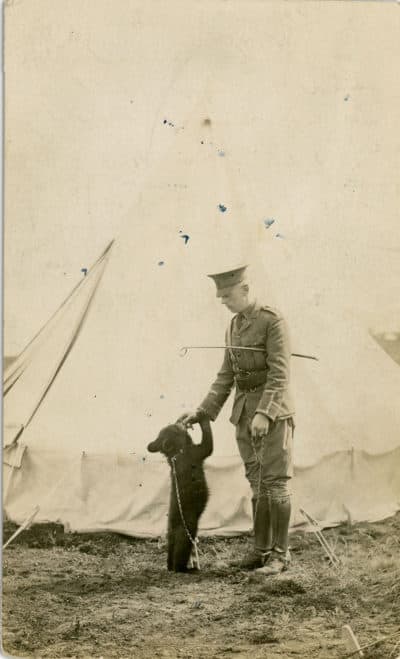 On Harry's decision to leave Winnie at the zoo after the war
"I think that Harry, he talks about the sort of near misses that he experienced witnessing 7,000 Canadian casualties, experiencing heavy fire, and trying to save some of his things and those attempts failing. All of those experiences that he would have had over those four years would have hardened him in some ways. And I think that the experience for him probably of seeing this animal that you loved in a place, in a new home where she truly was loved, and she had visitors and children and families who would come to the zoo just to see her. And I think that he had experienced and witnessed so much sacrifice, and I think for him to make a sacrifice of his own in making that decision to leave her that would have been, it would have been a natural decision I think at that point."
Book Excerpt: 'Winnie's Great War'
by Lindsay Mattick and Josh Greenhut, art by Sophie Blackall
---
Excerpted from the book WINNIE'S GREAT WAR by Lindsay Mattick, Josh Greenhut and Sophie Blackall. Copyright © 2018 by the authors. Republished with permission of Little, Brown Books for Young Readers.
Correction: An earlier version of this post misspelled Harry Colebourn's last name. We regret the error.
This article was originally published on September 14, 2018.
This segment aired on September 14, 2018.